Iveco
Dealerships, Distributors, Traders & Sellers Iveco
Dealerships Iveco
Talleres Fandos S.L.

48 ads

GHEDAUTO VEICOLI INDUSTRIALI S.R.L.

30 ads

IVECO OKTRUCKS MODUGNO

27 ads

Talleres Garrido de Motilla, S.A.

9 ads

Talleres Cobos Automoción, S.L.

4 ads

Mediterránea de camiones S.L.

2 ads

SDVI ST JEAN DE LINIERES

1 ad
Other sellers Iveco
procida macchine srl

63 ads

Desguaces Casquero

57 ads

Las Colinas Cranes and Parts S.L.

55 ads

DEGROOTE TRUCKS & TRAILERS

46 ads

CASSETTA CAR Di Domenico Cassetta

43 ads

Automoción La Junquera SL

42 ads

RONNY SCHOUTTEET TRUCKS BVBA

37 ads

Rossini Service Srl

31 ads

Nutzfahrzeuge 2000 GmbH

29 ads

TRUCK CENTRE s.r.o.

29 ads

ACR-Juretzki Nutzfahrzeughandels GmbH

21 ads

MONTSENY TRUCKS, SL

21 ads

LOMACAR CAMION STORE S.N.C

20 ads

RITCHIE BROS AUCTION FRANCE SAS

20 ads

Ginés Huertas Industriales S.L.

20 ads

DEMA GmbH & Co. KG

18 ads

ALGA Nutzfahrzeug- und Baumaschinen GmbH & Co. KG

18 ads

SG services & trucks

18 ads

NEGOCE AUTOS UTILITAIRES

18 ads

B.T.V. TRUCK S.R.L.

16 ads

OK TRUCKS - Iveco Portugal

16 ads

GORRIERI AUTOCARRI s.r.l.

16 ads

GUAINVILLE INTERNATIONAL

16 ads

Boero Trucks s.r.l.

16 ads

Eschen Nutzfahrzeuge GmbH

15 ads

ANGIOLETTI AUTOCARRI SRL

15 ads

Engel & Engel GmbH

14 ads

ALLIAM DI PAOLO CAMACHO

14 ads

ETS HENRI VAISSIERE

12 ads

Safi Dorani GmbH -D.S. Nutzfahrzeughandel

12 ads

TRUCKS ITALIANA srl

10 ads

AUTOCAR FAENTINA srl

10 ads

VAN DER HEIDEN TRUCKS BV

10 ads

IVECO MULLOT 17 sas

10 ads

GRUPO BEDTRANS,S.L

10 ads

PREVIERO AUTOCARRI

10 ads

ELRO TRUCKS BELGIUM NV

10 ads

CAMIONUSATO - EVICARRI SPA

9 ads

BVBA THETRUCKCOMPANY

9 ads

INTERNATIONAL TRUCKS SRL - Unipersonale

9 ads

PPHU STARSANDUO DOMINIK PATER

9 ads

Viyafasa Vehículos Industriales

8 ads

VIAN - VIATRA TRUCKS N.V.

8 ads

Golec Nutzfahrzeuge GmbH

7 ads

Noris-Truck-Center GmbH

7 ads

EUROSAM TRUCK SYSTEMS SRL

7 ads

AHV Import-Export, S.L.

7 ads

RITCHIE BROS AUCTIONEERS SL

7 ads

TRUCKS ITALIANA Ricambi SRL

7 ads

Automóviles Merino SL

6 ads

JESTIN POIDS LOURDS SAS

6 ads

EDDIE DÜCKER TRUCKS AND PARTS

6 ads

Crane & parts worldwide

6 ads

Frank Richter Nutzfahrzeuge

5 ads

Castro Vehículos Industriales S.L.

5 ads

Manuel Ferreira Bento

5 ads

FROMENT Garage Mercedes SAS

5 ads

DEAL PRO AUTOMOBILES SARL

5 ads

Bittner Automobile GbR

5 ads

General Trakker Di Valente Sebastiano

5 ads

VAN DEN HURK BEDRIJFSWAGENS

5 ads

LIQUIDATION WORLD SL

5 ads

Sb Commercio Veicoli di Serena Bruno

5 ads

Desguaces Castro sl

5 ads

Globus Nutzfahrzeuge

5 ads

TRUCK TRADING HOLLAND

5 ads

VALENCE VEHICULE INDUSTRIEL

4 ads

Autopark A5 Nutzfahrzeuge Rossol

4 ads

BACQUEYRISSES S.A.S

4 ads

CHARTREUSE POIDS LOURDS

4 ads

Servitrucks 2014 S.L.

4 ads

SERVEAL AUTOMOCION SL

4 ads

BG TRANS POIDS LOURDS

4 ads

SILTRUCK Sp. z o.o.

4 ads

Veinluc sa - LUCENA

4 ads

RITCHIE BROS AUCTION ITALY

4 ads

FROID & SERVICES GRAND-EST

4 ads

Auto Wardenga KFZ.-Handel

4 ads

ELHARAMEN IMPORT EXPORT

4 ads

SDVI LA ROCHE SUR YON

4 ads

Jacobsen Nutzfahrzeuge GmbH

3 ads

FHUT Nego Anna Stanczak

3 ads

Frigo Ouest Occasion

3 ads

Bargen Nutzfahrzeuge

3 ads

SELECT POIDS LOURDS 49

3 ads

Pfeil Nutzfahrzeuge

3 ads

P.H.U. DOMANSKI Sp.J

3 ads

SUD OUEST PL NEGOCE

3 ads

LOTTI COMMERCIALE S.R.L.

3 ads

CCT - CASTEGGIO CARS AND TRUCKS S.R.L

3 ads

SARL GARAGE TOURNOUX

3 ads

HENAUX BAL PARIS SAS

3 ads

MAGARINOS - DISTRIBUTEUR MAN

3 ads

Obra Pública y Agroindustrial, SL

3 ads

FHU KOMIS PILZNO PRZY TRASIE E4

3 ads

MJC TRUCKS & MACHINERY BVBA

3 ads

Camiones Zas Brey SC

3 ads

Auto Ungar GmbH & Co. KG

3 ads

COMMERCIALE RICAMBI INDUSTRIALI S.r.l

3 ads

MAN TopUsed Center Cars & Bus

3 ads

SALGAR TRUCK CENTER S.L.

3 ads

KMM Truck GmbH & Co. KG

3 ads

Autolica Carrozados

3 ads

Commerciale St Srl - Steva Snc

3 ads

LA CENTRALE AUTOS 69

3 ads

Camion Impex Rostock

2 ads

IMPERIUM TRUCK MATYSEK S.C.

2 ads

SERMA POIDS LOURDS SAS

2 ads

VVO MAN - Truck Services

2 ads

TEAM NEGOCE LOCATION

2 ads

Greiwing Truck and Trailer GmbH & Co. KG

2 ads

AUTOMÓVILES MUÑOZ Y LANCHARRO, SL

2 ads

GAST TRUCKS VENLO BV

2 ads

RE.VI. Veicoli Industriali S.p.A.

2 ads

TRUCKS TRAILERS TP49

2 ads

Rabert Trucks Internacional SL

2 ads

DYNATECH INDUSTRIES

2 ads

ESPACE POIDS LOURDS

2 ads

Garage Briffaut SARL

2 ads

MAQUIDONAS - Comércio de Veículos Pesados e Ligeiros, Lda.

2 ads

GEST LEASE INGENIERIE

2 ads

PRZEDSIĘBIORSTWO WIELOBRANŻOWE Oszywa Ryszard

2 ads

Salzgitter EuroLogistik GmbH

2 ads

AUVERGNE DISTRIBUTION

2 ads

HOLLAND TRADING TRANSPORT & REPAIR BV

2 ads

EASY RENT truck & trailer GmbH

2 ads

MANDUBIEN GROUP S.L

2 ads

Britannia Export Consultants Ltd

2 ads

TRUCK CENTER VEENDAM

2 ads

AUTO TRANSPORTADORA MODERNA PORTUENSE SA

2 ads

SCANIA USED CORNER Noves

2 ads

SELECTRUCKS PAUL KROELY VI

2 ads

IVECO Toulouse Nord - Groupe PAROT

2 ads

PERROT VEHICULES INDUSTRIELS SAS

1 ad

Gebr. Langensiepen GmbH

1 ad

Autos Buenos Aires - VILLAGARCIA

1 ad

Pérez Industriales sl

1 ad

Renault Trucks España

1 ad

SARL BLANCHARD TVI SARL

1 ad

Mpmaquinas unipessoal lda

1 ad

LOUIS BOON TRUCKS & TRAILERS

1 ad

MANDRIOLI ROLI S.R.L.

1 ad

LYS TOUT TERRAIN SARL

1 ad

Hegmann Nutzfahrzeuge GmbH

1 ad

ALTIFRANCE EVENEMENTS

1 ad

SGA - ROUEN POIDS LOURDS

1 ad

INTERNATIONAL TRUCKS BTP

1 ad

SARL Andréoni et fils

1 ad

AUTOMOVEIS F.SALEIRO LDA

1 ad

STAND TRANSBRITO, LDA

1 ad

OCCASIONS SERVICE SAS

1 ad

SATABO TRUCKS di TAMPOS Athanasios

1 ad

TRUCKCENTER APELDOORN BV

1 ad

V.I.Talleres Pastor, S.L.

1 ad

AUTOCAMIONES PONCE SL

1 ad

Mondial Distribution

1 ad

AUTOVEICOLI INDUSTRIALI FRATELLI AZZOLA S.R.L

1 ad

DUCOS GARAGE/garage monpeyssen

1 ad

Camioes Rodolfo Unipessoal Lda

1 ad

SCANIA USED CORNER Artigues

1 ad

BSS heavy machinery GmbH

1 ad

PACCAR FINANCIAL FRANCE

1 ad

MAN TopUsed Center Sud-Est

1 ad

IMPORT EXPORT DHIMITRI

1 ad

BEZIERS TRUCKS SERVICES

1 ad

CAMIONES GÓMEZ, S.L.

1 ad

RENAULT TRUCKS GRAND PARIS Centre occasion GONESSE

1 ad

Renault Trucks France – centre occasion Lyon

1 ad

Trucks Gallardo, S.L.

1 ad

LENTZ TRUCKS AND TRAILER

1 ad

SMK Vermietungs GmbH

1 ad

Sarwary Omnibushandel KG

1 ad

OMR Omnibus- und Kfz-Handel Mario Röttgen GmbH

1 ad

H ET S NUTZFAHRZEUGE

1 ad

Valdemar & Filhos, Lda.

1 ad

E.B. UNIPESSOAL, LDA

1 ad

Otto Leider KFZ Zentrum

1 ad

TRUCKS SOLUTIONS OCCASION

1 ad

AUTOBEDRIJF W HENDRIKS

1 ad

AMCO Trading & Consulting S. A.

1 ad

Materiales De Construcción Alborea, S.L.

1 ad

Tranalem Europa S.L.

1 ad

Dial Truck Valencia S.L.E.

1 ad

MARTENAT NORD AUVERGNE

1 ad

GEERTS TRUCKS & TRAILERS

1 ad

Automezzi Brianza di Gianluca Maugeri

1 ad

Mediterraneo Motor SL

1 ad

INVESTO Tomasz Muszkiewicz

1 ad

THE TRUCK COMPANY FRANCE

1 ad

Cris Devi Trucks GmbH & Co. KG

1 ad

AUTOMOCION EMMANUEL V.I. SL

1 ad

IVECO Brive - Groupe PAROT

1 ad

CARROCERIA ALVAREZ CABALLERO, SL

1 ad

Autos y Repuestos Madariaga S.L

1 ad
---
IVECO (Industrial Vehicles Corporation) is an industrial and commercial vehicles manufacturer located in Turin, Italy. They develop, manufacture, sell and maintain a large number of heavy, medium and light commercial vehicles. Iveco also manufatures vehicles of people transport, and special vehicles for defense, civil protection and fire fighting. The vehicles are sold under different makes : Iveco, Iveco Defence Vehicles, Iveco Magirus, Iveco Astra and Iveco Bus. Iveco is the European leader in terms of hybrid and natural gas vehicles. The Iveco trucks have received the "Truck of the Year" award several times : in 1992 and in 2016 for the Eurocargo, in 1993 for the Eurotech, in 2003 for the Stralis and in 2013 for the Stralis Hi-Way.
Iveco was born on January 1st, 1975 from the merger of 5 French, German and Italian companies (Fiat V.I., OM, Lancia, Unic and Magirus-Deutz), which gave it an international dimension from the get go. In 2009, Iveco became the 2nd truck manufacturer in Europe with more than 20% of market shares, and the main diesel engines manufacturer in the world thanks to their FPT (Fiat Powertrain Technologies) branch. On January 1st, 2001, the manufacturer has integrated the CNH Industrial holding. Iveco is now on all five continents with 27 factories located in 16 countries and 6 research centres.
Check the technical sheets IVECO
Latest ads published
6
Castro Vehículos Industriales S.L.
Iveco Stralis 310 truck used tautliner
18t

- 4x2 - Euro 6 - 310 HP -
2016
507 000 km
Spain - Parets Del Vallés
11
Castro Vehículos Industriales S.L.
Iveco Eurocargo 140 E 19 truck used heavy equipment transport
12t

- 4x2 - Euro 6 - 190 HP -
2014
411 000 km
Spain - Parets Del Vallés
7
NEW
Iveco Daily 35C18 used dropside flatbed van
2010
150 000 km
Portugal - Vila Franca Das Naves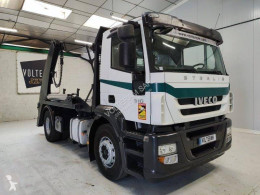 13
Iveco Stralis AD 190 S 31 truck used hook arm system
19.3t

- 4x2 - Euro 5 - 310 HP -
2010
492 592 km
Material warranty
France - Parcay Meslay
(37)
6
Iveco Eurocargo 100E18 truck used aerial platform
10t

- 4x2 - Euro 4 - 180 HP -
16
NEW
Iveco RENTING/LEASING DAILY 35S18 used tipper van
2021
300 km
Belgium - Antwerpen
16
NEW
Iveco truck used hook arm system
2010
143 852 km
Video
Spain - Carmona
6
NEW
Iveco Trakker truck used dropside
26t

- 6x4 - Euro 4 - Crane - 380 HP -
Do you want to tell the seller that you saved the ad?
By ticking "Yes", the seller will get an email with your contact details (name, last name, email address).
Talleres Fandos S.L.

48 ads

GHEDAUTO VEICOLI INDUSTRIALI S.R.L.

30 ads

IVECO OKTRUCKS MODUGNO

27 ads

Talleres Garrido de Motilla, S.A.

9 ads

Talleres Cobos Automoción, S.L.

4 ads

Mediterránea de camiones S.L.

2 ads

SDVI ST JEAN DE LINIERES

1 ad

CEVI CHATEAUROUX SAS

0 ad

TENTORI VEICOLI INDUSTRIALI spa

0 ad

OFFICINE BRENNERO S.P.A.

0 ad
procida macchine srl

63 ads

Desguaces Casquero

57 ads

Las Colinas Cranes and Parts S.L.

55 ads

DEGROOTE TRUCKS & TRAILERS

46 ads

CASSETTA CAR Di Domenico Cassetta

43 ads

Automoción La Junquera SL

42 ads

RONNY SCHOUTTEET TRUCKS BVBA

37 ads

Rossini Service Srl

31 ads

Nutzfahrzeuge 2000 GmbH

29 ads

TRUCK CENTRE s.r.o.

29 ads

ACR-Juretzki Nutzfahrzeughandels GmbH

21 ads

MONTSENY TRUCKS, SL

21 ads

LOMACAR CAMION STORE S.N.C

20 ads

RITCHIE BROS AUCTION FRANCE SAS

20 ads

Ginés Huertas Industriales S.L.

20 ads

DEMA GmbH & Co. KG

18 ads

ALGA Nutzfahrzeug- und Baumaschinen GmbH & Co. KG

18 ads

SG services & trucks

18 ads

NEGOCE AUTOS UTILITAIRES

18 ads

B.T.V. TRUCK S.R.L.

16 ads

OK TRUCKS - Iveco Portugal

16 ads

GORRIERI AUTOCARRI s.r.l.

16 ads

GUAINVILLE INTERNATIONAL

16 ads

Boero Trucks s.r.l.

16 ads

Eschen Nutzfahrzeuge GmbH

15 ads

ANGIOLETTI AUTOCARRI SRL

15 ads

Engel & Engel GmbH

14 ads

ALLIAM DI PAOLO CAMACHO

14 ads

ETS HENRI VAISSIERE

12 ads

Safi Dorani GmbH -D.S. Nutzfahrzeughandel

12 ads

TRUCKS ITALIANA srl

10 ads

AUTOCAR FAENTINA srl

10 ads

VAN DER HEIDEN TRUCKS BV

10 ads

IVECO MULLOT 17 sas

10 ads

GRUPO BEDTRANS,S.L

10 ads

PREVIERO AUTOCARRI

10 ads

ELRO TRUCKS BELGIUM NV

10 ads

CAMIONUSATO - EVICARRI SPA

9 ads

BVBA THETRUCKCOMPANY

9 ads

INTERNATIONAL TRUCKS SRL - Unipersonale

9 ads

PPHU STARSANDUO DOMINIK PATER

9 ads

Viyafasa Vehículos Industriales

8 ads

VIAN - VIATRA TRUCKS N.V.

8 ads

Golec Nutzfahrzeuge GmbH

7 ads

Noris-Truck-Center GmbH

7 ads

EUROSAM TRUCK SYSTEMS SRL

7 ads

AHV Import-Export, S.L.

7 ads

RITCHIE BROS AUCTIONEERS SL

7 ads

TRUCKS ITALIANA Ricambi SRL

7 ads

Automóviles Merino SL

6 ads

JESTIN POIDS LOURDS SAS

6 ads

EDDIE DÜCKER TRUCKS AND PARTS

6 ads

Crane & parts worldwide

6 ads

Frank Richter Nutzfahrzeuge

5 ads

Castro Vehículos Industriales S.L.

5 ads

Manuel Ferreira Bento

5 ads

FROMENT Garage Mercedes SAS

5 ads

DEAL PRO AUTOMOBILES SARL

5 ads

Bittner Automobile GbR

5 ads

General Trakker Di Valente Sebastiano

5 ads

VAN DEN HURK BEDRIJFSWAGENS

5 ads

LIQUIDATION WORLD SL

5 ads

Sb Commercio Veicoli di Serena Bruno

5 ads

Desguaces Castro sl

5 ads

Globus Nutzfahrzeuge

5 ads

TRUCK TRADING HOLLAND

5 ads

VALENCE VEHICULE INDUSTRIEL

4 ads

Autopark A5 Nutzfahrzeuge Rossol

4 ads

BACQUEYRISSES S.A.S

4 ads

CHARTREUSE POIDS LOURDS

4 ads

Servitrucks 2014 S.L.

4 ads

SERVEAL AUTOMOCION SL

4 ads

BG TRANS POIDS LOURDS

4 ads

SILTRUCK Sp. z o.o.

4 ads

Veinluc sa - LUCENA

4 ads

RITCHIE BROS AUCTION ITALY

4 ads

FROID & SERVICES GRAND-EST

4 ads

Auto Wardenga KFZ.-Handel

4 ads

ELHARAMEN IMPORT EXPORT

4 ads

SDVI LA ROCHE SUR YON

4 ads

Jacobsen Nutzfahrzeuge GmbH

3 ads

FHUT Nego Anna Stanczak

3 ads

Frigo Ouest Occasion

3 ads

Bargen Nutzfahrzeuge

3 ads

SELECT POIDS LOURDS 49

3 ads

Pfeil Nutzfahrzeuge

3 ads

P.H.U. DOMANSKI Sp.J

3 ads

SUD OUEST PL NEGOCE

3 ads

LOTTI COMMERCIALE S.R.L.

3 ads

CCT - CASTEGGIO CARS AND TRUCKS S.R.L

3 ads

SARL GARAGE TOURNOUX

3 ads

HENAUX BAL PARIS SAS

3 ads

MAGARINOS - DISTRIBUTEUR MAN

3 ads

Obra Pública y Agroindustrial, SL

3 ads

FHU KOMIS PILZNO PRZY TRASIE E4

3 ads

MJC TRUCKS & MACHINERY BVBA

3 ads

Camiones Zas Brey SC

3 ads

Auto Ungar GmbH & Co. KG

3 ads

COMMERCIALE RICAMBI INDUSTRIALI S.r.l

3 ads

MAN TopUsed Center Cars & Bus

3 ads

SALGAR TRUCK CENTER S.L.

3 ads

KMM Truck GmbH & Co. KG

3 ads

Autolica Carrozados

3 ads

Commerciale St Srl - Steva Snc

3 ads

LA CENTRALE AUTOS 69

3 ads

Camion Impex Rostock

2 ads

IMPERIUM TRUCK MATYSEK S.C.

2 ads

SERMA POIDS LOURDS SAS

2 ads

VVO MAN - Truck Services

2 ads

TEAM NEGOCE LOCATION

2 ads

Greiwing Truck and Trailer GmbH & Co. KG

2 ads

AUTOMÓVILES MUÑOZ Y LANCHARRO, SL

2 ads

GAST TRUCKS VENLO BV

2 ads

RE.VI. Veicoli Industriali S.p.A.

2 ads

TRUCKS TRAILERS TP49

2 ads

Rabert Trucks Internacional SL

2 ads

DYNATECH INDUSTRIES

2 ads

ESPACE POIDS LOURDS

2 ads

Garage Briffaut SARL

2 ads

MAQUIDONAS - Comércio de Veículos Pesados e Ligeiros, Lda.

2 ads

GEST LEASE INGENIERIE

2 ads

PRZEDSIĘBIORSTWO WIELOBRANŻOWE Oszywa Ryszard

2 ads

Salzgitter EuroLogistik GmbH

2 ads

AUVERGNE DISTRIBUTION

2 ads

HOLLAND TRADING TRANSPORT & REPAIR BV

2 ads

EASY RENT truck & trailer GmbH

2 ads

MANDUBIEN GROUP S.L

2 ads

Britannia Export Consultants Ltd

2 ads

TRUCK CENTER VEENDAM

2 ads

AUTO TRANSPORTADORA MODERNA PORTUENSE SA

2 ads

SCANIA USED CORNER Noves

2 ads

SELECTRUCKS PAUL KROELY VI

2 ads

IVECO Toulouse Nord - Groupe PAROT

2 ads

PERROT VEHICULES INDUSTRIELS SAS

1 ad

Gebr. Langensiepen GmbH

1 ad

Autos Buenos Aires - VILLAGARCIA

1 ad

Pérez Industriales sl

1 ad

Renault Trucks España

1 ad

SARL BLANCHARD TVI SARL

1 ad

Mpmaquinas unipessoal lda

1 ad

LOUIS BOON TRUCKS & TRAILERS

1 ad

MANDRIOLI ROLI S.R.L.

1 ad

LYS TOUT TERRAIN SARL

1 ad

Hegmann Nutzfahrzeuge GmbH

1 ad

ALTIFRANCE EVENEMENTS

1 ad

SGA - ROUEN POIDS LOURDS

1 ad

INTERNATIONAL TRUCKS BTP

1 ad

SARL Andréoni et fils

1 ad

AUTOMOVEIS F.SALEIRO LDA

1 ad

STAND TRANSBRITO, LDA

1 ad

OCCASIONS SERVICE SAS

1 ad

SATABO TRUCKS di TAMPOS Athanasios

1 ad

TRUCKCENTER APELDOORN BV

1 ad

V.I.Talleres Pastor, S.L.

1 ad

AUTOCAMIONES PONCE SL

1 ad

Mondial Distribution

1 ad

AUTOVEICOLI INDUSTRIALI FRATELLI AZZOLA S.R.L

1 ad

DUCOS GARAGE/garage monpeyssen

1 ad

Camioes Rodolfo Unipessoal Lda

1 ad

SCANIA USED CORNER Artigues

1 ad

BSS heavy machinery GmbH

1 ad

PACCAR FINANCIAL FRANCE

1 ad

MAN TopUsed Center Sud-Est

1 ad

IMPORT EXPORT DHIMITRI

1 ad

BEZIERS TRUCKS SERVICES

1 ad

CAMIONES GÓMEZ, S.L.

1 ad

RENAULT TRUCKS GRAND PARIS Centre occasion GONESSE

1 ad

Renault Trucks France – centre occasion Lyon

1 ad

Trucks Gallardo, S.L.

1 ad

LENTZ TRUCKS AND TRAILER

1 ad

SMK Vermietungs GmbH

1 ad

Sarwary Omnibushandel KG

1 ad

OMR Omnibus- und Kfz-Handel Mario Röttgen GmbH

1 ad

H ET S NUTZFAHRZEUGE

1 ad

Valdemar & Filhos, Lda.

1 ad

E.B. UNIPESSOAL, LDA

1 ad

Otto Leider KFZ Zentrum

1 ad

TRUCKS SOLUTIONS OCCASION

1 ad

AUTOBEDRIJF W HENDRIKS

1 ad

AMCO Trading & Consulting S. A.

1 ad

Materiales De Construcción Alborea, S.L.

1 ad

Tranalem Europa S.L.

1 ad

Dial Truck Valencia S.L.E.

1 ad

MARTENAT NORD AUVERGNE

1 ad

GEERTS TRUCKS & TRAILERS

1 ad

Automezzi Brianza di Gianluca Maugeri

1 ad

Mediterraneo Motor SL

1 ad

INVESTO Tomasz Muszkiewicz

1 ad

THE TRUCK COMPANY FRANCE

1 ad

Cris Devi Trucks GmbH & Co. KG

1 ad

AUTOMOCION EMMANUEL V.I. SL

1 ad

IVECO Brive - Groupe PAROT

1 ad

CARROCERIA ALVAREZ CABALLERO, SL

1 ad

Autos y Repuestos Madariaga S.L

1 ad