Scania : Used trucks from Scania
Dealerships, Distributors, Traders & Sellers Scania
Scania France Cars et bus

5 ads

Scania Hispania S.A. Delegación A Coruña

4 ads

SCANIA USED CORNER Artigues

4 ads

Scania Hispania S.A. Delegación Malaga

3 ads

Scania Hispania S.A. Delegación Madrid

2 ads

SCANIA USED CORNER Dijon

2 ads

SCANIA USED CORNER Chaponnay

1 ad

SCANIA USED CORNER Cagny

1 ad

Comercial Conauto Scania SL

1 ad
LAMIRO I.J.E.ROSZCZYK s.c

137 ads

KB Auto Estonia OÜ

67 ads

Auto Coelhinhos Comércio Automóvel SA

51 ads

IMPERIUM TRUCK MATYSEK S.C.

35 ads

VAEX TRUCKS TRADING

25 ads

RONNY SCHOUTTEET TRUCKS BVBA

22 ads

VERSTEIJNEN TRUCKS

22 ads

ALGA Nutzfahrzeug- und Baumaschinen GmbH & Co. KG

19 ads

DEMA GmbH & Co. KG

17 ads

PHU DOMAŃSKI Paweł Domański Spółka Komandytowa

15 ads

EDDY MOERMANS HANDELSONDERNEMING BV

15 ads

TRUCKCENTER APELDOORN BV

15 ads

GUAINVILLE INTERNATIONAL

15 ads

Desguaces Casquero

14 ads

DEGROOTE TRUCKS & TRAILERS

13 ads

Golec Nutzfahrzeuge GmbH

12 ads

GAST TRUCKS VENLO BV

12 ads

Raschka Trucks GmbH

11 ads

SWENSKA POWERHOUSE

11 ads

COMPANJEN BEDRIJFSWAGENS BV

10 ads

LIEVAART TRUCKS AND TRAILERS BV

10 ads

EDDIE DÜCKER TRUCKS AND PARTS

10 ads

SAJMON Truck Center Poland

9 ads

Cris Devi Trucks GmbH & Co. KG

9 ads

Las Colinas Cranes and Parts S.L.

8 ads

SPRENGELMEIJER TRUCKS

8 ads

VLASTUIN TRUCK- EN TRAILERTRADING BV

8 ads

TRUCK & CAR CASSETTA

8 ads

Trading Trucks & Machinery S.L

8 ads

CASSETTA CAR Di Domenico Cassetta

7 ads

TRUCK CENTRUM SLIEDRECHT

6 ads

Nutzfahrzeuge 2000 GmbH

6 ads

DAF Vehiculos Industriales S.A.

6 ads

ALLIAM DI PAOLO CAMACHO

6 ads

TRUCK TRADING HOLLAND

6 ads

Autopark A5 Nutzfahrzeuge Rossol

5 ads

ELRO TRUCKS BELGIUM NV

5 ads

HOLLAND TRADING TRANSPORT & REPAIR BV

5 ads

MONTSENY TRUCKS, SL

5 ads

SALGAR TRUCK CENTER S.L.

5 ads

Safi Dorani GmbH -D.S. Nutzfahrzeughandel

5 ads

ROLTRANS KWJ Czerep Spółka Jawna

5 ads

VIAN - VIATRA TRUCKS N.V.

4 ads

BVBA THETRUCKCOMPANY

4 ads

S & H Nutzfahrzeuge und Logistik GmbH

4 ads

MAQUIDONAS - Comércio de Veículos Pesados e Ligeiros, Lda.

4 ads

LENTZ TRUCKS AND TRAILER

4 ads

OMR Omnibushandel Mario Röttgen GmbH

4 ads

TANGENTE OCASIÃO - UNIPESSOAL LDA

4 ads

Auto Transportadora Moderna Portuense SA

4 ads

LEMOINE Nutzfahrzeuge GmbH

3 ads

FHUT Nego Anna Stanczak

3 ads

Infa Nutzfahrzeuge GmbH

3 ads

VAN DER HEIDEN TRUCKS BV

3 ads

OCCITANIE PL SCANIA

3 ads

AUTOMÓVILES MUÑOZ Y LANCHARRO, SL

3 ads

ETS HENRI VAISSIERE

3 ads

NUYTTENS TRUCKS BVBA

3 ads

CAMIONES GÓMEZ, S.L.

3 ads

SG services & trucks

3 ads

Montpellier trucks services

3 ads

Salzgitter EuroLogistik GmbH

3 ads

UTILRODAGEM UNIPESSOAL LDA

3 ads

Staufen Trucks GmbH

3 ads

FHU Joanna Zbigniew Juszczyk

3 ads

ELHARAMEN IMPORT EXPORT

3 ads

SMEETS & ZONEN PARTS NV

3 ads

ZUPH ROMEX KAMIL GRYL

3 ads

FERCA TRUCKS 21 S.L

3 ads

SFERA PARTS DISTRIBUTION SPÓŁKA Z O. O.

3 ads

B.T.V. TRUCK S.R.L.

2 ads

ITAL CAR RUELLA S.R.L.

2 ads

Elias Nutzfahrzeughandel

2 ads

AUTOCAR FAENTINA srl

2 ads

LOUIS BOON TRUCKS & TRAILERS

2 ads

Pfeil Nutzfahrzeuge

2 ads

Eschen Nutzfahrzeuge GmbH

2 ads

TRUCKS SERVICES ET DISTRIBUTION

2 ads

STAND TRANSBRITO, LDA

2 ads

BELGIUM TRUCKS & TRAILERS

2 ads

Automóviles Merino SL

2 ads

SERVEAL AUTOMOCION SL

2 ads

DAF Used Trucks France - Saint-Priest (Lyon)

2 ads

BG TRANS POIDS LOURDS

2 ads

IMPORT EXPORT DHIMITRI

2 ads

M. Rauh Pferdetransportfahrzeuge e.k.

2 ads

Rotundalegre unipessoal lda

2 ads

ECOGLOBAL D INVERSIONS 21, S.L.

2 ads

LIQUIDATION WORLD SL

2 ads

PPHU STARSANDUO DOMINIK PATER

2 ads

My Ocean Zone, S.L.

2 ads

SANDOKAN, UNIPESSOAL LDA

2 ads

Grzegorz Zyguła PRZEDSIĘBIORSTWO USLUGOWO HANDLOWE

2 ads

Boero Trucks s.r.l.

2 ads

KATDAR Katarzyna Dziedzicka

2 ads

FS NEGOCE VEHICULES

2 ads

SLT Group Dariusz Lewandowski

2 ads

GHEDAUTO VEICOLI INDUSTRIALI S.R.L.

1 ad

Jacobsen Nutzfahrzeuge GmbH

1 ad

Frank Richter Nutzfahrzeuge

1 ad

Peter Finsterwalder GmbH

1 ad

Barile Nutzfahrzeuge GmbH

1 ad

KHAIBAR Nutzfahrzeughandel

1 ad

Viyafasa Vehículos Industriales

1 ad

Auto Distribución Illiberis, S.L.

1 ad

Euro – Truck Sp. z o.o.

1 ad

Sicotractor, - Comércio de Veículos Pesados, Lda.

1 ad

Castro Vehículos Industriales S.L.

1 ad

TRIVELLATO VEICOLI INDUSTRIALI

1 ad

LOTTI COMMERCIALE S.R.L.

1 ad

STELLMANN BAUMASCHINEN AG

1 ad

AHV Import-Export, S.L.

1 ad

INTERNATIONAL TRUCKS BTP

1 ad

AUTOMERCATO SAS di Pastore Michele e C

1 ad

RAKPOL TRUCK Sp. z o.o.

1 ad

Stand Auto Gois Comercio de Automoveis LDA

1 ad

DI SARNO Autocarri s.a.s.

1 ad

RICUCCI VEICOLI INDUSTRIALI SRL

1 ad

Veicoli Industriali Gra S.R.L.

1 ad

Agrocamiões Unipessoal, Lda

1 ad

ROMANA DIESEL S.P.A.

1 ad

Manuel Ferreira Bento

1 ad

VOLVO TRUCK CENTER RHONE ALPES H

1 ad

Inacicar Importação e Venda de Camiões

1 ad

LOMACAR CAMION STORE S.N.C

1 ad

INTERNATIONAL TRUCKS SRL - Unipersonale

1 ad

AUTOMOCIÓ ANDREU, S.L.

1 ad

Trucks Gallardo, S.L.

1 ad

NIJWA USED TRUCKS - Vestiging Borne

1 ad

Bretagne Service Matériel

1 ad

PRZEDSIĘBIORSTWO WIELOBRANŻOWE Oszywa Ryszard

1 ad

VOL-TRANS Usługi- Transport - Handel MIERNIK EMIL

1 ad

H ET S NUTZFAHRZEUGE

1 ad

TRANSPORTES RAMASSOT SL

1 ad

Procida Macchine srl

1 ad

SCANIA MEDITERRANEE VITROLLES

1 ad

GEERTS TRUCKS & TRAILERS

1 ad

Automezzi Brianza di Gianluca Maugeri

1 ad

ALAM CAMION di Alam Ayad

1 ad

SCANIA USED CORNER Noves

1 ad

Fliegl Agrartechnik GmbH

1 ad

CONCESUR USED TRUCKS

1 ad

Salper Import Trucks S.L.

1 ad

Olkop Hurtownia Olejów i Paliw Gabriel Kropkowski

1 ad

Carrocerías Hispalis

1 ad

KELVER Machinery & Trucks

1 ad

NVI NORMANDY VEHICULES INDUSTRIELS

1 ad
---
Scania is a Swedish manufacturer of trucks, coaches and buses and of maritime and industrial engines. The headquarters are in Södertälje, Sweden, and the 11 factories are located in 5 countries. Scania manufacturers distribution, construction and long distance trucks as well as special vehicles. First trucks equipped with a turbocharger, the Scania trucks have acquiered a good reputation, and the nickname : « King of the Road ». They received the « Truck of the Year » in 1989 (series 3), in 1996 (series 4), in 2005 and in 2010 (series R).
In 1900 was created the company Maskinfabriksaktiebolaget Scania, that first manufactured bikes then got into cars and trucks manufacturing : the first truck was manufactured in 1902.
In 1911 Scania merges with Vabis, another truck manufacturer. The bus production starts and the first diesel engine is built in 1936.
In 1969, Scania-Vabis joins Swedish manufacturer Saab, it is the beginning of Saab-Scania, before becoming an independent company in 1995.
Volkswagen becomes the main owner (in 2008) then exclusive owner (in 2014) of Scania.
Check the technical sheets SCANIA
Latest ads published
Scania P 380 tractor unit used
20.5t
4x2
Euro 4
379 HP
2007
710 489 km

12
Scania P 360 tractor unit used
19t
4x2
Euro 6
360 HP
2013
753 224 km

16
Scania R 730 truck used chassis
34.5t
8x4
Euro 6
730 HP
2017
852 592 km

16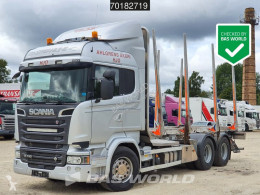 Scania R 730 truck used timber
28t
6x4
Euro 6
730 HP
2017
584 217 km

14
Scania R 580 truck used chassis
6x2
Euro 6
580 HP
2016
687 209 km

16
Scania P 230 truck used box
19t
4x2
Euro 5
Rear hatch
229 HP
2011
770 935 km

14
Scania S 500 tractor unit used
27t
6x2
Euro 6
500 HP
2017
632 020 km

16
Scania R 500 tractor unit used
18.6t
4x2
Euro 6
500 HP
2019
583 331 km

Scania France Cars et bus

5 ads

Scania Hispania S.A. Delegación A Coruña

4 ads

SCANIA USED CORNER Artigues

4 ads

Scania Hispania S.A. Delegación Malaga

3 ads

Scania Hispania S.A. Delegación Madrid

2 ads

SCANIA USED CORNER Dijon

2 ads

SCANIA USED CORNER Chaponnay

1 ad

SCANIA USED CORNER Cagny

1 ad

Comercial Conauto Scania SL

1 ad

Vehiculos Industriales Noriberica S.L.

0 ad

Autocomercial Majoma S.L.

0 ad

Talleres Rápalo - Camarles

0 ad

Talleres Lopez y Vazquez,S.L.

0 ad

Scania Hispania S.A. Delegación Asturias

0 ad

Scania Hispania S.A. Delegación Pontevedra

0 ad

Scania Hispania S.A. Delegación Jaén

0 ad

Body and Truck, S.L.

0 ad

SCANIA HISPANIA, S.A.

0 ad

Autodiesel Salamanca, S.L

0 ad

SCANIA USED CORNER Central

0 ad

Talleres Rapalo (Castellon)

0 ad

SCANIA USED TRUCKS BENELUX

0 ad

Scania Hispania S.A. Delegación Granada

0 ad

Scania Hispania S.A Delegación Almería

0 ad

Scania Hispania S.A. Delegación Zaragoza

0 ad

Scabarna, S.A. (CIM VALLÉS)

0 ad

Talleres Camiones de Ocasión

0 ad

SCANIA USED CORNER Macon

0 ad

Talleres Valmaña S.L.

0 ad
LAMIRO I.J.E.ROSZCZYK s.c

137 ads

KB Auto Estonia OÜ

67 ads

Auto Coelhinhos Comércio Automóvel SA

51 ads

IMPERIUM TRUCK MATYSEK S.C.

35 ads

VAEX TRUCKS TRADING

25 ads

RONNY SCHOUTTEET TRUCKS BVBA

22 ads

VERSTEIJNEN TRUCKS

22 ads

ALGA Nutzfahrzeug- und Baumaschinen GmbH & Co. KG

19 ads

DEMA GmbH & Co. KG

17 ads

PHU DOMAŃSKI Paweł Domański Spółka Komandytowa

15 ads

EDDY MOERMANS HANDELSONDERNEMING BV

15 ads

TRUCKCENTER APELDOORN BV

15 ads

GUAINVILLE INTERNATIONAL

15 ads

Desguaces Casquero

14 ads

DEGROOTE TRUCKS & TRAILERS

13 ads

Golec Nutzfahrzeuge GmbH

12 ads

GAST TRUCKS VENLO BV

12 ads

Raschka Trucks GmbH

11 ads

SWENSKA POWERHOUSE

11 ads

COMPANJEN BEDRIJFSWAGENS BV

10 ads

LIEVAART TRUCKS AND TRAILERS BV

10 ads

EDDIE DÜCKER TRUCKS AND PARTS

10 ads

SAJMON Truck Center Poland

9 ads

Cris Devi Trucks GmbH & Co. KG

9 ads

Las Colinas Cranes and Parts S.L.

8 ads

SPRENGELMEIJER TRUCKS

8 ads

VLASTUIN TRUCK- EN TRAILERTRADING BV

8 ads

TRUCK & CAR CASSETTA

8 ads

Trading Trucks & Machinery S.L

8 ads

CASSETTA CAR Di Domenico Cassetta

7 ads

TRUCK CENTRUM SLIEDRECHT

6 ads

Nutzfahrzeuge 2000 GmbH

6 ads

DAF Vehiculos Industriales S.A.

6 ads

ALLIAM DI PAOLO CAMACHO

6 ads

TRUCK TRADING HOLLAND

6 ads

Autopark A5 Nutzfahrzeuge Rossol

5 ads

ELRO TRUCKS BELGIUM NV

5 ads

HOLLAND TRADING TRANSPORT & REPAIR BV

5 ads

MONTSENY TRUCKS, SL

5 ads

SALGAR TRUCK CENTER S.L.

5 ads

Safi Dorani GmbH -D.S. Nutzfahrzeughandel

5 ads

ROLTRANS KWJ Czerep Spółka Jawna

5 ads

VIAN - VIATRA TRUCKS N.V.

4 ads

BVBA THETRUCKCOMPANY

4 ads

S & H Nutzfahrzeuge und Logistik GmbH

4 ads

MAQUIDONAS - Comércio de Veículos Pesados e Ligeiros, Lda.

4 ads

LENTZ TRUCKS AND TRAILER

4 ads

OMR Omnibushandel Mario Röttgen GmbH

4 ads

TANGENTE OCASIÃO - UNIPESSOAL LDA

4 ads

Auto Transportadora Moderna Portuense SA

4 ads

LEMOINE Nutzfahrzeuge GmbH

3 ads

FHUT Nego Anna Stanczak

3 ads

Infa Nutzfahrzeuge GmbH

3 ads

VAN DER HEIDEN TRUCKS BV

3 ads

OCCITANIE PL SCANIA

3 ads

AUTOMÓVILES MUÑOZ Y LANCHARRO, SL

3 ads

ETS HENRI VAISSIERE

3 ads

NUYTTENS TRUCKS BVBA

3 ads

CAMIONES GÓMEZ, S.L.

3 ads

SG services & trucks

3 ads

Montpellier trucks services

3 ads

Salzgitter EuroLogistik GmbH

3 ads

UTILRODAGEM UNIPESSOAL LDA

3 ads

Staufen Trucks GmbH

3 ads

FHU Joanna Zbigniew Juszczyk

3 ads

ELHARAMEN IMPORT EXPORT

3 ads

SMEETS & ZONEN PARTS NV

3 ads

ZUPH ROMEX KAMIL GRYL

3 ads

FERCA TRUCKS 21 S.L

3 ads

SFERA PARTS DISTRIBUTION SPÓŁKA Z O. O.

3 ads

B.T.V. TRUCK S.R.L.

2 ads

ITAL CAR RUELLA S.R.L.

2 ads

Elias Nutzfahrzeughandel

2 ads

AUTOCAR FAENTINA srl

2 ads

LOUIS BOON TRUCKS & TRAILERS

2 ads

Pfeil Nutzfahrzeuge

2 ads

Eschen Nutzfahrzeuge GmbH

2 ads

TRUCKS SERVICES ET DISTRIBUTION

2 ads

STAND TRANSBRITO, LDA

2 ads

BELGIUM TRUCKS & TRAILERS

2 ads

Automóviles Merino SL

2 ads

SERVEAL AUTOMOCION SL

2 ads

DAF Used Trucks France - Saint-Priest (Lyon)

2 ads

BG TRANS POIDS LOURDS

2 ads

IMPORT EXPORT DHIMITRI

2 ads

M. Rauh Pferdetransportfahrzeuge e.k.

2 ads

Rotundalegre unipessoal lda

2 ads

ECOGLOBAL D INVERSIONS 21, S.L.

2 ads

LIQUIDATION WORLD SL

2 ads

PPHU STARSANDUO DOMINIK PATER

2 ads

My Ocean Zone, S.L.

2 ads

SANDOKAN, UNIPESSOAL LDA

2 ads

Grzegorz Zyguła PRZEDSIĘBIORSTWO USLUGOWO HANDLOWE

2 ads

Boero Trucks s.r.l.

2 ads

KATDAR Katarzyna Dziedzicka

2 ads

FS NEGOCE VEHICULES

2 ads

SLT Group Dariusz Lewandowski

2 ads

GHEDAUTO VEICOLI INDUSTRIALI S.R.L.

1 ad

Jacobsen Nutzfahrzeuge GmbH

1 ad

Frank Richter Nutzfahrzeuge

1 ad

Peter Finsterwalder GmbH

1 ad

Barile Nutzfahrzeuge GmbH

1 ad

KHAIBAR Nutzfahrzeughandel

1 ad

Viyafasa Vehículos Industriales

1 ad

Auto Distribución Illiberis, S.L.

1 ad

Euro – Truck Sp. z o.o.

1 ad

Sicotractor, - Comércio de Veículos Pesados, Lda.

1 ad

Castro Vehículos Industriales S.L.

1 ad

TRIVELLATO VEICOLI INDUSTRIALI

1 ad

LOTTI COMMERCIALE S.R.L.

1 ad

STELLMANN BAUMASCHINEN AG

1 ad

AHV Import-Export, S.L.

1 ad

INTERNATIONAL TRUCKS BTP

1 ad

AUTOMERCATO SAS di Pastore Michele e C

1 ad

RAKPOL TRUCK Sp. z o.o.

1 ad

Stand Auto Gois Comercio de Automoveis LDA

1 ad

DI SARNO Autocarri s.a.s.

1 ad

RICUCCI VEICOLI INDUSTRIALI SRL

1 ad

Veicoli Industriali Gra S.R.L.

1 ad

Agrocamiões Unipessoal, Lda

1 ad

ROMANA DIESEL S.P.A.

1 ad

Manuel Ferreira Bento

1 ad

VOLVO TRUCK CENTER RHONE ALPES H

1 ad

Inacicar Importação e Venda de Camiões

1 ad

LOMACAR CAMION STORE S.N.C

1 ad

INTERNATIONAL TRUCKS SRL - Unipersonale

1 ad

AUTOMOCIÓ ANDREU, S.L.

1 ad

Trucks Gallardo, S.L.

1 ad

NIJWA USED TRUCKS - Vestiging Borne

1 ad

Bretagne Service Matériel

1 ad

PRZEDSIĘBIORSTWO WIELOBRANŻOWE Oszywa Ryszard

1 ad

VOL-TRANS Usługi- Transport - Handel MIERNIK EMIL

1 ad

H ET S NUTZFAHRZEUGE

1 ad

TRANSPORTES RAMASSOT SL

1 ad

Procida Macchine srl

1 ad

SCANIA MEDITERRANEE VITROLLES

1 ad

GEERTS TRUCKS & TRAILERS

1 ad

Automezzi Brianza di Gianluca Maugeri

1 ad

ALAM CAMION di Alam Ayad

1 ad

SCANIA USED CORNER Noves

1 ad

Fliegl Agrartechnik GmbH

1 ad

CONCESUR USED TRUCKS

1 ad

Salper Import Trucks S.L.

1 ad

Olkop Hurtownia Olejów i Paliw Gabriel Kropkowski

1 ad

Carrocerías Hispalis

1 ad

KELVER Machinery & Trucks

1 ad

NVI NORMANDY VEHICULES INDUSTRIELS

1 ad

SCANIA USED CORNER Chaponnay

0 ad

SCANIA USED CORNER Cagny

0 ad

Talleres Mariano Herbera, S.L.

0 ad

Massimo Leotta Fahrzeughandel & Export

0 ad

CENTRE AUTO TOURAINE

0 ad

RANGONI E AFFINI SPA

0 ad

SCANIA BELGIUM NV-SA

0 ad

SCANIA USED CORNER Artigues

0 ad

RIZZO AUTOVEICOLI SRL

0 ad

Comercial Conauto Scania SL

0 ad

GARAGE NEVERS SUD SAS

0 ad

Channel Poids Lourds Calais

0 ad

SCANIA USED CORNER Dijon

0 ad