Truck manufacturers | Miscellaneous Transport
New technologies dedicated to reduce the number of accidents on the roads
12/19/2019 04:03:53 pm
12/19/2019 03:46:51 pm
Via-Mobilis - Mise à jour : le 12/19/2019 04:03 pm - By
Eva Nyirfa
Truck manufacturers regularly propose new ideas to decrease the number of road accidents. In this article, we are guiding you through the main innovations of the field.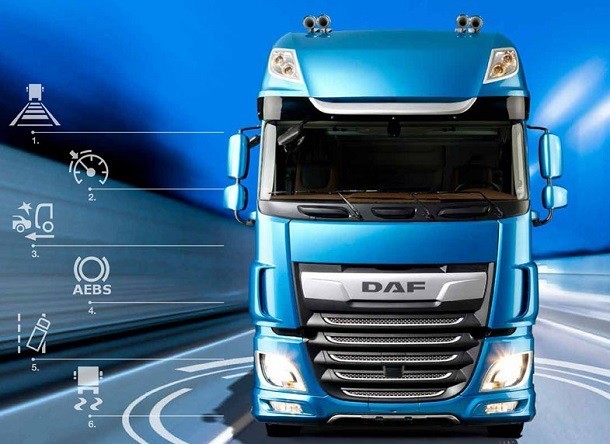 Photo credit: DAF - new CF and XF
Multifunctional steering wheels
The most commonly used controls are more and more regularly placed on the steering wheels allowing truck drivers to keep their eyes on the road at all times. The multifunctional steering wheel enables the activation and deactivation of the speed gear, the speed limiter and even the audio system without ever having to take a hand off of the wheel. The equipment is often paired with a central screen installed on the dashboard which allows the driver to access all the basic information at a glance.
Assistance systems
Trucks are equipped with several new systems aiding the driver in avoiding accidents. Their main types are:
stability control systems;
distance control systems;
emergency braking assistance;
traffic-sign recognition systems.
Alarm systems
In the latest truck models a lane-departure warning system brings about a moderate vibration of the steering wheel to lead the driver back into the proper lane when necessary. Truck constructors have also developed a system integrated in the wheel for the detection of drowsiness which alarms the driver when his/her condition is not considered suitable for driving.
Lighting and visibility
A great number of accidents are caused by weak visibility and under-performing or inappropriate lighting. Truck manufacturers address this problem with the automatic activation of the main-beam or the dipped-beam headlamps. Specifically adapted bend-lights are also available.
Truck-to-truck communication
Truck-to-truck communication is a technology permitting real-time exchange of information between trucks when in the close proximity of each other. Once a truck equipped with such a system brakes suddenly, other trucks operating with the same technology are immediately alerted.
Truck manufacturers continue to make further discoveries and to come up with innovations aiming at better visibility and the reduction of collision risk.