5 DAF XF for the Graff Team
04/26/2019 04:12:10 pm
DAF
The Graff Team Racing will use five XF 480 FT 4X2 Super Space Cab tractor units. The keys handover took place in Morangis, France at the team racing department in the presence of DAF Trucks France General director, Philippe Canetti.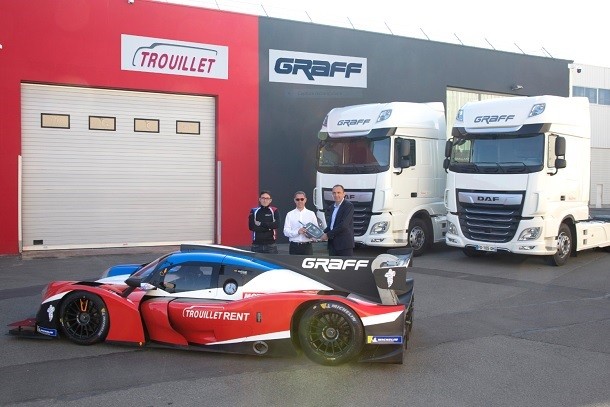 The Graff Racing Team
Created in 1985 by Formule Ford 1984 winner, Jean-Philippe Grand, motor sport Graff Racing participates in numerous competitions in Europe and in the world. It is as efficient in Formule Renault as it is in endurance or Formula 3. In 2019, the Team, made of 25 members, has committed itself in the  Michelin Le Mans Cup and in the European Le Mans Series (Elms), two European endurance trials.

After its fifth position during the 2017 edition of the 24 hours of Le Mans, the team wants to step onto the podium this year.
The DAF XF designed for long distance
For travel (estimated at 30.000 km for the 2019 year), Graff Racing needed reliable, efficient vehicles but also using little fuel. The choice has been made on the DAF XF. With the addition of several systems, the fuel gain is estimated at 7% in comparison with its competitors.

The DAF XF is equipped with a PACCAR MX-13 engine with an output of 483hp as well as many features reinforcing the safety (lane change warning, alerte de changement de voie, Advanced Emergency Braking System or a Adaptive Cruise Control). In addition to these vehicles, DAF offers the team the expertise of its European network for maintenance operations.