FICHE TECHNIQUE RENAULT T 380 T6X2 LOW E6
Tractor unit RENAULT T 380 T6X2 LOW E6 T 380 T6X2 LOW E6

Main characteristics
| | |
| --- | --- |
| Range | T |
| Model | 380 T6X2 LOW E6 |
| Type of vehicle | Tractor |
| Axles configuration | 6x2 |
| Empty weight | - |
| GVWR | 26 000 kg |
| Maximum allowable weight | 44 000 kg |
| Max. front weight | 7 500 kg |
| Max. back weight | - |
Dimensions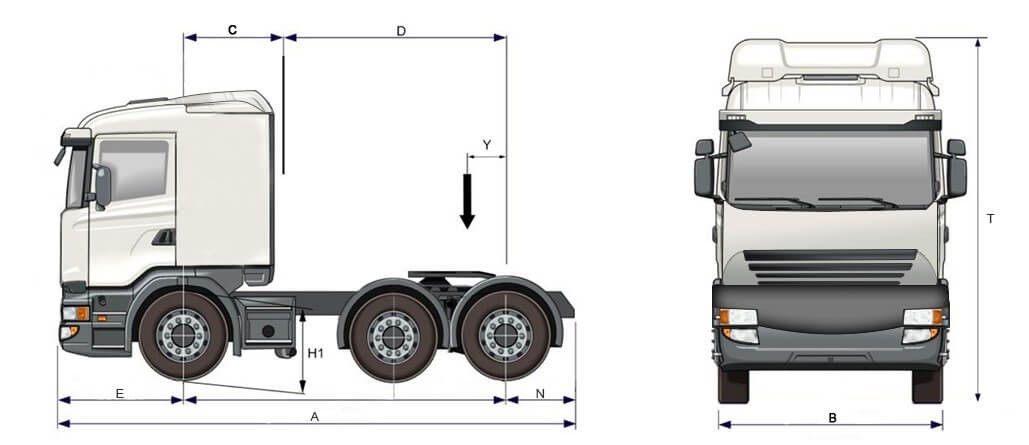 Sleeper cab
Model
32
34
37
A / Overall length
6,740 m
6,940 m
7,240 m
B / Width
2,500 m
C / Chassis cab width
-
D / Chassis cab width rear under-frame
-
E / Front overhang
1,365 m
F / Wheel base
3,200 m
3,400 m
3,700 m
H1 / Empthy chassis height (front)
0,869 m
H1 / Loaded chassis height (front)
0,858 m
N / Rear overhang
0,825 m
T / Empty cab height
3,530 m
Y / Max. fifth wheel lead
0,549 m
0,576 m
0,616 m
Y / Minimum fifth wheel lead
0,446 m
0,467 m
0,498 m
Y / Standard fifth wheel lead
-
Turning radius inbetween walls
6,706 m
7,056 m
7,506 m
Masses
Sleeper cab
Model
32
34
37
Total weight
7 989 kg
8 009 kg
8 038 kg
Minimum weight on front axle
-
Minimum weight on rear axle
-
Chassis cab front axle weight
4 915 kg
4 930 kg
4 951 kg
Chassis cab rear axle weight
3 074 kg
3 079 kg
3 087 kg
Engines
| | |
| --- | --- |
| Name | DTI 11 |
| Administrative power | 29 cv |
| Bore × stroke | 123 x 152 mm |
| Coolant (without retarder) | - |
| Cooling circuit (with retarder) | - |
| Engine size | 10,8 l |
| Max. power | 279 kW de 1700 à 1850 tr/min |
| Maximum torque | 1800 Nm de 950 tr/min à 1400 tr/min |
| Motor retarder - braking power | - |
| Name | DTI 11 |
| Oil capacity | - |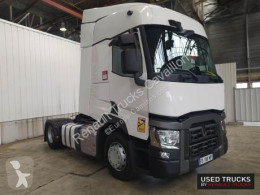 5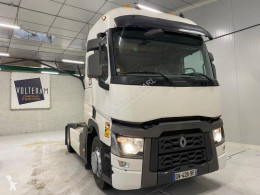 11
Renault T-Series 460 T4X2 E6
France - Parcay meslay (37)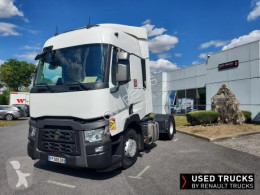 11
Renault T-Series
France - Reims cedex 2 (51)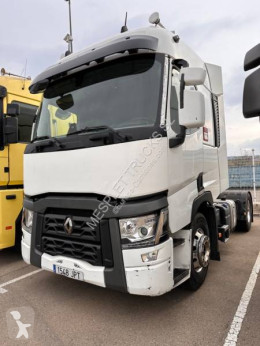 18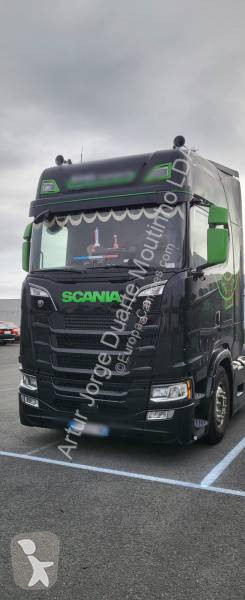 14
Renault T-Series 440.19 DTI...
Portugal - Rio de loba - viseu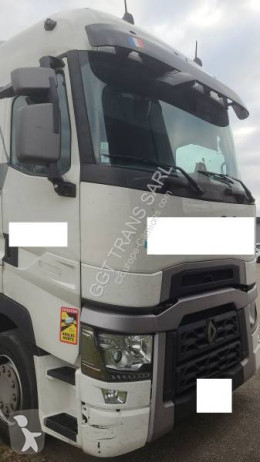 10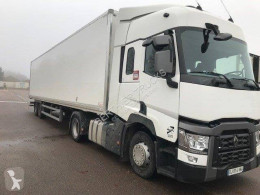 1
Renault T-Series 430.19 DTI...
France - Ruffey les echirey (21)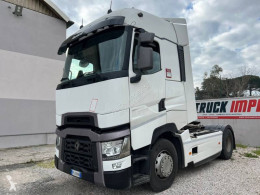 19
Key
: Standard equipment

: Equipments in option
Notes :
1 The information and pictures of this technical sheet are given on an indicative basis. All these data may be modified by the manufacturer. For more information, you can directly go to your dealership.