Scania makes gas trucks compatible with the Opticruise
11/23/2016 11:39:31 am
Scania
Now, the Swedish manufacturer gives its clients the possibility to get a vehicle equipped with a 9-liter engine using gas and having the automated gearboxDésormais, Scania Opticruise. Until now gas truck users (LNG / CNG) only had to choose between manual gearboxes or automated ones with torque converters.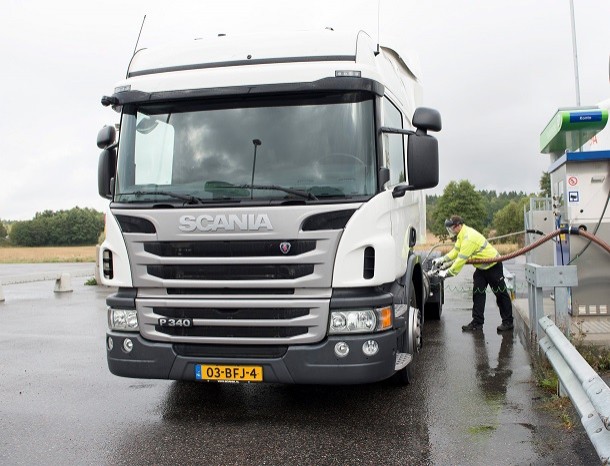 Director of sustainable transport offer Magnus Höglund from Scania explains that : « These two options are still available but with the Scania Opticruise system for long-distance and regional trucks. » 
Perfomant Scania gas engines
The Scania engines using gas are offered with the G, P and Low-entry cabs. These gas engines use CNG (Compressed Natural Gas) or LNG (Liquefied Natural Gas) or renewable biogas. The LNG option gives the truck more autonomy, up to 1100km between each filling.
The gas engine performances with 340hp are comparable to the diesel engine with the same horsepowers. Moreover, the LNG engines are quiet, which gives the driver comfort and driving quality. The engine is able to tow a 40 tonne truck with the Opticruise system by Scania.
Gas engines from a technical point of view
It is with the brake on the intermediate shaft on gearboxes that the engines using gas are compatible with the Opticruise by Scania. The brake on intermediate shaft combined with the powertrain management computer allows a faster synchronisation between the intermediate shaft and the primary shaft.
More and more requests

The director of sustainable transport offer from Scania explains that this project is essentially motivated by environmental considerations. This important demand comes from the European cities wanting to improve the air quality and reduce the carbon footprint. Indeed, the reduction of CO2 emissions goes up to 90% if the fuel used is biomethane.