An autonomy of 1 196 km for the Scania GNL
04/19/2016 03:15:45 pm
04/19/2016 02:32:41 pm
Scania
Currently, truck manufacturers innovate in terms of clean fuel. In 2015, Scania delivered 180 trucks using NGV gas (Natural gas vehicle). In 2016, the LNG version is available. The Swedish manufacturer tested the truck with several bailifs in March 2016 in order to control the performances of the Scania LNG (Liquefied natural gas).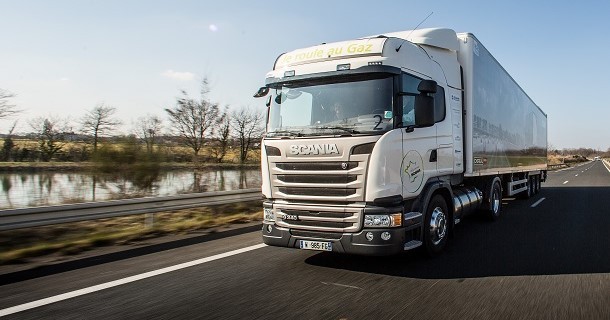 LNG, a viable solution for trucks
In comparisson with NGV, liquefied natural gas has a better autonomy on the road.  Indeed, Scania explains that a vehicle using LNG can reach an autonomy of 1100km when it is only 300 or 400 km with NGV. LNG is a combination of natural gas condensed into liquid (mainly made of methane). When the gas reaches the temperature of -161°C at atmospheric pressure, it becomes liquid, transparent, light, odourless and non toxic.
The filling of a LNG tank requires a protection against cryogenic cold. The liquefied gas should be handled with gloves and mask. The liquefied natural gas produces 27% less CO2 emissions than fuel.
A conclusive test on Scania LNG trucks

The Scania truck test took place on a 1200km journey made of 70% motorway and 30% country roads. Equipped with a 9-liter, double tank engine delivering 340HP, the Scania LNG truck has a GVWR of 34 tonnes. This truck drove on 1 200 km with 345 kilos of gas. On 100 kilometres, the truck uses 28 kilos of gas at an average speed of 74 km/h. With an autonomy of 1 196 km, a liquefied gas filling is close to a diesel filling. The liquefied gas reduces the noise level, this is ideal for urban deliveries.
Scania confirms their pioneer in terms of conversion to clean fuels.