Fruehauf : Used trucks from Fruehauf
Dealerships, Distributors, Traders & Sellers Fruehauf
GUAINVILLE INTERNATIONAL

18 ads

Raschka Trucks GmbH

12 ads

TIP TRAILER SERVICES FRANCE SAS

10 ads

DEGROOTE TRUCKS & TRAILERS

9 ads

SCHMITZ CARGOBULL France

6 ads

Auto Transportadora Moderna Portuense SA

6 ads

IMPERIUM TRUCK MATYSEK S.C.

5 ads

ELRO TRUCKS BELGIUM NV

3 ads

Autopark A5 Nutzfahrzeuge Rossol

2 ads

MECALOUR Centre Occasion

2 ads

Auto Coelhinhos Comércio Automóvel SA

2 ads

BG TRANS POIDS LOURDS

2 ads

EDDIE DÜCKER TRUCKS AND PARTS

2 ads

Bretagne Service Matériel

2 ads

TRANSPORTES RAMASSOT SL

2 ads

MONTSENY TRUCKS, SL

2 ads

GARAGE DE L ABATTOIR BRANDY SAS

1 ad

VIAN - VIATRA TRUCKS N.V.

1 ad

Las Colinas Cranes and Parts S.L.

1 ad

Procar comércio de automoveis maquinas e camioes lda

1 ad

EUROPEA DE COMERCIO VILASANA S.L

1 ad

BVBA THETRUCKCOMPANY

1 ad

JESTIN POIDS LOURDS SAS

1 ad

B&B TRUCKS AND TRAILERS

1 ad

SAS MERCIER AUTOMOBILES

1 ad

NIJWA USED TRUCKS - Vestiging Borne

1 ad

INTERNATIONAL STRATEGE SARL

1 ad

ECOGLOBAL D INVERSIONS 21, S.L.

1 ad

CARGOBULL TRAILOR STORE RENNES

1 ad

AUTOMOCION EMMANUEL V.I. SL

1 ad

COCABI - comercial de camiones Bizkaia SL

1 ad

Cargobull Trailer Store Lille

1 ad

SMEETS & ZONEN PARTS NV

1 ad
---
Tautliner, box, city-urbans, container, flatbed, tipper, heavy equipment transport : here are the main trailer and semi-trailer bodyworks offered by Fruehauf. At first named Fruehauf Trailer Company, the group is now called Fruehauf Trailer Corporation.
The company was created in the USA by Auguste Fruehauf in 1928. After multiple bankruptcies, the company has been divided: a factory was sold to Wabash International in the Netherlands, other construction sites have been bought by foreign companies. Fruehauf France is nos associated with the Wielton group: the multiple branches in Poland, Germany, Africa allow the bodyworks made in Auxerre, France to be easily distributed.
With its slogan "Made to last", the make showcases its main argument: the quality of the materials they use to build their vehicles. Even if the make already has an entire range for large volume transport (Maxi Speed or Express Liner range), it keeps on innovating by offering the new City range: vehicles for urban distribution..
You can find all the Fruehauf trailer and semi-trailer ads as well as the Fruehauf spare parts on our website Planet-trucks.com.
Latest ads published
Fruehauf tautliner semi-trailer used tautliner
FRANCE -

Charente-Maritime

- Saint Sauveur D'aunis
6
Fruehauf Intensive semi-trailer used construction dump
FRANCE -

Bouches-du-Rhône

- Châteauneuf Les Martigues
8
Fruehauf Non spécifié semi-trailer used half-pipe
FRANCE -

Yvelines

- Limay
12
Fruehauf Non spécifié semi-trailer used construction dump
FRANCE -

Yvelines

- Limay
5
Fruehauf Non spécifié semi-trailer used tipper
FRANCE -

Yvelines

- Limay
8
Fruehauf MEGA / DRUM BRAKES / FREIN TAMBOUR semi-trailer used tautliner

EDDIE DÜCKER TRUCKS AND PARTS
5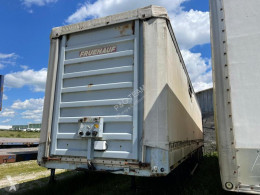 Fruehauf PLATEAU RIDELLE semi-trailer used tarp
11
Fruehauf Plateau semi-trailer used flatbed

DEGROOTE TRUCKS & TRAILERS
FRUEHAUF RECAMBIOS SL

0 ad
GUAINVILLE INTERNATIONAL

18 ads

Raschka Trucks GmbH

12 ads

TIP TRAILER SERVICES FRANCE SAS

10 ads

DEGROOTE TRUCKS & TRAILERS

9 ads

SCHMITZ CARGOBULL France

6 ads

Auto Transportadora Moderna Portuense SA

6 ads

IMPERIUM TRUCK MATYSEK S.C.

5 ads

ELRO TRUCKS BELGIUM NV

3 ads

Autopark A5 Nutzfahrzeuge Rossol

2 ads

MECALOUR Centre Occasion

2 ads

Auto Coelhinhos Comércio Automóvel SA

2 ads

BG TRANS POIDS LOURDS

2 ads

EDDIE DÜCKER TRUCKS AND PARTS

2 ads

Bretagne Service Matériel

2 ads

TRANSPORTES RAMASSOT SL

2 ads

MONTSENY TRUCKS, SL

2 ads

GARAGE DE L ABATTOIR BRANDY SAS

1 ad

VIAN - VIATRA TRUCKS N.V.

1 ad

Las Colinas Cranes and Parts S.L.

1 ad

Procar comércio de automoveis maquinas e camioes lda

1 ad

EUROPEA DE COMERCIO VILASANA S.L

1 ad

BVBA THETRUCKCOMPANY

1 ad

JESTIN POIDS LOURDS SAS

1 ad

B&B TRUCKS AND TRAILERS

1 ad

SAS MERCIER AUTOMOBILES

1 ad

NIJWA USED TRUCKS - Vestiging Borne

1 ad

INTERNATIONAL STRATEGE SARL

1 ad

ECOGLOBAL D INVERSIONS 21, S.L.

1 ad

CARGOBULL TRAILOR STORE RENNES

1 ad

AUTOMOCION EMMANUEL V.I. SL

1 ad

COCABI - comercial de camiones Bizkaia SL

1 ad

Cargobull Trailer Store Lille

1 ad

SMEETS & ZONEN PARTS NV

1 ad

INVEPE -Indústria de Veículos Pesados

0 ad