Fiat
Dealerships, Distributors, Traders & Sellers Fiat
Other sellers Fiat
VAN DEN HURK BEDRIJFSWAGENS

18 ads

INDUSTRIAL CARS (S.P.A.) - Treviso

17 ads

RONNY SCHOUTTEET TRUCKS BVBA

9 ads

TRUCKS ITALIANA srl

6 ads

RITCHIE BROS. AUCTION B.V.

6 ads

DEAL PRO AUTOMOBILES SARL

4 ads

Garage Briffaut SARL

4 ads

Frigo Ouest Occasion

3 ads

DYNATECH INDUSTRIES

3 ads

LIQUIDATION WORLD SL

3 ads

VAN DUN BEDRIJFSWAGENS

3 ads

GHEDAUTO VEICOLI INDUSTRIALI S.R.L.

2 ads

MANDRIOLI ROLI S.R.L.

2 ads

Mondial Distribution

2 ads

BVBA THETRUCKCOMPANY

2 ads

Camiones Zas Brey SC

2 ads

Nutzfahrzeuge 2000 GmbH

2 ads

TOUTES OCCASIONS UTILITAIRES SERVICES V.O.U.S

2 ads

LEMOINE Nutzfahrzeuge GmbH

1 ad

Infa Nutzfahrzeuge GmbH

1 ad

SARL Andréoni et fils

1 ad

AUTOMERCATO SAS di Pastore Michele e C

1 ad

Automóviles Merino SL

1 ad

JESTIN POIDS LOURDS SAS

1 ad

LOMACAR CAMION STORE S.N.C

1 ad

SG services & trucks

1 ad

OMR Omnibus- und Kfz-Handel Mario Röttgen GmbH

1 ad

NEGOCE AUTOS UTILITAIRES

1 ad

Dial Truck Valencia S.L.E.

1 ad

Auto Wardenga KFZ.-Handel

1 ad

AUTOMOCION EMMANUEL V.I. SL

1 ad

KMM Truck GmbH & Co. KG

1 ad
---
Italian company created in 1899, Fiat is, first and foremost, an automobile manufacturer known for different ranges : Urban Look, Panda, 500L, Doblo, Punto, 500, Tipo...
The branch Fiat Professional was created in 2007 and brings together all the productions of light commercial vehicles.
The most famous range is probably the Fiat Ducato : these commercial vans are available for freight transport as well as passenger transport (van, cargo). The most recent models have all the best features of the previous models: the front-wheel drive and the transverse engine, adding an increased loading capacity.
The make includes lots of other commercial van ranges: box vans (including the Ducato, the Talento, the Doblo Cargo and the Fiorino), passenger transport (including the same adapted models), transformed pick-ups (Thorough cabin, Fullback Cross), company vehicles, convertible vehicle (Fullback, Talento, Ducato).
Latest ads published
11
NEW
Fiat Doblo 1.3 JTD used cargo van
2020
27 000 km
Spain - Santiago De Compostela
14
NEW
Fiat Ducato used flatbed van
2016
189 355 km
Poland - Bielsko-Biała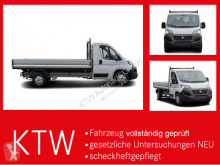 6
NEW
Fiat Ducato Ducato Pritsche 35 L4 Pritsche RS: 4035mm used dropside flatbed van
2021
1 000 km
Germany - Hildesheim-Himmelsthür-Nord
11
2003
120 000 km
Italy - Tuscania
9
NEW
Fiat Ducato 115 MJT used cargo van
13
INDUSTRIAL CARS (S.P.A.) - Treviso
Fiat Ducato (4ª serie) used cargo van
2017
86 000 km
Italy - Thiene
9
Fiat Ducato used large volume box van

8
Fiat Ducato used chassis cab

Do you want to tell the seller that you saved the ad?
By ticking "Yes", the seller will get an email with your contact details (name, last name, email address).
VAN DEN HURK BEDRIJFSWAGENS

18 ads

INDUSTRIAL CARS (S.P.A.) - Treviso

17 ads

RONNY SCHOUTTEET TRUCKS BVBA

9 ads

TRUCKS ITALIANA srl

6 ads

RITCHIE BROS. AUCTION B.V.

6 ads

DEAL PRO AUTOMOBILES SARL

4 ads

Garage Briffaut SARL

4 ads

Frigo Ouest Occasion

3 ads

DYNATECH INDUSTRIES

3 ads

LIQUIDATION WORLD SL

3 ads

VAN DUN BEDRIJFSWAGENS

3 ads

GHEDAUTO VEICOLI INDUSTRIALI S.R.L.

2 ads

MANDRIOLI ROLI S.R.L.

2 ads

Mondial Distribution

2 ads

BVBA THETRUCKCOMPANY

2 ads

Camiones Zas Brey SC

2 ads

Nutzfahrzeuge 2000 GmbH

2 ads

TOUTES OCCASIONS UTILITAIRES SERVICES V.O.U.S

2 ads

LEMOINE Nutzfahrzeuge GmbH

1 ad

Infa Nutzfahrzeuge GmbH

1 ad

SARL Andréoni et fils

1 ad

AUTOMERCATO SAS di Pastore Michele e C

1 ad

Automóviles Merino SL

1 ad

JESTIN POIDS LOURDS SAS

1 ad

LOMACAR CAMION STORE S.N.C

1 ad

SG services & trucks

1 ad

OMR Omnibus- und Kfz-Handel Mario Röttgen GmbH

1 ad

NEGOCE AUTOS UTILITAIRES

1 ad

Dial Truck Valencia S.L.E.

1 ad

Auto Wardenga KFZ.-Handel

1 ad

AUTOMOCION EMMANUEL V.I. SL

1 ad

KMM Truck GmbH & Co. KG

1 ad