New Volvo FMX tipper truck 540 Greater than 8 Diesel Euro 6
Contact seller
+31.413.75.42.46
Send an email
Company BAS TRUCKS BV
Mac Arthurweg 2
5466 AP
Veghel
Noord-Brabant
-
Netherlands
Seller on Planet-Trucks.com since 8 years
Characteristics - New Volvo FMX tipper truck 540 Greater than 8 Diesel Euro 6
Truck Tipper
Main information

Client ref. :
70043469
Website ref. :
2126043
Bodywork
Tipper
Make

Volvo

Range

(make : Volvo)

FMX
Model
540
Condition
new
Date of first registration
--
Country
NETHERLANDS
Manufacturer
Volvo
Tonnage

Load capacity
55.2 Tonnes
Empty weight
22.8 Tonnes
Total loaded weight
78 Tonnes
Equipment Volvo FMX truck
Air suspension
ABS
Gearbox controller
Additional reservoir
Measurements

Wheel base
5.6 metres
Cabin equipment
Back-up camera
Air conditioning
Phone number
Additional information Volvo 540

Gearbox
Automatic transmission
Tyres

Rear tyres wear
100 %
Condition and dimension of tyres
Rear axle 1: Tyre size: 375/90 R22.5; Tyre profile left: 100%; Rear axle 2: Tyre size: 325/95 R24; Tyre profile left: 100%; Rear axle 3: Tyre size: 375/90 R22.5; Tyre profile: 100%; Rear axle 4: Tyre size: 325/95 R24; Tyre profile: 100%
Notes
🇬🇧 Information in English:
More options and accessories
Headlight type: halogen (The headlight type of this vehicle)
Hydraulic
The vehicle is equipped with a hydraulic installation.
Retarder: Retarder RET-TPT
A retarder is a device used to augment or replace some of the functions of primary friction-based braking systems, usually on heavy vehicles. Retarders serve to slow vehicles, or maintain a steady speed while traveling down a hill, and help prevent the vehicle from "running away" by accelerating down the hill.
Tipperunit
The vehicle is equipped with a tipping unit, enabling the raising and lowering of the cargo hold. With this it's possible to dump the load.
Amount of fuel tanks: 1 (Amount of fuel tanks)
Material: steel (The material of the superstructure.)
Superstructure construction year: 2016 (The construction year of the superstructure.)
More information
Transmission: 6 gears, Automatic
Cab: Kort
Brakes: drum brakes
Rear axle 1: Reduction: hub reduction
Rear axle 2: Reduction: hub reduction
Dimensions of cargo space: 700 x 260 x 196 cm
Dealer information
We recommend you to view this vehicle directly on our website to see FULL vehicle details:

- Detailed HD video inspection
- 360 degree pictures
- Complete specifications

BAS Trucks is located in Veghel, the Netherlands and has a stock of over 1.500 vehicles from all brands, types, ages and mileages.
This sales price is based on a full payment within 5 working days.

Our team speaks 13 languages and we are opened 6 days a week.
We can assist with the export, import, shipping, and transport of your purchase. We can also buy your current trucks and trailers.
We offer leasing in 13 countries, contact our sales team and they will find a solution which fits for you.
We also have the largest independent workshop in Europe where we can service or modify your vehicle to your wishes.
Fitting new or used tyres to your truck or trailer is also possible, we sell the popular premium brands, as well as safe and reliable budget options.
BAS Parts has over 100.000 new and used spare parts on stock, we are OEM supplier of Volvo, DAF, and Renault.
🇫🇷 Informations en Français:
Plus d'options et d'accessoires
Hydraulique
Le véhicule est équipé d'une installation hydraulique.
Retarder: Retarder RET-TPT
Un ralentisseur est un dispositif utilisé pour augmenter ou remplacer certaines fonctions des systèmes de freinage primaires à friction, généralement sur les véhicules lourds. Les ralentisseurs servent à ralentir les véhicules ou à maintenir une vitesse constante tout en descendant une colline, et aident à empêcher le véhicule de «s'enfuir» en accélérant dans la pente.
Type de phare: halogen (Le type de phare de ce véhicule)
Valve de nivellement
Le véhicule est équipé d'une unité de basculement, permettant le levage et l'abaissement de la soute. Avec cela, il est possible de vider la charge.
Année de construction de la superstructure: 2016 (L'année de construction de la superstructure.)
Matériel: steel (Le matériau de la superstructure.)
Quantité de réservoirs de carburant: 1 (Quantité de réservoirs de carburant)
Plus d'informations
Transmission: 6 vitesses, Automatique
Cabine: Kort
Freins: freins à tambour
Essieu arrière 1: Réduction: moyeux réducteurs
Essieu arrière 2: Réduction: moyeux réducteurs
Dimensions espace de chargement: 700 x 260 x 196 cm
Information sur la société
Nous vous recommandons de voir ce véhicule directement sur notre site Web pour voir les détails complets du véhicule:

- Inspection vidéo HD détaillée
- Images à 360 degrés
- Spécifications complètes

BAS Trucks possède un stock de plus de 1 500 véhicules de toutes marques, types, âges et kilométrages.
Ce prix de vente est basé sur un paiement complet dans les 5 jours ouvrables.

Notre équipe parle 13 langues et nous sommes ouverts 6 jours par semaine.
Nous pouvons vous aider à l'exportation, l'importation, l'expédition , et transport de votre achat. Nous pouvons également acheter vos camions et remorques actuels.
Nous proposons la location dans 13 pays, contactez notre équipe de vente et ils trouveront une solution qui vous convient.
Nous avons également le plus grand atelier indépendant en Europe où nous pouvons entretenir ou modifier votre véhicule selon vos envies.
Le montage de pneus neufs ou d'occasion sur votre camion ou votre remorque est également possible, nous vendons les marques premium populaires, ainsi que des options budgétaires sûres et fiables.
BAS Parts a plus de 100 000 pièces de rechange neuves et d'occasion en stock, nous sont fournisseur OEM de Volvo, DAF et Renault.
🇪🇸 Información en español:
Más opciones y accesorios
Hydralic
El vehículo está equipado con una instalación hidráulica.
Retardador: Retarder RET-TPT
Un retardador es un dispositivo utilizado para aumentar o reemplazar algunas de las funciones de los sistemas de frenado basados en la fricción primaria, generalmente en vehículos pesados. Los retardadores sirven para desacelerar los vehículos, o mantener una velocidad constante mientras se viaja cuesta abajo, y ayudan a evitar que el vehículo "huya" acelerando colina abajo.
Sistema autonomo para volcar
El vehículo está equipado con una unidad de vuelco, que permite subir y bajar la bodega de carga. Con esto, es posible descargar la carga.
Tipo de faro: halogen (El tipo de faro de este vehículo)
Año de construcción de la superestructura: 2016 (El año de construcción de la superestructura.)
Cantidad de tanques de combustible: 1 (Cantidad de tanques de combustible)
Material: steel (El material de la superestructura.)
Más información
Transmisión: 6 marchas, Automático
Cabina: Kort
Frenos: frenos de tambor
Eje trasero 1: Reducción: reducción de cubo
Eje trasero 2: Reducción: reducción de cubo
Dimensiones espacio de carga: 700 x 260 x 196 cm
Información de la empresa
Recomendamos que vea este vehículo directamente en nuestro sitio web para ver los detalles COMPLETOS del vehículo:

- Inspección detallada de video HD
- Imágenes de 360 ​​grados
- Especificaciones completas

BAS Trucks tiene un stock de más de 1,500 vehículos de todas las marcas, tipos, edades y millajes.
Este precio de venta se basa en un pago completo dentro de los 5 días hábiles.

Nuestro equipo habla 13 idiomas y estamos abiertos 6 días a la semana.
Podemos ayudar con la exportación, importación, envío y transporte de su compra. También podemos comprar sus camiones y remolques actuales.
Ofrecemos arrendamientos en 13 países, póngase en contacto con nuestro equipo de ventas y encontrarán una solución que se adapte a usted.
También tenemos el taller independiente más grande de Europa donde podemos servicio o modificar su vehículo a su gusto.
También es posible instalar neumáticos nuevos o usados ​​en su camión o remolque, vendemos las marcas premium populares, así como opciones de presupuesto seguras y confiables.
BAS Parts tiene más de 100,000 repuestos nuevos y usados ​​en stock, nosotros somos proveedores OEM de Volvo, DAF y Renault.
🇳🇱 Informatie in het Nederlands:
Aanvullende opties en accessoires
Hydrauliek
Het voertuig is uitgerust met een hydraulische installatie.
Kiepinrichting
Het voertuig is uitgerust met een kanteleenheid die het heffen en neerlaten van het laadruim mogelijk maakt. Hiermee is het mogelijk om de lading te dumpen.
Koplamptype: halogen (Het koplamptype van dit voertuig)
Retarder: Retarder RET-TPT
Een retarder is een apparaat dat wordt gebruikt om sommige functies van op primaire wrijving gebaseerde remsystemen aan te vullen of te vervangen, meestal op zware voertuigen. Retarders dienen om voertuigen te vertragen of een constante snelheid te behouden tijdens het afrijden van een heuvel en helpen voorkomen dat het voertuig "wegrent" door de heuvel af te accelereren.
Bouwjaar opbouw: 2016 (Het bouwjaar van de opbouw.)
Hoeveelheid brandstoftanks: 1 (Hoeveelheid brandstoftanks)
Materiaal: steel (Het materiaal van de opbouw.)
Meer informatie
Transmissie: 6 versnellingen, Automaat
Cabine: Kort
Remmen: trommelremmen
Achteras 1: Reductie: naafreductie
Achteras 2: Reductie: naafreductie
Afmetingen laadruimte: 700 x 260 x 196 cm
Bedrijfsinformatie
WhatsApp? +31653417290
Bezoek onze website voor:
-Gedetailleerde HD video inspectie
-360 graden fotos
-Complete specificaties
BAS Trucks heeft een voorraad van meer dan 1.500 voertuigen van alle merken, types, leeftijden en kilometrages.
De prijs vermeld is geldig bij betaling binnen 5 dagen.

We zijn 6 dagen per week geopend.
Heeft u hulp nodig bij het exporteren, importeren, of verschepen van uw voertuig? Neem contact op met ons after sales team. Uw huidig voertuig aan ons verkopen is ook mogelijk.
Leasing is bij ons mogelijk in 13 landen. Ook hebben we de grootste onafhankelijke werkplaats in Europa waar we onderhoud en reparaties kunnen verrichten.
Via BAS Tyres kunnen we zowel nieuwe als gebruikte banden leveren van betrouwbare budget merken, als ook premium merken.
BAS Parts heeft meer dan 100.000 nieuwe en gebruikte onderdelen op voorraad, ook zijn we leverancier van Volvo, DAF en Renault.
🇩🇪 Informationen auf Deutsch:
Weitere Optionen und Zubehör
Hydraulik
Das Fahrzeug ist mit einer hydraulischen Anlage ausgestattet.
Kipperanlage
Das Fahrzeug ist mit einer Kippvorrichtung ausgestattet, die das Heben und Senken des Laderaums ermöglicht. Damit ist es möglich, die Last abzuladen.
Retarder: Retarder RET-TPT
Ein Retarder ist eine Vorrichtung, die verwendet wird, um einige der Funktionen von primären reibungsbasierten Bremssystemen zu verstärken oder zu ersetzen, üblicherweise an schweren Fahrzeugen. Retarder dienen dazu, Fahrzeuge zu verlangsamen oder eine konstante Geschwindigkeit beizubehalten, während sie einen Hügel hinunter fahren, und helfen zu verhindern, dass das Fahrzeug "wegrennt", indem es den Hügel hinunter beschleunigt.
Scheinwerfertyp: halogen (Der Scheinwerferstil dieses Fahrzeugs)
Aufbau Baujahr: 2016 (Das Baujahr des Aufbaus.)
Kraftstofftanks Menge: 1 (Kraftstofftanks Menge)
Material: steel (Das Material des Aufbau.)

Weitere Informationen


Getriebe: 6 Gänge, Automatik
Kabine: Kort
Bremsen: Trommelbremsen
Hinterachse 1: Reduzierung: Ausenplanetenachsen
Hinterachse 2: Reduzierung: Ausenplanetenachsen
Abmessungen des Laderaums: 700 x 260 x 196 cm


Firmeninformationen


Wir empfehlen Ihnen, dieses Fahrzeug direkt auf unserer Website anzusehen, um die vollständigen Fahrzeugdetails zu sehen:

- Detaillierte HD-Videoinspektion
- 360-Grad-Bilder
- Vollständige Spezifikationen

BAS Trucks verfügt über einen Bestand von über 1.500 Fahrzeugen aller Marken, Typen, Altersgruppen und Laufleistungen.
Dieser Verkaufspreis basiert auf einer vollständigen Zahlung innerhalb von 5 Arbeitstagen.

Unser Team spricht 13 Sprachen und wir sind 6 Tage die Woche für Sie da.
Wir können Ihnen beim Export, Import und Versand behilflich sein und Transport Ihres Kaufs. Wir können auch Ihre aktuellen LKWs und Anhänger kaufen.
Wir bieten Leasing in 13 Ländern an. Wenden Sie sich an unser Verkaufsteam, um eine für Sie passende Lösung zu finden.
Wir haben auch die größte unabhängige Werkstatt in Europa, wo wir können warten oder modifizieren Sie Ihr Fahrzeug nach Ihren Wünschen.
Es ist auch möglich, neue oder gebrauchte Reifen an Ihrem LKW oder Anhänger zu montieren. Wir verkaufen die beliebten Premium-Marken sowie sichere und zuverlässige Budgetoptionen.
BAS Parts hat über 100.000 neue und gebrauchte Ersatzteile auf Lager sind OEM-Zulieferer von Volvo, DAF und Renault.


Référence parc : 70043469,
État : Neuf,
Informations pneus ou train de chaînes : Rear axle 1: Tyre size: 375/90 R22.5; Tyre profile left: 100%; Rear axle 2: Tyre size: 325/95 R24; Tyre profile left: 100%; Rear axle 3: Tyre size: 375/90 R22.5; Tyre profile: 100%; Rear axle 4: Tyre size: 325/95 R24; Tyre profile: 100%,
Nombre d'essieux : 5,
Suspension d'essieu,
Roue de secours,
Stores,
Capacité : 55tonnes,
Capacité maximum : 55tonnes,
Suspension : Pneumatique,
Visière pare-soleil,
Charge utile : 55.2tonnes,
Longueur de chargement : 7m,
Autoradio,
Informations Moteur : D13K,
Type de transmission : Automaat,
Poids : 22.8kg,
Longueur de chargement maximale : 7000mm,
Capacité de chargement : 55200kg,
Tempomat,
Cruise control,
Type d'intérieur : Tissu,
Type de pneus : Simples
Address :
Mac. Arthurweg 2
Veghel - 5466AP
Nederland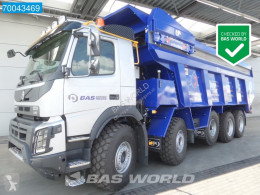 You are interested in this vehicle ?
Don't wait any longer, get in touch with the company
BAS

TRUCKS

BV
to know more right now !