Truck market
New DAF XG+'s for Danny W Poole & Sons
09/28/2022 04:57:01 pm
09/28/2022 04:28:18 pm
Via-Mobilis - Mise à jour : le 09/28/2022 04:57 pm - By
UKHaulier
Danny W Poole (DWP) & Sons has sparked a fleet refresh with a New Generation DAF XG+ from Motus Commercials Stoke, in a striking new livery.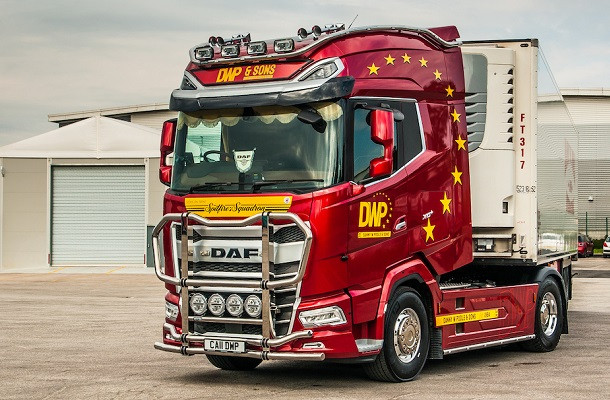 DWP is an international food haulier which operates out of its site on Metro Business Park in Hanley, Stoke-on-Trent. They have a fleet of 25 trucks and 30 trailers and, although historically loyal to an alternative brand, DWP is now proudly 100% DAF.
The DWP fleet runs on a 3-year replacement programme which is common for many fleet operators as a way of managing maintenance as they can finance a modern, reliable fleet benefitting from the manufacturers' warranty and R&M support.
As a portion of their fleet nears 3-years of age Danny Poole, Director of Danny W Poole. & Sons, reached out to their local Motus Commercials DAF dealership.
Danny explains:
"We operate executive model DAF XF's at the moment and they're definitely more comfortable than our previous brand of trucks, so opting for DAF again was a no-brainer. Our drivers are away for up to 4 weeks at a time so the truck must have everything they need and that's why this time around we opted for the biggest and best available again, the largest cab on the market – the DAF XG+."
This DAF XG+ 480 FTP is the first of 11 tractor units to join the fleet and they all boast a wealthy specification with Xtra leather air seats, 2 x refrigerators, Dura-Bright wheels, air horns, light bars, and more.
All 11 trucks will be supported by a DAF warranty and R&M package with all works again being carried out by Motus Commercials DAF – Stoke.
Danny continues:
"A real benefit of having a DAF fleet is the 24/7 service backup provided by our local Motus Commercials DAF dealership. They're located just 5 minutes from our yard and it's great to know that we can book our vehicles in for work on a day and time which suits our operation.

Overall, I think that DAFs are great value for money and the product is really good. We have a great relationship with the Motus Commercials team who look after us and offer valuable support to our operation. I'd like to also give credit to a salesperson, in particular, Andy Ridgway, who has done a great job and deserves the recognition."

 

This post appeared first on UkHaulier.