Events and Trade Fairs
IAA Transportation 2022: Daimler Truck unveils battery-electric eActros LongHaul truck and expands eMobility portfolio
09/20/2022 11:02:10 am
Via-Mobilis - le 09/20/2022 11:02 am - By
UKHaulier
Daimler Truck is pursuing the goal of complete locally CO2 neutral transport. The manufacturer demonstrates this with a broad portfolio of fully electric vehicles at IAA Transportation 2022 in Hanover. The Daimler Truck trade show highlight is the heavy-duty, battery-electric Mercedes-Benz eActros LongHaul long-distance truck, which the manufacturer presents to the public for the first time.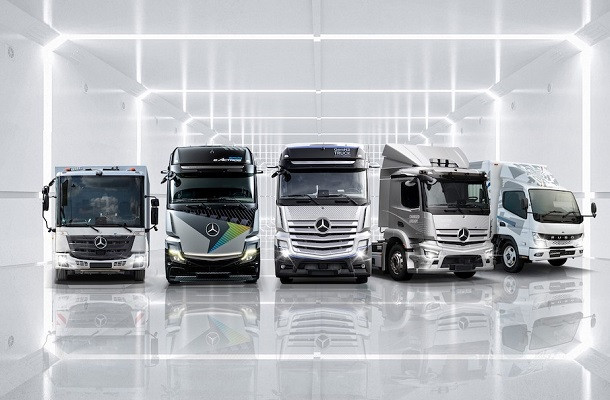 Daimler Truck unveiled a concept prototype of the electric truck at a press conference ahead of the IAA on Sunday evening. The series-production eActros LongHaul has a range of around 500 kilometres on a single battery charge and is capable of megawatt charging. Readiness for series production is planned for 2024. Another innovation at the trade show is the battery-electric Mercedes-Benz eActros 300 in a tractor version for flexible heavy-duty distribution transport. In addition, Daimler Truck has announced the battery-electric Mercedes-Benz eAtego for the medium-duty segment. As another highlight, the manufacturer is presenting the light-duty, battery-electric FUSO Next Generation eCanter at the IAA – celebrating its European premiere at IAA Transportation just two weeks after its world premiere. By 2030 commercial vehicles that are CO2-neutral in driving operation should account for up to 60% of Daimler Truck sales in EU30 markets. Daimler Truck's appearance at this year's IAA is its first as an independent DAX company.
As a business unit of Daimler Truck, the world's leading bus manufacturer Daimler Buses has also set the goal of a completely CO2-neutral vehicle portfolio. Daimler Buses aims to offer CO2-neutral models in every segment by 2030. In addition to the battery-electric Mercedes-Benz eCitaro, which has been in series production since 2018, Daimler Buses plans to launch the first all-electric inter-city bus from 2025. The first purely electric coach will follow from the end of this decade. At the press conference on Sunday evening, Daimler Buses presented the next generation of the Setra TopClass and ComfortClass coaches with an efficient conventional drivetrain as a world premiere. In terms of design, these models show the new "family face" and set standards for safety and assistance systems with Active Brake Assist 5 as standard and optional Active Drive Assist 2.
Martin Daum, CEO Daimler Truck: "Since the last IAA four years ago we have moved forward at full speed with the transition to CO2-neutral transport. This year we already have eight pure battery-electric series-production vehicles in our portfolio. However, it's not enough just to offer the right vehicles. Our customers also need the suitable infrastructure. We are active here at a wide variety of levels. For a rapid build-up, it is essential that the entire industry and governments pull together."
Karin Rådström, CEO Mercedes-Benz Trucks: "We are continuously expanding our portfolio of battery-electric trucks. Our focus is on offering clear advantages to our customers. Therefore, our electric trucks are specifically designed for eMobility giving them better drivability, energy efficiency and durability."
Karl Deppen, CEO Daimler Truck Asia: "At FUSO, we are frontrunners in the electrification of commercial vehicles. Since the introduction of the small-series FUSO eCanter five years ago, we gained extensive experience and valuable feedback from customers running the trucks in daily operations. With the Next Generation eCanter, we are now offering our customers tailor-made eMobility solutions for a broad range of applications. By taking the next step extending our product portfolio and entering large-scale production we continue to lead the sustainable transportation of the future."
Till Oberwörder, CEO Daimler Buses: "We have already achieved a lot in terms of electrification with our eCitaro and the respective services including infrastructure, construction, IT solutions and training. In addition to the continuous advancement of our eCitaro, inter-city buses and coaches are now the focus of our development activities. For this, we have defined a clear roadmap."
eActros LongHaul with over 600 kilowatt hours of battery capacity
The eActros LongHaul presented at IAA provides a preview of the design language of the production vehicle with its clear contours and an LED light strip in the front area. Mercedes-Benz Trucks has also announced additional information on the eActros LongHaul series. Three battery packs provide an installed total capacity of over 600 kWh and two electric motors, as part of a new e-axle, generate a continuous output of 400 kW (536 hp) and a peak output of over 600 kW (805 hp). In addition to the tractor unit, Mercedes-Benz Trucks will also produce rigid variants of the eActros LongHaul at market launch. This will offer customers numerous other possible use cases for fully electric transport. Development engineers at Mercedes-Benz Trucks are designing the eActros LongHaul so that the vehicle and its components meet the same durability requirements as a comparable conventional heavy long-distance Actros. That means 1.2 million kilometres on the road over a period of ten years.
The eActros LongHaul will be the first all-electric series-production vehicle from Mercedes-Benz Trucks to be manufactured from start to finish on the existing assembly line at the Wörth truck plant. This also includes the installation of all electrical components and putting the vehicle into operation at the end of the line. It enables high-production capacities and a completely parallel production of both conventional and fully electric trucks on the same line. With the eActros 300/400 and the eEconic, on the other hand, electrification has so far taken place in a separate process at the Future Truck Centre in Wörth.
The batteries used in the eActros LongHaul employ lithium iron phosphate cell technology (LFP). These are characterised, above all, by a long service life and more usable energy. The batteries of the production eActros LongHaul can be charged from 20% to 80% in well under 30 minutes at a charging station with an output of about one megawatt. The core of the Mercedes-Benz Trucks concept for battery-electric long-distance transport is to offer customers a holistic solution consisting of vehicle technology, consulting, charging infrastructure and services. The eActros LongHaul is planned to be the right choice for customers in terms of profitability, sustainability and reliability. First prototypes are already undergoing intensive testing and the eActros LongHaul will be trialled on public roads this year. In the coming year, near-production prototypes will go to customers for real-world use testing.
eActros 300 tractor unit for flexible use
The model variant of the eActros 300 as a tractor unit can pull all standard European semi-trailers, taking into account the maximum permissible total length. The eActros 300 tractor unit is based on the same technology as the already-launched rigid eActros 300/400. Three battery packs, each with an installed capacity of 112 kWh1, enable a range of up to 2202 km on a single battery charge. Series production launch is planned for the second half of 2023.
FUSO Next Generation eCanter in more variants for multiple applications
Five years of experience with the eCanter and feedback from customers worldwide based on more than six million electrically driven kilometres were incorporated into the development of the Next Generation eCanter. The result is an electric light-duty truck offering customers more flexibility for various applications between 4.25 and 8.55 tonnes of permissible Gross Vehicle Weight (GVW). With the two cab variants Standard (1,695 mm width) and Comfort (1,995 mm width) and a total of six different wheelbases from 2,500 mm to 4,750 mm, the Next Generation eCanter can be used in light construction and horticulture, as well as in inner-city distribution transport and for municipal tasks. Globally, more than 100 variants will become available. The Next Generation eCanter is powered by an electric motor with either 110 kW (150 hp) in variants with a GVW of 4.25 and 6.0 tonnes, or 129 kW (180 hp) for variants with a GVW of 7.49 and 8.55 tonnes. Both have 430 Nm of torque. In order to meet the varied customer requirements, a new type of modular battery concept offers customers three options with a range of up to 70 km, 140 km or 200 km on a single battery charge. The LFP (lithium iron phosphate) batteries have a nominal capacity of 41.3 kWh per individual battery module. The charging unit is compatible with all voltages used in core markets and supports charging with both alternating current (AC) and direct current (DC). The Combined Charging System (CCS) is the charging standard, and charging is possible with up to 104 kW.
The Next Generation eCanter is available with the latest safety equipment such as the Active Brake Assist 5 (ABA5) collision warning and braking system, as well as Active Sideguard Assist, thereby also setting new benchmarks in its segment. Another highlight is the availability of a PTO (Power Take Off), catering to a variety of special purpose applications. With the eMobility ecosystem, FUSO offers its customers consulting and support on all aspects with regard to charging infrastructure, financing and operation. Start of Sales in the UK is planned for Q1 2023, with series production also beginning next year.
Ultimate goal: CO2-neutral transport on the road by 2050
Daimler Truck's ambition is to only offer new vehicles in Europe, Japan and North America by 2039 that are CO2-neutral when driving ("tank-to-wheel"). FUSO launched the small series production of the first-generation eCanter in 2017; the battery-electric models Mercedes-Benz eCitaro, eActros and eEconic have been in series production since 2018, 2021 and 2022 respectively. The Freightliner eCascadia for the North American market will follow this year and further locally CO2-neutral vehicles are set to be launched in the coming years. In the second half of this decade, the company will also add series-produced trucks with hydrogen-based fuel-cell drives to its range of vehicles. The first prototypes of the Mercedes-Benz GenH2 Truck are already undergoing intensive testing – both on the in-house test track and on public roads. The development goal is a range of 1,000 kilometres and more. This makes the truck suitable for particularly flexible and demanding operations, especially in the important segment of heavy long-distance transport. The ultimate goal is to achieve carbon-neutral transport on the road by 2050.
Daimler Truck Financial Services at the IAA for the first time
In addition, Daimler Truck Financial Services will have a presence at the trade show in Hanover. The company is a division of the Daimler Truck Group. It began operations in December 2021 and is already active in twelve markets. Daimler Truck Financial Services offers financing, leasing and insurance solutions for Daimler Truck Group's trucks and buses.
Daimler Truck's transformation to electric mobility will be supported with integrated financing and insurance offers for the vehicles and the batteries, as well as the infrastructure and charging management. The company is already in talks with municipalities, energy suppliers, transport service and charging park providers.
1 Nominal capacity of new battery, based on internally defined boundary conditions, may vary depending on use case and ambient conditions.
2 The range was determined internally under optimal conditions, including three battery packs after preconditioning in partially loaded distribution traffic with a semi-trailer at 20°C outside temperature.
Distance learning: The development team behind the hydrogen-powered GenH2 Truck, left, are aiming for a range of 1,000 km and more, while the battery-electric eActros LongHaul will cover 500 km on a single charge  
Extending choice: The medium-duty Mercedes eAtego was announced at IAA Hanover 
A pioneer's premiere: The FUSO eCanter was the first economically viable electric truck to enter series production and there are more than 450 in daily use worldwide; its successor, the Next Generation eCanter, takes this success story to another level
Innovation in action: The first prototypes of the hydrogen-powered GenH2 Truck are already undergoing intensive testing
This post appeared first on UkHaulier.