The 2019 Optifuel Challenge - and the Winner is...
10/30/2019 01:37:07 pm
Renault Trucks
The 2019 Optifuel Challenge organised by Renault Trucks in Lyon, France on 16 October, has found its winner upon completion of its international finale. Twenty-five drivers from a corresponding number of countries competed for the title of the best Eco-Driver at the fifth edition of the Event.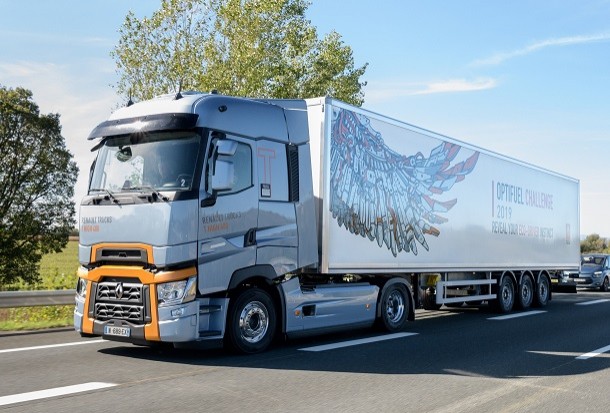 The Podium of the 2019 Edition
To elect the Winner of the Optifuel Challenge, a jury was put in charge of marking the competitors throughout two events. The first one was theoretic and consisted of answering questions about eco-driving. This event gave only 10% of the end results. Consequently, the second part was the decisive one: a race of fourty minutes awaited the competitors where they were expected to drive a 2019 Renault T High 480 on a line open to circulation with the goal of consuming the least possible fuel.
Frantisek Oravec proved to be the best-performing candidate of the second part. The Slovakian competitor, who is also the owner of the company he represented, was rewarded with the 2019 T High 480 and a voucher of €6.000 of value. He outran Piotr Krahel (representing Concept Cargo Logistics, Poland) who received €3.000 for finishing second. The podium was completed with the French representative employed by Transports Rollin, the winner of a €1.500 voucher.
Two special prizes awarded
The jury decided to highlight the good spirit of two competitors who, without doubt, marked this year's edition of the Challenge. These were the Algerian Nabil Bedreddine and the Bulgarian Plamen Ivanov. The first, an employee of TerrenoTrans received the "fair play" prize in recognition of his good temper. The latter (employed by Sunny Co Ltd) was awarded the "fun" prize for the humour he demonstrated throughout the finale.