T-Log : the future logging truck ?
08/02/2018 01:52:41 pm
For the latest edition of the Goodwood Festival of Speed that took place from July 12th to 15th in England, the Swedish company Einride has unveiled their latest logging truck. Called T-Log, it is completely electric and has all the features to be used in autonomous mode.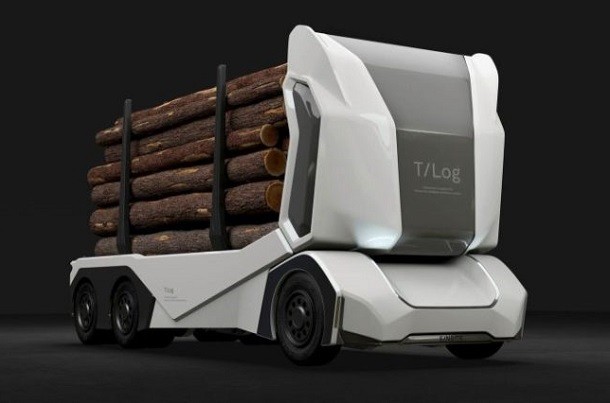 A vehicle based on the T-Pod
The T-Log logging truck is largely inspired by another electric and autonomous truck build by Einride, the T-Pod, which will be tested this winter in real conditions.
The T-Log is made for forest use. With a length of 7,3 metres and a width of 2,5 metres, it can transport up to 16 tonnes of wood. Einride explains that the truck can cover almost 200 kilometres without charging thanks to the batterie power (300 kWh).
Open new perspectives
According to Einride, even if at the moment the autonomous vehicle concept is mostly for cars, they still have solutions to improve the working conditions of truck drivers as well as their safety by reducing their fatigue.
The T-Log logging truck should allow two working systems : it will be able to drive completely autonomously, or be operated by a long-distance pilot. It integrates different autonomous driving softwares by Nvidia. Its manufacturing and sale should start in 2020.