Man tests platooning for logistics
07/19/2018 10:28:14 am
MAN Truck & Bus
For the first time, driving tests of platooning on motorway have been conducted for logistics purposes. They take place in Germany on the A9 motorway. The tryout will help determine the possibilities of this technology that synchronizes and communicates automatically.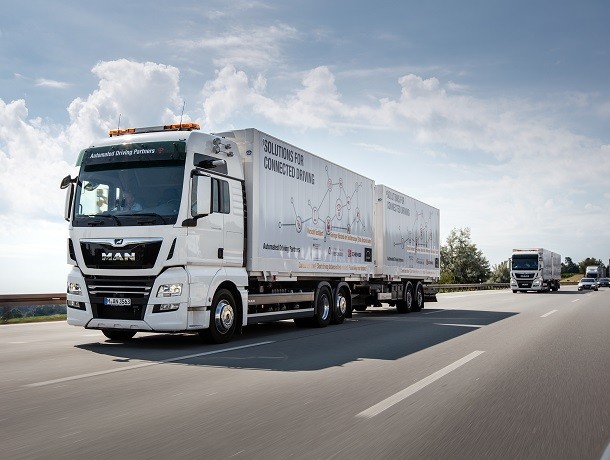 A pilot project developped in collaboration
It is an experiment by two companies DB Schenker, MAN Truck & Bus and the University of applied sciences in Fresenius. The German federal government provides the financing for this project for 2 million euros.

The partnership between these two companies, which are world leaders in the industry, shows the potential offered by this solution. In the future, they hope that platooning will become an integral part of the logistics chain. Moreover, this test is a necessary prerequisite before MAN Truck & Bus can launch the production of this type of vehicle.
The testing conditions on motorway
The operations started on June 25th and happened on a 154 km journey from the DB Schenker logistic centre next  to Munich. Two unloaded trucks given by MAN make the journey.  Starting in August, the testing conditions will get more difficult with several trips with loaded trucks.
This test is an important step in validating the advatanges of platooning, mainly in terms of safety and fuel consumption. After the experiment, studies will be done at the University of Fresenius about the sensations the drivers experienced. Indeed, this could mean a complete change of the profession (and more importantly of the logistics industry) and it is important to foresee any negative impacts.