Volvo: when trucks and cars communicate
05/24/2018 11:31:38 am
Volvo Trucks
Volvo Trucks and Volvo Cars have just unveiled their latest cloud service development. It is a system that allows Volvo vehicles (cars and trucks) to communicate with each other to notify one another of road hazards.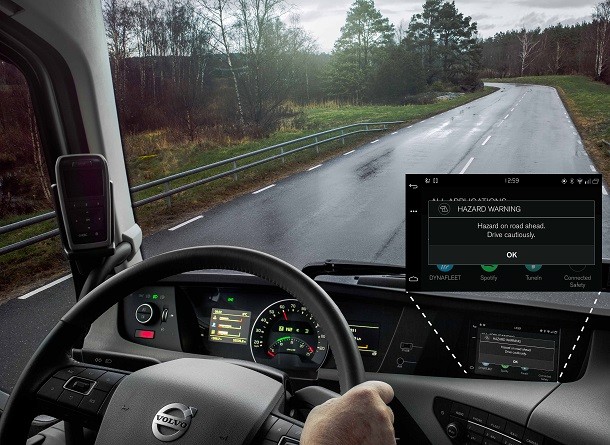 How the system currently works
Developed jointly by Volvo Trucks and Volvo Cars, the service is called Connected Safety. This is the first time that these two entities have joined forces and pooled their research work. The system relies on the sharing of data contained in both cloud environments. For instance, when a driver puts the hazard lights on, Volvo Cars' cloud service is immediately notified via the driver's smartphone. The information is then sent to Volvo Trucks' cloud service. This data exchange makes it possible to alert all vehicles (cars and trucks) of the manufacturer approaching the danger zone, thus reducing the risk of collision.
Connected Safety will be available on new vehicles marketed by Volvo in Sweden and Norway (which are two particularly significant markets for the manufacturer) during 2018.
Future developments
Always concerned with constantly improving the safety on board of their vehicles, engineers intend to make changes to the Connected Safety system. Indeed, it does not seem impossible to supplement the information in the system in the years to come. Drivers would then have a maximum of information given in real time and useful for their safety. Moreover, this additional information would complement that already provided by existing smart systems (driving assistance in particular).
Volvo Trucks and Volvo Cars are also relying on the growing number of vehicles of both brands that have access to the cloud (connected vehicles) to help drive the success of the Connected Safety system.