Iveco presents its range of natural gas vehicles to European Ministers
05/17/2018 11:21:11 am
Iveco
The manufacturer Iveco was attending the 2018 TEN-T Days from the 25th to the 27th of April in Ljubljana (Slovenia). The manufacturer took the opportunity to present its entire range of vehicles (trucks, commercial vehicles and buses) running on natural gas.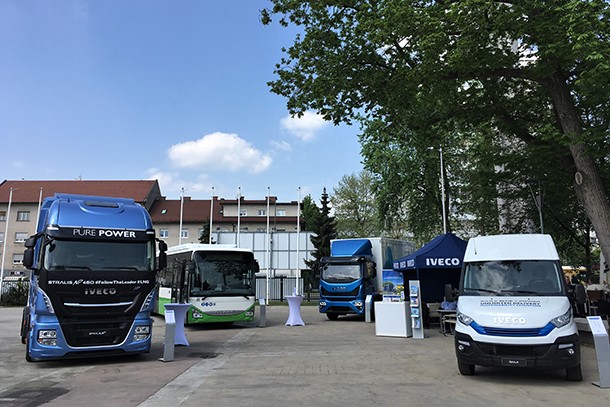 European meetings on transport policy
TEN-T stands for Trans-European Transport Network. It is a summit dedicated to transport policy within the European territory and organised by the European Commission's General Directoracte for Mobility and Transport. It thus brings together politicians (European Ministers and Members of the European Parliament) and industrialists from the sector.
During these meetings, various issues were raised, including the contribution of digital connectivity, or the development of more environmentally friendly modes of transportation through alternative fuels.
Iveco, European leader in natural gas vehicles
It was primarily in response to this last point that Iveco participated in the TEN-T Days. Indeed, the manufacturer has already been developing vehicles using natural gas for several years.
Iveco, the only manufacturer of industrial vehicles to attend these TEN-T Days presented to the public, which include ministers and European parliamentarians the flagship products of its range of vehicles equipped with the "Natural Power" technology.
Therefore, it was possible to try out the "International Commercial Vehicle of the Year 2018", namely the Daily Hi-Matic Natural Power, just like the Stralis NP 460, which was awarded the title "Low Carbon Truck of the Year". Finally, public transportation was also represented with the Crossway Low Entry Natural Power bus.