New Schenk heavy equipment transport semi-trailer 10 axles semitrailer extendable 10S.1T.8N (7+3) More than 3 axles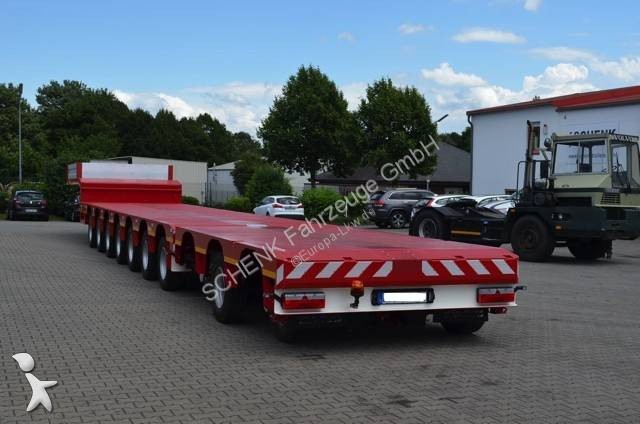 Loading in progress...
Company SCHENK Fahrzeuge GmbH
Robert-Bosch-Straße 4
56751
Polch
Rheinland-Pfalz
-
Germany
Characteristics - New Schenk heavy equipment transport semi-trailer 10 axles semitrailer extendable 10S.1T.8N (7+3) More than 3 axles
Semi-trailer Heavy equipment transport
Main information
Website ref. :
2774581
Bodywork
Heavy equipment transport
Make

Schenk

Model
10 axles semitrailer extendable 10S.1T.8N (7+3)
Condition
new
Date of first registration
--
Options bodywork heavy equipment transport
Measurements
Wheel base
-
Height
0.93 metres
Width
2.55 metres
Length
14.83 metres
Surface
28 m2
Tonnage
Load capacity
111 Tonnes
Empty weight
24 Tonnes
Total loaded weight
135 Tonnes
Maximum allowable weight
-
Tyres
Front tyres wear
-
Rear tyres wear
-
Front tyres dimension
-
Rear tyres dimension
-
Condition and dimension of tyres
-
Equipment's condition
Additional information Schenk 10 axles semitrail...
Date of the last MOT test
-
Expiry date of the MOT test
-
Vehicle registration type
-
Equipment Schenk semi-trailer
Notes
BJ: 2018
TYP: 10S.1T.8N (7+3)
Hersteller: SCHENK Fahrzegbau GmbH
Land: Germany

Abmessungen:
Gesamtlänge : 14.835 mm
Teleskopierbare Länge : 7.000 mm
Gesamtlänge ausgeschoben (max.) : 21.835 mm
Kupplungshöhe : 1.300 mm
Sattelvormaß :1.200 mm
Höhe Ladefläche : 930 mm
Radstand : 8.655 mm

Länge Tiefbett : 10.825 mm
Freidrehradius (Lkw) : 2.400 mm
Mitte Kupplung-Schwanenhals : 2.810 mm
Gesamte Breite : 2.550 mm

DOLLY:
Länge: 4750
3 Achsen



Gewichte (technisch):
Sattellast : 35.000 kg
Eigengewicht ca. : 24.000 kg
Achsaggregatlast : 100.000 kg
Nutzlast ca. : 111.000 kg
Gesamtgewicht : 135.000 kg

Ladefläche
Stahlrahmenschweißkonstruktion mit einem zentralen Hauptträger
Stahlkonstruktion aus Feinkornstahl (QSTE 690)
Die Versorgungsleitungen liegen geschützt im Träger und passen sich der jeweiligen Ladeflächenlänge an
Achsen
10 x 10 Tonnen Achsen luftgefedert mit Trommelbremse (BPW)
Kapazität Achsen: technisch 12t
Hebe- und Senkventil im Luftfedersystem
Vordere 2 Achsen als Liftachsen ausgeführt

Bereifung
Reifen 235/75 R 17,5

Bremsanlage
2-Leitungs-Bremssystem mit EBS und RSS, konform ECE
EBS (WABCO 4S3M)
Stahl Druckluftbehälter
Feststellbremse mittels Federspeicherzylindern und automatischen Bremsstellern an den Achsen
WABCO Smart Board System
Zubehör inklusive
Schwanenhals als Außenträger mit Befestigungsbohrungen für schraubbare Verzurringe
2 Paar einschraubbare Verzurringe inklusive
1 Paar Rungentaschenleisten quer im Ladeboden des Schwanenhalses montiert
Einhängeleiste für lose ALU-Anlegerampen am Schwanenhals
Auf dem Schwanenhals 1 Paar steckbare Alu-Bordwände seitlich, ca. 400 mm hoch
1 steckbare Alu-Rückwand auf dem Schwanenhals, ca. 400 mm hoch
4 Hemmschuhe mit Halterung
7 Paar fest integrierte Verzurringe (RUD) im Außenrahmen der Ladefläche (LC 13.400 daN)
2 Paar Rungentaschen im Außenrahmen der Ladefläche eingelassen
ausziehbare Verbreiterungen (verzinkt) umca. 250 mm
Tränenblech auf der Abschrägung der Ladefläche
1 Schmutzfänger auf der ganzen Breite der Schlusstraverse
1 Rundumleuchte mit Halterung
Handbuch und Beschreibung
2 Stück LED Rückfahrscheinwerfer jeweils links und rechts
Erste Achse mit automatischer Liftachsfunktion sowie Anfahrhilfe
WABCO Smart Board System
Warnpaket:
Reflektorband weiß oder gelb außen seitlich auf der gesamten Aufliegerlänge nach EU-Richtlinien
Reflektorband rot hinten auf der gesamten Aufliegerbreite nach EU-Richtlinien
Wir fertigen nach Ihren Wünschen!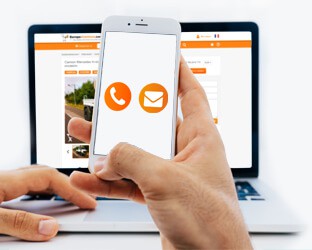 You are interested in this vehicle ?
Don't wait any longer, get in touch with the company
SCHENK

Fahrzeuge GmbH
to know more right now !