Used Scania R container tractor-trailer 560 8x4 Diesel Euro 5
Price :
119,800 € Ex. VAT
Contact seller
+31.413.75.42.46
Send an email
Company BAS TRUCKS BV
Mac Arthurweg 2
5466 AP
Veghel
Noord-Brabant
-
Netherlands
Seller on Planet-Trucks.com since 8 years
Characteristics - Used Scania R container tractor-trailer 560 8x4 Diesel Euro 5
Tractor-trailer Container
Main information

Client ref. :
70130186
Website ref. :
5205645
Bodywork
Container
Make

Scania

Range

(make : Scania)

R
Model
560
Condition
Used
Date of first registration
08/17/2011
Country
NETHERLANDS
Manufacturer
Scania
Cabin specifics R

Sleeper
2 berths
Tyres

Condition and dimension of tyres
Front axle 1: Tyre size: 385/65 R22.5; Tyre profile left: 10%; Tyre profile right: 40%; Front axle 2: Tyre size: 385/65 R22.5; Tyre profile left: 10%; Tyre profile right: 40%; Rear axle 1: Tyre size: 315/80 R22.5; Tyre profile left: 40%; Tyre profile right: 40%; Rear axle 2: Tyre size: 315/80 R22.5; Tyre profile left: 40%; Tyre profile right: 30%
Cabin equipment
Tonnage

Load capacity
63.84 Tonnes
Empty weight
30.16 Tonnes
Total loaded weight
94 Tonnes
Equipment Scania R tractor-trailer
Air suspension
Gearbox controller
Additional reservoir
Additional information Scania 560

Gearbox
Automatic transmission
Measurements

Wheel base
3.9 metres
Options bodywork container
Notes
🇬🇧 Information in English:More options and accessoriesCharacteristicsFifth-wheel height: 135EngineAdBluePTO Type: Pomp PTORetarder: Scania RetarderCapacity of second fuel tank: 500InteriorClimate controlParking heaterStationary aircoTachograph: digitalLightingHeadlight type: halogenSuperstructureHydraulicMaterial: steelMore informationBodywork: Standard tractorTransmission: 12 gears, Semi-automaticCab: Highline CR19Brakes: drum brakesFront axle 1: Reduction: hub reductionFront axle 2: Reduction: hub reductionRear axle 1: Reduction: hub reductionRear axle 2: Reduction: hub reductionMax. towing weight: 150.000 kgDealer informationWe recommend you to view this vehicle directly on our website to see FULL vehicle details:- Detailed HD video inspection- 360 degree pictures- Complete specificationsBAS Trucks is located in Veghel, the Netherlands and has a stock of over 1.500 vehicles from all brands, types, ages and mileages. This sales price is based on a full payment within 5 working days.Our team speaks 13 languages and we are opened 6 days a week.We can assist with the export, import, shipping, and transport of your purchase. We can also buy your current trucks and trailers.We offer leasing in 13 countries, contact our sales team and they will find a solution which fits for you.We also have the largest independent workshop in Europe where we can service or modify your vehicle to your wishes. Fitting new or used tyres to your truck or trailer is also possible, we sell the popular premium brands, as well as safe and reliable budget options.BAS Parts has over 100.000 new and used spare parts on stock, we are OEM supplier of Volvo, DAF, and Renault.🇫🇷 Informations en Français:Plus d'options et d'accessoiresCaractéristiquesHauteur selette: 135ConstructionHydrauliqueMatériel: steelIntérieurAirco stationnaireChauffage cabineClimatisation automatiqueTachygraphe: digitalMoteurAdBlueRetarder: Scania RetarderType de prise de force: Pomp PTOCapacité du deuxième réservoir de carburant: 500ÉclairageType de phare: halogenPlus d'informationsConstruction: Tracteur standardTransmission: 12 vitesses, Semi-automatiqueCabine: Highline CR19Freins: freins à tambourEssieu avant 1: Réduction: moyeux réducteursEssieu avant 2: Réduction: moyeux réducteursEssieu arrière 1: Réduction: moyeux réducteursEssieu arrière 2: Réduction: moyeux réducteursPoids de traction max.: 150.000 kgInformation sur la sociétéNous vous recommandons de voir ce véhicule directement sur notre site Web pour voir les détails complets du véhicule: - Inspection vidéo HD détaillée - Images à 360 degrés - Spécifications complètes BAS Trucks possède un stock de plus de 1 500 véhicules de toutes marques, types, âges et kilométrages. Ce prix de vente est basé sur un paiement complet dans les 5 jours ouvrables. Notre équipe parle 13 langues et nous sommes ouverts 6 jours par semaine. Nous pouvons vous aider à l'exportation, l'importation, l'expédition , et transport de votre achat. Nous pouvons également acheter vos camions et remorques actuels. Nous proposons la location dans 13 pays, contactez notre équipe de vente et ils trouveront une solution qui vous convient. Nous avons également le plus grand atelier indépendant en Europe où nous pouvons entretenir ou modifier votre véhicule selon vos envies. Le montage de pneus neufs ou d'occasion sur votre camion ou votre remorque est également possible, nous vendons les marques premium populaires, ainsi que des options budgétaires sûres et fiables. BAS Parts a plus de 100 000 pièces de rechange neuves et d'occasion en stock, nous sont fournisseur OEM de Volvo, DAF et Renault.🇪🇸 Información en español:Más opciones y accesoriosCaracterísticasAltura quinta roda: 135CarroceríaHydralicMaterial: steelIluminaciónTipo de faro: halogenInteriorAirco estacionarioAire acondicionado automáticoCalefactor autonómoTacógrafo: digitalMotorAdBlueRetardador: Scania RetarderTipo de toma de fuerza: Pomp PTOCapacidad del segundo tanque de combustible: 500Más informaciónCarrocería: Tractor estándarTransmisión: 12 marchas, SemiautomáticoCabina: Highline CR19Frenos: frenos de tamborEje delantero 1: Reducción: reducción de cuboEje delantero 2: Reducción: reducción de cuboEje trasero 1: Reducción: reducción de cuboEje trasero 2: Reducción: reducción de cuboPeso máx. de remolque: 150.000 kgInformación de la empresaRecomendamos que vea este vehículo directamente en nuestro sitio web para ver los detalles COMPLETOS del vehículo: - Inspección detallada de video HD - Imágenes de 360 ​​grados - Especificaciones completas BAS Trucks tiene un stock de más de 1,500 vehículos de todas las marcas, tipos, edades y millajes. Este precio de venta se basa en un pago completo dentro de los 5 días hábiles. Nuestro equipo habla 13 idiomas y estamos abiertos 6 días a la semana. Podemos ayudar con la exportación, importación, envío y transporte de su compra. También podemos comprar sus camiones y remolques actuales. Ofrecemos arrendamientos en 13 países, póngase en contacto con nuestro equipo de ventas y encontrarán una solución que se adapte a usted. También tenemos el taller independiente más grande de Europa donde podemos servicio o modificar su vehículo a su gusto. También es posible instalar neumáticos nuevos o usados ​​en su camión o remolque, vendemos las marcas premium populares, así como opciones de presupuesto seguras y confiables. BAS Parts tiene más de 100,000 repuestos nuevos y usados ​​en stock, nosotros somos proveedores OEM de Volvo, DAF y Renault.🇳🇱 Informatie in het Nederlands:Aanvullende opties en accessoiresInterieurClimate controlStandaircoStandkachelTacho: digitalKenmerkenSchotelhoogte: 135MotorAdBlueRetarder: Scania RetarderType PTO: Pomp PTOCapaciteit tweede brandstoftank: 500OpbouwHydrauliekMateriaal: steelVerlichtingKoplamptype: halogenMeer informatieOpbouw: Standaard trekkerTransmissie: 12 versnellingen, Semi-automaatCabine: Highline CR19Remmen: trommelremmenVooras 1: Reductie: naafreductieVooras 2: Reductie: naafreductieAchteras 1: Reductie: naafreductieAchteras 2: Reductie: naafreductieMax. trekgewicht: 150.000 kgBedrijfsinformatieWhatsApp? +31653417290Bezoek onze website voor:-Gedetailleerde HD video inspectie-360 graden fotos-Complete specificatiesBAS Trucks heeft een voorraad van meer dan 1.500 voertuigen van alle merken, types, leeftijden en kilometrages.De prijs vermeld is geldig bij betaling binnen 5 dagen.We zijn 6 dagen per week geopend.Heeft u hulp nodig bij het exporteren, importeren, of verschepen van uw voertuig? Neem contact op met ons after sales team. Uw huidig voertuig aan ons verkopen is ook mogelijk.Leasing is bij ons mogelijk in 13 landen. Ook hebben we de grootste onafhankelijke werkplaats in Europa waar we onderhoud en reparaties kunnen verrichten.Via BAS Tyres kunnen we zowel nieuwe als gebruikte banden leveren van betrouwbare budget merken, als ook premium merken.BAS Parts heeft meer dan 100.000 nieuwe en gebruikte onderdelen op voorraad, ook zijn we leverancier van Volvo, DAF en Renault.🇩🇪 Informationen auf Deutsch:Weitere Optionen und ZubehörAufbauHydraulikMaterial: steelBeleuchtungScheinwerfertyp: halogenCharakteristikAufsattelhöhe: 135InnereKlimaautomatikStandheizungStationäre KlimaanlageTacho: digitalMotorAdBlueRetarder: Scania RetarderZapfwelle-Typ: Pomp PTOKapazität des zweiten Kraftstofftanks: 500Weitere InformationenAufbau: Standard-SZMGetriebe: 12 Gänge, Halbautomatisches GetriebeKabine: Highline CR19Bremsen: Trommelbremsen Vorderachse 1: Reduzierung: AusenplanetenachsenVorderachse 2: Reduzierung: AusenplanetenachsenHinterachse 1: Reduzierung: AusenplanetenachsenHinterachse 2: Reduzierung: AusenplanetenachsenMax. Zuglast: 150.000 kgFirmeninformationenWir empfehlen Ihnen, dieses Fahrzeug direkt auf unserer Website anzusehen, um die vollständigen Fahrzeugdetails zu sehen: - Detaillierte HD-Videoinspektion - 360-Grad-Bilder - Vollständige Spezifikationen BAS Trucks verfügt über einen Bestand von über 1.500 Fahrzeugen aller Marken, Typen, Altersgruppen und Laufleistungen. Dieser Verkaufspreis basiert auf einer vollständigen Zahlung innerhalb von 5 Arbeitstagen. Unser Team spricht 13 Sprachen und wir sind 6 Tage die Woche für Sie da. Wir können Ihnen beim Export, Import und Versand behilflich sein und Transport Ihres Kaufs. Wir können auch Ihre aktuellen LKWs und Anhänger kaufen. Wir bieten Leasing in 13 Ländern an. Wenden Sie sich an unser Verkaufsteam, um eine für Sie passende Lösung zu finden. Wir haben auch die größte unabhängige Werkstatt in Europa, wo wir können warten oder modifizieren Sie Ihr Fahrzeug nach Ihren Wünschen. Es ist auch möglich, neue oder gebrauchte Reifen an Ihrem LKW oder Anhänger zu montieren. Wir verkaufen die beliebten Premium-Marken sowie sichere und zuverlässige Budgetoptionen. BAS Parts hat über 100.000 neue und gebrauchte Ersatzteile auf Lager sind OEM-Zulieferer von Volvo, DAF und Renault.
Référence parc : 70130186,
Année de construction : 2011,
Nombre de roues motrices : 4,
Informations pneus ou train de chaînes : Front axle 1: Tyre size: 385/65 R22.5; Tyre profile left: 10%; Tyre profile right: 40%; Front axle 2: Tyre size: 385/65 R22.5; Tyre profile left: 10%; Tyre profile right: 40%; Rear axle 1: Tyre size: 315/80 R22.5; Tyre profile left: 40%; Tyre profile right: 40%; Rear axle 2: Tyre size: 315/80 R22.5; Tyre profile left: 40%; Tyre profile right: 30%,
Nombre d'essieux : 4,
Suspension d'essieu,
Nombre de couchages : 2,
Stores,
Capacité : 64tonnes,
Capacité maximum : 64tonnes,
Capacité du réservoir : 500litres,
Suspension : Pneumatique,
Projecteurs antibrouillards,
Visière pare-soleil,
Chronotachygraphe,
Charge utile : 63.84tonnes,
Nombre de couchettes : 2 couchettes,
Longueur de chargement : 19.2m,
Autoradio,
Informations Moteur : DC1618,
Type de transmission : Semi-automaat,
Poids : 30.16kg,
Jantes alliage,
Longueur de chargement maximale : 19200mm,
Capacité de chargement : 63840kg,
Tempomat,
Cruise control,
Type d'intérieur : Tissu,
Type de pneus : Simples,
Couleur : Bleu foncé,
Gamme du moteur : DC1618,
Puissance du moteur : 412kW,
Longueur de la caisse : 1920,
Largeur de la caisse : 275
Address :
Mac. Arthurweg 2
Veghel - 5466AP
Nederland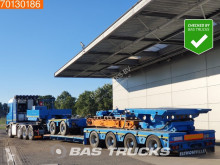 You are interested in this vehicle ?
Don't wait any longer, get in touch with the company
BAS

TRUCKS

BV
to know more right now !