Price :
7,153.00 € inc. VAT
Contact seller
+48.570.18.81.17
Send an email

Company SWESNKA POWERHOUSE
SWENSKA POWERHOUSE Marcin Rejch
ul. Cyfrowa 6
71-441
Szczecin
Zachodniopomorskie
-
Poland
Seller on Planet-Trucks.com since 3 years
Characteristics - Used Nefaz lifting device
Truck equipments Lifting device
Notes
* PL * Do sprzedaży Multicar H2510 samochód specjalny/ podnośnik. Zapraszamy także klientów z zagranicy.
* ENG * For sale Multicar H2510. Description in English below.
* RUS * Продается Multicar H2510. Ниже указывается описание на русском языке.

****** ****** ****** ****** ******
Numer referencyjny: RS5029
- CENA BRUTTO: 32.000 PLN
- Rok produkcji: 1989
- Lokalizacja: 33-170 Tuchów- ale może ulec zmianie, dlatego przed przyjazdem na inspekcję, proszę najpierw zadzwonić aby się umówić - tel.: 57 018 81 17
- Sprzedam, samochód specjalny Multicar H2510.
- Podnośnik Rok produkcji 1989
- Pojazd w dobrym stanie, pełna dokumentacja.
- Cena do negocjacji
- Nie odpowiadamy za ewentualne błędy lub nieaktualność ogłoszenia. Niniejsze ogłoszenie jest wyłącznie informacją handlową i nie stanowi oferty w myśl art. 66, paragraf 1. Kodeksu Cywilnego.
ZAPRASZAMY NA NASZĄ STRONĘ
****** ****** ****** ****** ******
Reference number: RS5029
This machine is ready to work straight after purchase. No leaking, nothing to fix, good and strong machine.
- We can arrange transport of this machine to Your yard, at a very reasonable price.
- Location: Poland [post code] 33-170, [city] Tuchów. We invite you with a mechanic. There is nothing to hide. A service or an expert can be sent to the inspection.
- Year of production: 1989
- More information in English will be provide at telephone: +48 570 188 117 or e-mail:
VISIT OUR WEBSITE
****** ****** ****** ****** ******
Референтный номер: RS5029
- Машина готова к работе сразу после покупки. За ней хорошо ухаживали, поэтому будет работать еще несколько лет без проблем.
- Мы обеспечивает также по доступной цене транспортировку в указанное место, поскольку в нашем распоряжении имеются специализированные прицепы.
- Местонахождение: Польша, почтовый индекс: 33-170, город: Tuchów. Приглашаем смотреть машину с автомехаником. Мы ничего не скрываем , не боимся. Для осмотра можно отправить эксперта.
- Год выпуска: 1989
- Более подробнуюу информацию можно получить, отправив свои вопросы на электронный адрес: (все языки)
-Контактное лицо на польском и анлийском языках: моб.: +48 570188117
-Россинский язык: предпочитаем письменный контакт или заранее договренное время для телефонного разговора с участием нашего переводчика.
ПОСЕТИТЕ НАШ ВЕБ-САЙТ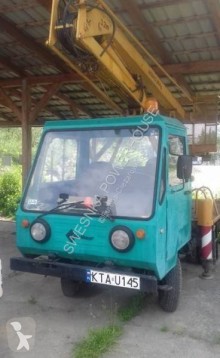 Interested in this ad?
Don't wait any longer, get in touch with the company
SWESNKA
POWERHOUSE
to know more right now !