New nc heavy equipment transport semi-trailer STANDAR 3 axles - Ref. SYLTRAILER-99

Contact seller

Mr Ramassot Dominique
Spanish
French
Romanian
International
+34.972.52.80.73
Contact on WhatsApp
Company TRANSPORTES RAMASSOT SL
Calle Levante 47
P.I. Pont del Príncep
17469
Vilamalla
Gerona
-
Cataluña
-
Spain
Seller on Planet-Trucks.com since 8 years
Access to customer's website
Characteristics - New nc heavy equipment transport semi-trailer STANDAR 3 axles
Semi-trailer Heavy equipment transport
Main information

Client ref. :
SYLTRAILER-99
Website ref. :
6593719
Bodywork
Heavy equipment transport
Make
--
Model
STANDAR
Condition
New
Date of first registration
--
Country
SPAIN
Tyres

Condition and dimension of tyres
-
Characteristics n/a STANDAR

Axles
3 axles
Equipment Nc semi-trailer
Tonnage

Load capacity
38.03 Tonnes
Empty weight
9.98 Tonnes
Total loaded weight
48 Tonnes
Notes

MESURES - Longueur de plateau de chargement : 9.20 mm en bois maximum en tôle de 1.600 mm
- Hauteur de pivot : 1180 mm A DEFINIER EN FONCTION DU TRACTEUR
- Longueur de col de cygne : 3.95 mm
- Hauteur de plateau de chargement : 920 mm
- Suspension : Air (-50 / +50 mm)
- Empattement : 1350 mm
- Largeur : 2530 mm (+300 / +300 mm élargisseurs)
- Total charge à l'essieu : 42 T (3 x11 T)
- Charge sellette : 24 T - Poids à vide environ : 9.975T - PTC : 48T


DONNEES TECHNIQUE
- Col de Cygne:
o Fixe
o Paroi avant en acier fixe + 2 ridelles latérales + 1 cloison arrière en acier
o Col de cygne recouvert en acier de 0.90 cm
o Pivot d'attelage de 2 "
o Tracteur compatibles : 4 x 2, 6 x 4



- Plateau de chargement
o Châssis haute résistance
o Bois dur sauf au dessus roues

o 6/3/2/1 paires d'anneaux d'arrimage latéraux sur plateau/table/cdcygne/cassure cdcygne
o 6/3/2/1paires d'anneaux d'arrimage centraux sur plateau/table/cdcygne/cassure cdcygne


ESSIEUX
o 3 essieux TRAX TAMBOUR GARANTIE 3 ANS CONSTRUCTEURS
o Suspension à air
o 1 essieu relevable avant + 1 essieux fixe + 1 essieux suiveurs arrières


SYSTEME DE FREINAGE
o Freins à tambours, Systéme de freinage WABCO à deux lignes, suivant les normes de l'UE avec systéme EBS +RSS



PNEUMATİQUE
o 235 / 70 R 17.5 ( y compris roue de secours)

SYSTEME ELECTRIQUE
o Système électrique 24 volt suivant les normes de l'UE avec prises 2 x 7 broches
o Groupe électrohydraulique avec prise TYPE HAYON
o Feux de position avant et arrière en LED
o Feux stop de 7 fonctions LED avec triangle réflecteur doubler
o Panneaux réflecteur extensible rouge et blancs lateraux (420x420 mm)
o 4 gyrophares + panneaux rouges et blancs
o 2 feux de recul LED


FINITION
o Nettoyage avec de l'air haute pression et soumis à sablage après assemblage soudé.
Application de 2 couches de peinture acrylique souhaitée et application de 2 couches de revêtement époxy cuit à 80 degrés. RAL BLANC 9010


STRUCTURE ACİER
o Construction en acier à haute limite d'élasticité S355 J2+N limite d'élasticité 355 MPa
o Procédé de soudage MAG


RAMPES ET BEQUILLE
o Rampes doubles (2.80 + 1.20 x 800) avec déploiement 2eme partiemécanique . Coulissante de 3.000 mm à 50 mm hydrauliquement. Revêtement acier complet Tension par chaine/tendeur.
o 2 Béquilles mécaniques 50T statiques à 2 vitesses
o 2 Béquilles arrières hydraulique



OPTIONS ET ACCESSOIRES
o 1 roue de secours avec fixation sur tablier
o 2 sabots de stationnement avec fixations
o 4 panneau convoi exceptionnel
o 1 coffre + extincteur
o 1 coffre à outils
o Elargisseurs à tiroirs galvanisés
o Garde-boue en acier avec bavette EU sous le pare-chocs arrière
o Application de ruban jaune réfléchissant aux normes UE
- 8 BASTINS BOIS 2.40 POUR ELARGISSEUR
- 1 COFFRE SUPPORT DES BASTINS
- 2 RAMPES POUR MONTER SUR LE COL RANGER SOUS CHASSIS.

See all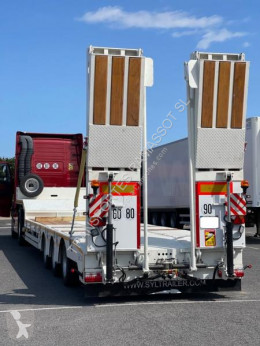 You are interested in this vehicle ?
Don't wait any longer, get in touch with the company
TRANSPORTES

RAMASSOT

SL
to know more right now !