Used Mercedes other semi-trailers Arocs 2051 AK 4x4 HeizoTruck Kran+Spalter+Winde 2 axles 02/01/2021 - Ref. 366739-2

Price :
309,890 € Ex. VAT
Contact seller
+49 (0)066 52 96 66 60
Company Stefan Ebert GmbH
Im Steierfeld 10
36151
Burghaun-Gruben
Hessen
-
Germany
Seller on Planet-Trucks.com since 3 years
Access to customer's website
Characteristics - Used Mercedes other semi-trailers Arocs 2051 AK 4x4 HeizoTruck Kran+Spalter+Winde 2 axles
Semi-trailer Other semi-trailers
Main information

Client ref. :
366739-2
Website ref. :
6367569
Bodywork
Other semi-trailers
Make

Mercedes

Model
Arocs 2051 AK 4x4 HeizoTruck Kran+Spalter+Winde
Condition
Used
Date of first registration
02/01/2021
Country
GERMANY
Manufacturer
Mercedes
Tyres

Condition and dimension of tyres
-
Equipment Mercedes semi-trailer
Tonnage

Total loaded weight
18 Tonnes
Notes
Mercedes-Benz Arocs 2051 AK 4×4 HeizoTruck
Kran: Palfinger Epsilon M70F96
Bedienung aus Fahrerkabine (Drehsitz)
Wechselsystem (Kran abnehmbar – Sattelplatte)
Rückfahrkamera abnehmbar
Frontkamera
Rundumleuchten
A1E Vorderachse 9,0 t
A1W Differenzialsperre Vorderachse
A1Y Vorderachse, gerade Ausführung
A2G Hinterachse, Tellerrad 300, Planeten, 13,4 t
A6J Achsübersetzung i = 5,333
B1B Elektronisches Bremssystem mit

ABS

und

ASR

B1D Elektronische Druckluftversorgungseinheit, mittel
B1F Heizung, elektronische Druckluftversorgungseinheit
B1Z

ABS

, abschaltbar
B2B Trommelbremse, an VA und HA
B2Z Feststellbremse, zusätzlich an Vorderachse
B4A Kondenswassersensor, für Druckluftsystem
B4M Druckluftbehälter, Stahl
B5A Anhängerbremse, 2-Leitung, Bremsanschlüsse links
C0J Rahmenüberhang 1200 mm
C5O Vorrüstung, für Sonderanbauten vorne
C5P Sattelwinkel, erhöht, 50 mm
C6C Lenkung, 1-Kreis
C6J Lenkhelfpumpe, ungeregelt
C6L Lenkkraftunterstützung, verstärkt, ab 9t
C6Q Stabilisator, Vorderachse
D0L Raucher-Paket
D0S Druckluftanschluss, im Fahrerhaus
D1C Fahrer-Schwingsitz
D3Q Sitzbezug, Velours
D6G Klimaautomatik
D6I Restwärmenutzung
D6M Warmwasser-Zusatzheizung, Fahrerhaus
D8N Hebedach, elektrisch
F0T Mercedes Stern, beleuchtet
F1W L-Fahrerhaus, StreamSpace, 2,30 m, Tunnel 320 mm
F3Y Fahrerhaus-Kippeinrichtung, elektro-hydraulisch
F5L Sonnenblende außen, transparent
F6Q Drucklufthorn
G0R Getriebetragarme, ausbauoptimiert
G0W Fahrprogramm offroad
G2D Getriebe G 280-16/11,7-0,69
G4E Verteilergetriebe VG 3000-3W, 1,04 zuschaltbar
G5A Einscheiben-Kupplung
G5G Mercedes PowerShift 3
I4B Radformel 4×4
I5C 20,0-Tonner
I6W Blattfederung, Hinterachse
I7M Reifen 14.00 R 20 VA/NLA
J1B Kombiinstrument, 10,4 cm, mit Zusatzanzeigen
J2K Lautsprecher, 2-Wege-System
J2M Aux-in, in Seitenwandablage, rechts
J9D Vorrüstung für Mauterfassung
K1C Tank 290 l, links, 650 × 565 × 950 mm, Alu
K3V AdBlue-Tank 60 l, links
K7A Abgasanlage, Endrohr nach oben
K7F Abgasanlage, versetzt, bei großer Bereifung
L1I Nebelscheinwerfer,

LED

-Tagfahrlicht
L1Q Rückleuchten Bau, in Blechfassung mit Gitter
L4Z Steinschlagschutzgitter, Metall, für Scheinwerfer
M3D Motor OM471, R6, 12,8 l,375 kW (510 PS), 2500 Nm
M5V High Performance Engine Brake
M7J Schutzplatte, unter Stoßfänger
N4W

NMV

, kupplungsteilabhängig, MB, 1,2
N6Z Getriebeölkühlung
N7I Motorabtrieb hinten, b, Flansch 100 mm, 650 Nm
N9U NA-Flansch, kreuzverzahnt, D=120 mm
P0W Abdeckung, für Aggregate
Q1Y Vorderfeder 9,0 t, 4-Blatt
Q2V Hinterfeder, 13,0 t, hart
Q8M Schlussquerträger, tiefer gesetzt, verstärkt
R0V Fahrzeuganpassung, große Bereifung
R4Y Breitbettfelgen 10.00W-20,schlauchlos,Einzelreifen
S5Z Tempomat
W9S Gewichtsvariante 18,0 t (9,0/9,0)
X3O Mercedes-Benz OnRoadService
X3Z

ATS

-Gewährleistung nach

AGB

, 3 Jahre/250.000 km
Reifenprofil: 1. Achse 22mm 2. Achse 20mm
Auf Wunsch unterbreiten wir Ihnen ein Leasing- oder Finanzierungsangebot der Mercedes-Benz-Bank.
Herr Ebert und Herr Seidel (Tel. 06652/9666-0)
betreuen Sie gerne.
Weitere Informationen finden Sie auf unserer Homepage.

!!! Irrtümer, Änderungen und Zwischenverkauf vorbehalten !!!
Four wheel drive
Auxiliary heating
Urea Tank (AdBlue)
Exterior color: Green
Mileage: 3407 km
Emission class: EURO6
Emission sticker: 4 (Green)
Fuel: Diesel
Power: 375 Kw
Gearbox: Automatic transmission
Climatisation: Automatic air conditioning
Axles: 2
Cubic capacity: 12809 cm3
Driving cab: Local traffic
Wheel formula: WHEEL_DRIVE_4x4
Other
Cruise control
See all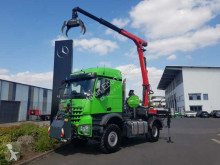 You are interested in this vehicle ?
Don't wait any longer, get in touch with the company Stefan Ebert GmbH to know more right now !