Used Mercedes Citan combi Citan 109 CDI TOURER|5 SITZE|AC|AHK|SO+WI REIFEN 06/01/2017 - Ref. 80

Contact seller

+49 (0)151 62 77 67 25
Characteristics - Used Mercedes Citan combi Citan 109 CDI TOURER|5 SITZE|AC|AHK|SO+WI REIFEN
Van Combi
Notes
Nr. 80 – Diesen und viele weitere geprüfte Mercedes Benz Transporter finden Sie auf unserer Homepage: gepflegter Mercedes-Benz Citan 109 cdi Tourer EURO 6, mit vielen Extras, aus 1. Hand. Das Fahrzeug ist lückenlos scheckheftgepflegt und wird mit neuer HU/AU (TÜV) ausgeliefert – gültig bis 11/2023. Sommer- und Winterreifen sind inklusive. Technisch und optisch im guten Allgemeinzustand.Der Service wurde durchgeführt bei KM 38.000, 73.000.8 fach bereift, mit Sommer- und WinterreifenPKW ZulassungZulässiges Gesamtgewicht: 1950 kgLeergewicht: 1395 kgNutzlast: ca. 595 kgRadstand: 2697 mmSchadstoffklasse: EURO 6COC Dokument vorhandenVIN: WDF4157031U2161502 Schlüssel
EURO

6, 1. Hand, Scheckheft, TÜV

NEU

, guter Zustand
Audio-Navigationssystem, mit Bluetooth Freisprecheinrichtung
Sitzheizung auf beiden vorderen Sitzen
Gepäckraum-Abtrennung mit Netz und Rollo
Lack-Paket (Stoßfänger vorne und hinten ab Werk in Wagenfarbe lackiert)
Dachablage 3-fach im Fahrgastraum
Ablagefach in Schiebetür, Ablagefach oberhalb Frontscheibe
Seitenscheiben hinten + Heckscheibe abgedunkelt
Airbags für beide Vordersitze sowie Kopf-Airbag-System (Windowbag), Seitenairbag (Sidebag) vorn
Außenspiegel elektr. verstell- und heizbar, beide
Isofix-Aufnahmen für Kindersitz an Rücksitz und am Beifahrersitz
BlueEfficiency-Paket
Armlehne hinten klappbar mit Durchlademöglichkeit (herausnehmbar)
Zusatzheizung
Freisprecheinrichtung
Berganfahrhilfe
Tagfahrlicht
Coming-Home-Lichtfunktion

ABS

ESP

el. Fensterheber
Zentralverriegelung
Irrtum, Änderungen und Zwischenverkauf vorbehalten
Sonderausstattung:
Audio-Navigationssystem, Dachablage 3-fach im Fahrgastraum, Gepäckraum-Abtrennung (Netz), Gepäckraumabdeckung / Rollo, Heckflügeltüren mit Verglasung (Öffnungswinkel 180 Grad), Lack-Paket, Laderaumboden mit Staufach, Parktronic-System (hinten), Radvollabdeckung, Seitenscheiben hinten und Heckscheibe abgedunkelt, Sitzheizung vorn rechts
Weitere Ausstattung:
Ablagefach in Schiebetür, Ablagefach oberhalb Frontscheibe, Airbag Beifahrerseite, Airbag Fahrerseite, Antriebs-Schlupfregelung (
ASR
), Armlehne hinten klappbar mit Durchlademöglichkeit (herausnehmbar), Außenspiegel elektr. verstell- und heizbar, beide, Außentemperaturanzeige, BlueEfficiency-Paket, Coming-Home-Lichtfunktion, Dachverkleidung, Dachverkleidung bis B-Säule, Design- und Ausstattungslinie Standard, Drehzahlmesser, Fahrassistenz-System: Berganfahrhilfe, Innenspiegel, Isofix-Aufnahmen für Kindersitz an Rücksitz, Karosserie/Aufbau: Kombi, Kopf-Airbag-System (Windowbag), Motor 1,5 Ltr. – 66 kW
CDI
KAT
,
PKW
-Zulassung, Pollenfilter, Radiovorbereitung, Radstand 2697 mm, Reiserechner, Schadstoffarm nach Abgasnorm Euro 6, Schiebetür Lade-/Fahrgastraum links, Schiebetür Lade-/Fahrgastraum rechts, Seitenairbag (Sidebag) vorn, Seitenfenster im Lade-/Fahrgastraum / Schiebetür vorn links, ausstellbar, Seitenfenster im Lade-/Fahrgastraum / Schiebetür vorn rechts, ausstellbar, Seitenfenster im Lade-/Fahrgastraum hinten links, fest, Seitenfenster im Lade-/Fahrgastraum hinten rechts, fest, Sitz vorn links höhenverstellbar, Start/Stop-Anlage, Steckdose (12V-Anschluß), Teppichboden in Fahrgastraum, Teppichboden in Laderaum, Warmluftkanal zum Fahrgastraum, Wärmeschutzverglasung, Zusatzheizung
Central locking
Navigation system
Full Service History
Particulate filter
Divider
New HU
Exterior color: White
Emission sticker: 4 (Green)
Climatisation: A/C (man.)
Construction year: 2017
Driving cab: Double Cabin
Rear sensors
Sliding door both-sided
Trailer coupling fix
See all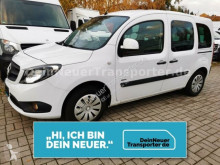 You are interested in this vehicle ?
Don't wait any longer, get in touch with the company DeinNeuerTransporter.de to know more right now !