Used MAN road sweeper TGM 15250 Bucher - Ref. 49196-5846

Price :
135,000 € Ex. VAT
Contact seller
+49 (0)655 11 47 90
Characteristics - Used MAN road sweeper TGM 15250 Bucher
Road network trucks Road sweeper
Main information

Client ref. :
49196-5846
Website ref. :
6107007
Bodywork
Road sweeper
Make

MAN

Model
TGM 15250 Bucher
Condition
Used
Year
--
Country
GERMANY
Manufacturer
MAN
Tyres

Condition and dimension of tyres
-
Notes
Endmontiert auf MAN TGM 18.250 4X2 BL mit dem Motor D08R6S mit 250 PS und der Schadstoffklasse EURO6.

Grundausstattung:

Ventilator Aggregat
Ventilatorantrieb hydraulisch über den am Fahrgestell befindlichen, getriebeunabhängigen Nebenabtrieb (Semi-hydrostatischer Antrieb)
Hinweis: Die erforderliche Fahrgestellparametrierung gehört zum Lieferumfang des Fahrgestells
Hydraulischer Ventilatorantrieb
Hydrauliköltank 50 l
Motorraum mit geräuschdämmendem Material ausgeführt
Ventilator Abluftführung nach oben durch den Behältervorbau
Hydraulik-Pumpe, einfach

Kehrgutbehälter
Kehrgutbehälter (mit Heckklappe und Sieb) und Wassertank aus 1.4003 Chromstahl Motorraumverkleidung Normalstahl
Kehrgutbehälter Bruttovolumen 6,5 m³
Kehrgutbehälterboden aus chromlegiertem Edelstahl, 1.4301
Kehrgutbehälter Kippwinkel ca. 55 Grad
Schmutzrutsche aus Chromstahl, 1.4003
Beobachtungsklappe rechts und links
Schmutzwasserablass 4", A-Kupplung
Luftführungssieb, manuell abklappbar
2 Rundumkennleuchten hinten auf KGB
Luftabsperrung am Saugschlauch, pneumatisch betätigt
Mehrstufige Sicherungsstütze, pneumatisch betätigt
Markierungsleuchten am Behälterheck, Seitenmarkierungsleuchten
Integrierter Wassertank
Vorbereitung für hinteren Saugschlauchausleger oder auf Dach Montiert
Seitenmarkierungsleuchten

Kehrgutaufnahme
Kehrgutaufnahme, verschleißfest beschichtet
Grobaufnahme durch Kippen des Saugmundes
Saugschlauchdurchmesser 250 mm
Tellerbesen geschoben
Hydraulisch angetriebene Tellerbesen, Stahl
Tellerbesen, Stahl, Durchmesser 500 mm gezogen
Stufenlose Drehzahlregulierung für Tellerbesen
Zwei robuste schwenkbare Nachlaufräder
Automatisches Anheben der Kehraggregate bei Rückwärtsfahrt
Arbeitsscheinwerfer für Kehraggregat

Walzenbesen
Walzenbesen Aufhängung, gezogen
Besenlänge 1.300 mm, Besendurchmesser 406 mm mit Kunststoffbesatz (Fahrgestellabhängig)
Hydraulisch angetriebener Walzenbesen
Wurfbegrenzungsschürze für Walzenbesen-Aggregat

Wasseranlage
Wassertankvolumen ca. 1.554 l
Wasserbehälter aus Chromstahl, 1.4003 mit Beschichtung
Wasserstandsanzeige im Fahrerhaus
Wasserfülleinrichtung, Storz C (2"), rechts
Manuelle Wasserfülleinrichtung, rechts und links
Wasserpumpe, hydraulisch angetrieben
Automatischer Wasserstop bei Anheben der Kehraggregate
Spritzwasseranschluss, 3/4",hinten rechts
Wasserausblasanlage
Elektrische Wasserventile im Fahrerhaus
2er Düsenleiste Niederdruck Front

Instrumententräger und Schaltpult
Bucher Instrumententräger, inkl. 7" Farbdisplay
Ergonomische Bedieneinheit, montiert an der Fahrertür, ausgestattet mit den Hauptfunktionen
Display beinhaltet die folgenden Funktionen: Wasserstandsanzeige, Betriebsstunden und Hinterachslast
Warn-und Kontrolllampen für Hinterachslast
Kontroll- und Steuerungseinheit zur Regulierung des Besenauflagedrucks (Besenentlastung), stufenlose Drehzahlregulierung der Tellerbesen
Elektrische Ventile für Wasseranlage, Betätigung im Fahrerhaus.
Bedienung der Schmutzbehälterfunktionen mittels einer Kabelfernbedienung vom Fahrerhaus aus, aber auch von außen möglich.
Betätigung des Luftführungssiebes, Bedienung hinten rechts vom Fahrzeug
Überlastungsanzeige für Hinterachslast, Warnlampe im Display (Option für luftgefederte Fahrgestelle).
Warnlampe bei angehobenem Schmutzbehälter

Lackierung
Kehrgutbehälter außen RAL 2010
Kehrgutaufnahme-Aggregat RAL 7021
Hilfsrahmen RAL 7021

Bemerkung: Der Fahrgestellrahmen bleibt im Original-Farbton.
Abweichende Lackierwünsche sind gegen Aufpreis möglich.

Aufbauzubehör
Wasserfüllschlauch, Storz C(2"), 3 m lang
Warnmarkierung rot/weiß nach DIN 30710 auf Reflexfolie
Pneumatische Rüttelsiebe
Kettevorhang Edelstahl im Behälter
Hecksaugschlauch mit Verlängerung 200mm Durchmesser
Gummierter und Verschleißfester Saugmund
LED Arbeitsscheinwerfer
Zusätzliche LED Arbeitsscheinwerfer hinten auf Behälterdach
Rückfahrkamera und eine Zusatzkamera
Tellerbesen 650mm
Seitenbesenverstellung
Tellerbesenneigungsverstellung
Hochleistungsräder und -lager - für Saugmund
Einstellbarer Tellerbesendruck über Regelventil im Fahrerhaus
Schnellwechselsystem für Mittelkehrwalze
Grobschmutzaufnahme durch Kippen des Saugmundes

Bedienungsanleitungen und Sprachversionen
Ein kompletter Satz Dokumentation (Bedienungsanleitung und Ersatzteilkatalog) in Deutsch / Englisch

Emissionen
PM2.5/10-4-Sterne zertifiziert durch EUnited Municipal Equipment.
Kilométrage : 41000km,
Nombre d'heures : 2heures,
Nombre d'heures du moteur : 2,
Déplacement : Automotrice
Adresse:

Prüm - 54595
de
See all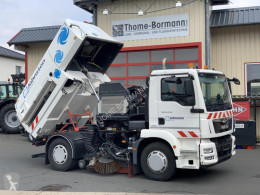 You are interested in this vehicle ?
Don't wait any longer, get in touch with the company
THOME

BORMANN

GmbH
to know more right now !