Used Draco mono temperature refrigerated semi-trailer TZA 342 3 axles rear hatch 05/01/2004 - Ref. 281955

Contact seller
+31.183.66.82.22
Company KLEYN TRUCKS BV
Industrieweg 2
P.O. Box 3
4214 KZ
Vuren
Gelderland
-
Netherlands
Seller on Planet-Trucks.com since 9 years
Access to customer's website
Characteristics - Used Draco mono temperature refrigerated semi-trailer TZA 342 3 axles rear hatch
Semi-trailer Refrigerated
Tonnage

Load capacity
31.88 Tonnes
Empty weight
10.12 Tonnes
Total loaded weight
42 Tonnes
Tyres

Condition and dimension of tyres
385/65R22,5
Additional information Draco TZA 342

Date of the last MOT test
05/06/2021
Expiry date of the MOT test
05/06/2022
Equipment Draco semi-trailer
Options bodywork refrigerated
Measurements

Wheel base
9.25 metres
Height
3.75 metres
Width
2.6 metres
Length
14.2 metres
Notes
🇬🇧 Information in English:
Number of axles: 3, Loading Capacity: 31880 kg, Own weight: 10120 kg, Gross vehicle weight: 42000 kg, Chassis type: Complete chassis, Chassis material: steel, Kingpin size: 2 inch, Central lubrication, Suspension type: full air suspension, Color: Blue, ABS, EBS, Matr. year superstructure: 2004, Enginemake frigo-unit: Carrier, Enginetype frigo-unit: maxima1000, Enginetype frigo-unit: fuel and electrical, Working hours electric: 1, Working hours diesel: 9757, Wall thickness: 45 mm, Axle make: SAF, Taillift, Tail-lift kind: normal, Tail-lift capacity: 2000 kg, Tail-lift make: Dautel, Tail-lift material: steel, Tail-lift size: 180x255, Tail-lift voltage: 24
More information
General information
Cab: day
Registration number: OH-51-NG

Axle configuration
Axle 1: Lift axle
Axle 3: Steering

Functional
Dimensions of cargo space: 1340 x 249 x 220 cm
Tail lift: Dautel, tail lift, 2000 kg
Cooling engine: diesel and electric (9757 operating hours diesel; 1 electric)
Wall thickness: 45 mm

Condition
General condition: average
Technical condition: average
Visual appearance: average
Number of keys: 0
Dealer information
/>
Why buy at Kleyn Trucks? The choice is easy: 1,200 used trucks, tractor units, semi-trailers, trailers and more. All in one location, with a choice from all brands. You can get a one year warranty package for all our trucks with a mileage up until 700.000 kilometers and 7 year age, including service maintenance.

In our free consultation, we look with you for the financing deal which suits your needs best.

• Sharp prices
• Good service
• Fast changing, big stock!
• Always sure about the quality!
• 100+ years of Trading expertise you can trust!
• Professional technical service
• Delivery to your doorstep possible
• Professional technical service

Visit our website at: and check out our complete stock.

Leasing possible
🇩🇪 Informationen auf Deutsch:
Anzahl der Achsen: 3, Nutzlast: 31880 kg, Eigengewicht: 10120 kg, Bruttogewicht: 42000 kg, Art der Chassis: Vollständige chassis, Chassismaterial: Stahl, Kingpin Größe: 2 inch, Zentralschmierung, Federungstyp: Vollluft, Farbe: Blau, ABS, EBS, Aufbaubaujahr: 2004, Hersteller Kühlmotor: Carrier, Modell Kühlmotor: maxima1000, Kühlmotor: Diesel/elektrisch, Aggregatstunden / elektrisch: 1, Aggregatstunden / Diesel: 9757, Wandstärke: 45 mm, Achstyp: SAF, Ladebordwand, Ladebordwandausführung: Heckklappe, Tragfähigkeit der Ladebordwand: 2000 kg, Ladebordwandhersteller: Dautel, Ladebordwandmaterial: Stahl, Ladebordwandgröße: 180x255, Stromspannung der Ladebordwand: 24
Weitere Informationen
Allgemeine Informationen
Kabine: Tag
Kennzeichen: OH-51-NG

Achskonfiguration
Achse 1: Liftachse
Achse 3: Gelenkt

Funktionell
Abmessungen des Laderaums: 1340 x 249 x 220 cm
Ladebordwand: Dautel, Heckklappe, 2000 kg
Kühlmotor: Diesel und elektrisch (9757 Betriebsstunden Diesel; 1 elektrisch)
Wandstärke: 45 mm

Zustand
Allgemeiner Zustand: durchschnittlich
Technischer Zustand: durchschnittlich
Optischer Zustand: durchschnittlich
Anzahl der Schlüssel: 0
Firmeninformationen
/>
Kleyn Trucks ist einer der weltgrößten unabhängigen Handel mit gebrauchten Fahrzeugen. Hier können Sie aus einer ständig wechselnden Bestand von 1200 gebrauchte LKW, Zugmaschinen, Anhänger wählen. Unser Angebot umfasst alle europäischen Marken der Baujahre und Preisklassen.

Warum Sie bei Kleyn Trucks kaufen? Einfach!

• Großer, sich schnell ändernder
• Erkennbare Qualität
• Ein guter Preis
• Korrekte Kaufmannschaft
• Wir sprechen viele Sprachen
• Wir verstehen unsere Kunden
• Betreuung von Einfuhr und Transport
• (Ausfuhr-)Kennzeichen sind schnell geregelt
• Fachkundige technische Dienstleistungen
• Die Sicherheit "erkennbarer Qualität"
• Und mehr....

Besuchen Sie bitte unsere Website für spezielle Angebote und vollständige Vorrat: />


Leasing über Kleyn Trucks ist möglich in den meisten europäischen Ländern!

Berechnen Sie schnell Ihre leasingrate und senden Sie eine Anfrage über unsere Website.

Fragen Sie direkt nach unserem europäischen Garantie paket.
🇳🇱 Informatie in het Nederlands:
Aantal Assen: 3, Laadvermogen: 31880 kg, Eigen gewicht: 10120 kg, Totaalgewicht: 42000 kg, Soort chassis: Volledig chassis, Materiaal chassis: staal, Kingpin afmeting: 2 inch, Centrale smering, Vering type: vollucht, Kleur: Blauw, ABS (Anti Blokkeer Systeem), EBS, Bouwjaar opbouw: 2004, Merk koelmotor: Carrier, Type koelmotor: maxima1000, Koelmotor: diesel/elektrisch, Draaiuren elektrisch: 1 uur, Draaiuren diesel: 9757 uur, Wanddikte: 45 mm, Merk as: SAF, Laadklep, Soort laadklep: achtersluit klep, Capaciteit laadklep: 2000 kg, Merk laadklep: Dautel, Materiaal laadklep: staal, Plateau grootte: 180x255, Laadklep voltage: 24
Meer informatie
Algemene informatie
Cabine: dag
Kenteken: OH-51-NG

Asconfiguratie
As 1: Liftas
As 3: Meesturend

Functioneel
Afmetingen laadruimte: 1340 x 249 x 220 cm
Laadklep: Dautel, achtersluitklep, 2000 kg
Koelmotor: diesel en elektrisch (9757 draaiuren diesel; 1 elektrisch)
Wanddikte: 45 mm

Staat
Algemene staat: gemiddeld
Technische staat: gemiddeld
Optische staat: gemiddeld
Aantal sleutels: 0
Bedrijfsinformatie
/>
Waarom u bij KLEYN koopt? Die keus is simpel: 1200 Gebruikte vrachtwagens, trekkers, opleggers en aanhangers op 1 locatie met alle merken. Op onze trucks tot 700.000 kilometer en 7 jaar is tot 1 jaar garantie mogelijk inclusief afleverbeurt. In ons adviesgesprek zoeken we samen de best passende financiering.

• Scherpe prijzen
• Goede service
• Ruime, snel wisselende voorraad
• Gekende kwaliteit
• 100+ Jaar fatsoenlijk koopmanschap
• APK en tachograaf ijken
• Transport tot aan de deur mogelijk
• Vakkundige technische dienstverlening

Bezoek onze website en bekijk ons complete aanbod

Lease mogelijk
Année de construction : 2004,
Dimensions : 1420 x 260 x 375 cm,
Référence parc : 281955,
Frigo,
Nombre de roues motrices : 4,
Informations pneus ou train de chaînes : Tyre size: 385/65R22,5; Axle 1: Tyre profile left: 10.0 mm; Tyre profile right: 2.0 mm; Axle 2: Tyre profile left: 6.0 mm; Tyre profile right: 7.0 mm; Axle 3: Tyre profile left: 10.0 mm; Tyre profile right: 10.0 mm,
Relevage arrière,
Nombre d'essieux : 3,
Longueur totale : 14m,
Largeur hors-tout : 3m,
Suspension d'essieu,
Graissage automatique,
Température dirigée,
Type de boîte de vitesses : Manuelle,
Capacité : 32tonnes,
Capacité maximum : 32tonnes,
Norme Euro : 1,
Suspension : Pneumatique,
Graissage centralisé,
Charge utile : 31.88tonnes,
Longueur de chargement : 13.4m,
Encombrement en hauteur : 3.75m,
Type de transmission : Mécanique,
Type de transmission : Handgeschakeld,
Poids : 10.12kg,
Frein à disque,
Longueur de chargement maximale : 13400mm,
Capacité de chargement : 31880kg,
Marque de la semi-remorque : DRACO,
Type d'intérieur : Autre,
Type de pneus : Simples,
Couleur : Bleu foncé,
Longueur de la caisse : 1340,
Largeur de la caisse : 249
See all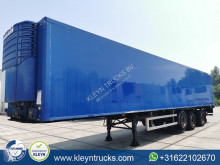 You are interested in this vehicle ?
Don't wait any longer, get in touch with the company
KLEYN

TRUCKS

BV
to know more right now !