Used DAF LF sewer cleaner truck 55.220 WUKO SW-6D for collecting liquid waste from separators - Ref. 6221598

Contact seller

Mr FURMANEK Wiktor
Polish
Russian
International
+48.697.07.06.70
Contact on WhatsApp
Company VIK-POL
Niwy 8
26-021 Niwy
DALESZYCE
Świętokrzyskie
-
Poland
Seller on Planet-Trucks.com since 11 years
Access to customer's website
Characteristics - Used DAF LF sewer cleaner truck 55.220 WUKO SW-6D for collecting liquid waste from separators
Road network trucks Sewer cleaner truck
Main information

Website ref. :
6221598
Bodywork
Sewer cleaner truck
Make

DAF

Range

(make : DAF)

LF
Model

55.220 WUKO SW-6D for collecting liquid waste from separators

Condition
Used
Year
--
Country
POLAND
Manufacturer
DAF
Tyres

Condition and dimension of tyres
-
Equipment DAF LF road network trucks
Notes
Carrosserie :
  •  roue de secours
Citerne :
  •  pompe
  •  pompe à vide
Moteur :
  •  diesel
Boîtes de vitesses :
  •  boîte manuelle
Essieux :
  •  2
  •  4x2
Freins :
  •  système abs
Équipement supplémentaire :
  •  réservoir d''eau
État :
  •  d''occasion
Informations supplémentaires :
  •  bleu foncé


DAF LF 55.220 WUKO SW-6D pour la collecte des déchets liquides des séparateurs
Année de fabrication 2006
Kilométrage : 103300 km
Réservoir à deux chambres d''un volume de 6000 dm3 divisé en :
- chambre à eau propre - 500 dm3,
- sédiments et eaux sales - 5500 dm3.
VIDEO:
afficher les coordonnées

Une voiture spéciale pour le nettoyage du système d''égout est conçue pour:
- éliminer les impuretés et les sédiments des entrées des rues et des regards d''égouts, pomper l''eau des sous-sols inondés, des fosses profondes, de divers types de réservoirs,
- laver la façade et les petits objets au sol, tels que les monuments, les abribus, ainsi que les postes de travail et le véhicule, à l''aide d''un pistolet à eau.

Pompe à vide - JUROP PR 150
dépense max : 900 m3/h,

Pompe haute pression P 31 / 36-150
- capacité - 36 dm3/min,

Équipement
Compresseur à entraînement hydraulique.
Flèche télescopique déployée et relevée hydrauliquement
Le système d''aspiration-pression avec pompe d''aspiration-pression (compresseur) fonctionne avec la flèche et la soupape d''aspiration inférieure, à l''aide de tuyaux d''aspiration.
Le réservoir se vide en le soulevant avec un vérin hydraulique (basculement).
Le réservoir est équipé d''un couvercle arrière à ouverture et fermeture hydraulique, avec un voyant pour le niveau des boues, une vanne d''aspiration inférieure et un raccord pour l''aspiration et la vidange.

Une voiture dans un superbe état technique !
C''EST GÉNIAL!
EN PARFAITE CONDITION!
100% sans accident !

POSSIBILITÉ DE PRÊT OU DE LOCATION
-nous nous occupons des formalités de crédit et de location
- procédures simplifiées 0% du premier dépôt
-et les entreprises nouvellement ouvertes
-et aussi des clients entrés dans le KRD et le BIG

PLUS D''INFORMATIONS AU NO.
afficher les coordonnées (ENG.RUS.POL) WhatsApp et Viber
afficher les coordonnées (POL)

MISE EN GARDE.
Cette annonce n''est qu''une information commerciale et ne constitue pas une offre au sens de l''art. 66, §1 du Code civil. Le vendeur n''est pas responsable des erreurs ou des publicités obsolètes

DAF LF 55.220 WUKO SW-6D for collecting liquid waste from separators
Year of production 2006
Mileage: 103300 km
Two-chamber tank with a volume of 6000 dm3 divided into:
- clean water chamber - 500 dm3,
- sediment and dirty water - 5500 dm3.
VIDEO:
afficher les coordonnées

A special car for cleaning the sewage system is designed for:
- removing impurities and sediments from street inlets and sewage manholes, pumping out water from flooded basements, deep pits, various types of tanks,
- washing the facade and small ground objects, such as monuments, bus shelters, as well as work stations and the vehicle, using a water gun.

Vacuum pump - JUROP PR 150
max expenditure: 900 m3 / h,

High pressure pump P 31 / 36-150
- capacity - 36 dm3 / min.,

Equipment
Hydraulically driven compressor.
Telescopic boom hydraulically extended and lifted
The suction-pressure system with the suction-pressure pump (compressor) works with the boom and the lower suction valve, using suction hoses.
The tank is emptied by lifting it with a hydraulic cylinder (tipping).
The tank is equipped with a hydraulic opening and closing rear cover, with a sight glass for the sludge level, a lower suction valve and a connection for suction and emptying.

A car in a sensational technical condition!
IT IS AWESOME!
IN PERFECT CONDITION!
100% accident-free!

POSSIBILITY OF LOAN OR LEASING
-we take care of credit and leasing formalities
- simplified procedures 0% of the first deposit
-and newly opened companies
-and also customers entered into the KRD and BIG

MORE INFORMATION AT NO.
afficher les coordonnées (ENG.RUS.POL) WhatsApp and Viber
afficher les coordonnées (POL)

CAUTION.
This announcement is only commercial information and does not constitute an offer pursuant to Art. 66, §1 of the Civil Code. The seller is not responsible for any errors or out-of-date advertisements

DAF LF 55.220 WUKO SW-6D para la recogida de residuos líquidos de separadores
Año de producción 2006
Kilometraje: 103300 km
Depósito de dos cámaras con un volumen de 6000 dm3 dividido en:
- cámara de agua limpia - 500 dm3,
- sedimentos y agua sucia - 5500 dm3.
VIDEO:
afficher les coordonnées


Un automóvil especial para limpiar el sistema de alcantarillado está diseñado para:
- Eliminación de impurezas y sedimentos de entradas de calles y pozos de alcantarillado, bombeo de agua de sótanos inundados, pozos profundos, varios tipos de tanques.
- Lavado de la fachada y pequeños objetos del suelo, como monumentos, marquesinas de autobuses, así como puestos de trabajo y el vehículo, con pistola de agua.

Bomba de vacío - JUROP PR 150
gasto máximo: 900 m3 / h,

Bomba de alta presión P 31 / 36-150
- capacidad - 36 dm3 / min,

Equipo
Compresor de accionamiento hidráulico.
Pluma telescópica extendida y levantada hidráulicamente
El sistema de succión-presión con la bomba de succión-presión (compresor) trabaja con el brazo y la válvula de succión inferior, utilizando mangueras de succión.
El tanque se vacía levantándolo con un cilindro hidráulico (basculante).
El tanque está equipado con una tapa trasera de apertura y cierre hidráulico, con una mirilla para el nivel de lodos, una válvula de aspiración inferior y una conexión para la aspiración y el vaciado.

¡Un coche en excelentes condiciones técnicas!
¡ES ASOMBROSO!
¡EN PERFECTAS CONDICIONES!
¡100% libre de accidentes!

POSIBILIDAD DE PRESTAMO O ARRENDAMIENTO
-Nos encargamos de los trámites de crédito y arrendamiento
- procedimientos simplificados 0% del primer depósito
-y empresas de reciente apertura
-y también los clientes ingresaron al KRD y BIG

MÁS INFORMACIÓN EN NO.
afficher les coordonnées (ENG.RUS.POL) WhatsApp y Viber
afficher les coordonnées (POL)

PRECAUCIÓN.
Este anuncio es solo información comercial y no constituye una oferta de conformidad con el art. 66, §1 del Código Civil. El vendedor no es responsable de ningún error o publicidad desactualizada.

DAF LF 55.220 WUKO SW-6D do zbierania odpadów płynnych separatorów
Rok produkcji 2006
Przebieg 103300 km
Dwukomorowy zbiornik o objętości - 6000 dm3z podziałem na:
- komorę wody czystej - 500 dm3,
- osadu i wody brudnej - 5500 dm3.
VIDEO:
afficher les coordonnées


Samochód specjalny do czyszczenia kanalizacji przeznaczony jest do:
-usuwania zanieczyszczeń i osadów z wpustów ulicznych i studzienek kanalizacyjnych, wypompowywania wody z zalanych piwnic, głębokich dołów, różnego rodzaju zbiorników,
- mycia elewacji i niedużych obiektów naziemnych, takich jak pomniki, wiaty przystankowe, a także stanowiska pracy oraz pojazdu, przy użyciu pistoletu wodnego.

Pompa próżniowa – JUROP PR 150
wydatek max: 900 m3/h,

Pompa wysokiego ciśnienia P 31/36-150
- wydajność - 36 dm3/min.,

Wyposażenie
Kompresor napędzany hydraulicznie.
Wysięgnik teleskopowy wysuwany i podnoszony hydraulicznie
Układ ssąco - tłoczący z pompą ssąco - tłoczącą (kompresorem) pracuje z wysięgnikiem i zaworem dolnego ssania, z wykorzystaniem węży ssawnych.
Opróżnianie zbiornika odbywa się poprzez podniesienie siłownikiem hydraulicznym (wywrot).
Zbiornik wyposażony w pokrywę tylną otwieraną i zamykaną hydraulicznie, z wziernikiem kontrolnym poziomu osadu, zaworem dolnego ssania oraz przyłączem do ssania i opróżniania.

SAMOCHÓD W REWELACYJNYM STANIE TECHNICZNYM!
WIZUALNIE PREZENTUJE SIĘ REWELACYJNIE!
W IDEALNYM STANIE!
100% BEZWYPADKOWY!

MOŻLIWOŚĆ KREDYTU lub LEASINGU
-załatwiamy formalności kredytowo leasingowe
-procedury uproszczone 0% pierwszej wpłaty
-oraz na nowo otwarte firmy
-a także klientów wpisanych do KRD i BIG

WIĘCEJ INFORMACJI POD NR.
afficher les coordonnées (ENG.RUS.POL) WhatsApp and Viber
afficher les coordonnées (POL)

UWAGA.
Niniejsze ogłoszenie jest wyłącznie informacją handlową i nie stanowi oferty w myśl art. 66,§ 1. Kodeksu Cywilnego. Sprzedający nie odpowiada za ewentualne błędy lub nieaktualność ogłoszenia.

DAF LF 55.220 WUKO SW-6D для сбора жидких отходов из сепараторов
Год выпуска 2006
Пробег: 103300 км
Двухкамерный резервуар объемом 6000 дм3 разделен на:
- камера чистой воды - 500 дм3,
- осадок и грязная вода - 5500 дм3.
VIDEO:
afficher les coordonnées

Специальная машина для очистки канализации предназначена для:
- очистка уличных водозаборов и канализационных люков от примесей и отложений, откачка воды из затопленных подвалов, глубоких ям, емкостей различного типа,
- мытье фасада и небольших наземных объектов, таких как памятники, автобусные остановки, а также рабочие места и автомобиль, с использованием водяного пистолета.

Вакуумный насос - JUROP PR 150
максимальный расход: 900 м3 / ч,

Насос высокого давления Р 31 / 36-150
- производительность - 36 дм3 / мин,

Оборудование
Компрессор с гидравлическим приводом.
Телескопическая стрела выдвигается и поднимается гидравлически
Система всасывания с нагнетательным насосом (компрессором) работает со стрелой и нижним всасывающим клапаном с помощью всасывающих шлангов.
Опорожнение цистерны осуществляется путем ее подъема с помощью гидроцилиндра (опрокидывание).
Резервуар оборудован гидравлической открывающейся и закрывающейся задней крышкой, смотровым окном для уровня осадка, нижним всасывающим клапаном и штуцером для всасывания и опорожнения.

Автомобиль в отличном техническом состоянии!
ЭТО ПРЕВОСХОДНО!
В ИДЕАЛЬНОМ СОСТОЯНИИ!
100% безаварийность!

ВОЗМОЖНОСТЬ КРЕДИТА ИЛИ АРЕНДЫ
-мы берем на себя кредитные и лизинговые формальности
- упрощенные процедуры 0% от первого депозита
-и недавно открывшиеся компании
-а также клиенты вошли в KRD и BIG

БОЛЬШЕ ИНФОРМАЦИИ НА NO.
afficher les coordonnées (ENG.RUS.POL) WhatsApp и Viber
afficher les coordonnées (POL)

ОСТОРОЖНОСТЬ.
Это объявление является только коммерческой информацией и не является предложением в соответствии со ст. 66, § 1 Гражданского кодекса. Продавец не несет ответственности за какие-либо ошибки или устаревшие рекламные объявления.
See all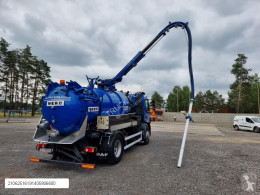 You are interested in this vehicle ?
Don't wait any longer, get in touch with the company
VIK

-

POL
to know more right now !