Used trucks

11218 ads of used lorries
▲

Year

▼

▲

km/hr

▼

▲

Price

▼

Company

Country

from last 24 hours

2010, 75 000 km

Halifax

since 17 hrs.

2010
75 000 km
-

from last 24 hours

used Volvo tautliner truck FL6 220

Carmarthenshire

2001, 420 000 km, 5,734 €

18 Tonnes, 4x2, Euro 2

Llanelli

since 21 hrs.

2001
420 000 km
5,734 €

from last 24 hours

used DAF flatbed truck CF65 250

Carmarthenshire

2004, 480 000 km, 8,769 €

18 Tonnes, Euro 3

Llanelli

since 21 hrs.

2004
480 000 km
8,769 €

from last 24 hours

23,614 €

6x2

Market weighton

since 21 hrs.

-
-
23,614 €

from last 24 hours

33,059 €

6x2

Market weighton

since 21 hrs.

-
-
33,059 €

from last 24 hours

48,577 €

6x2

Market weighton

since 21 hrs.

-
-
48,577 €

from last 24 hours

7,422 €

4x2

Market weighton

since 21 hrs.

-
-
7,422 €

from last 24 hours

21,590 €

6x2

Market weighton

since 21 hrs.

-
-
21,590 €

from last 24 hours

6x2

Market weighton

since 21 hrs.

-
-
-

used DAF standard flatbed truck LF45 7.5 TONNE FLATBED - 2006 - RX56 DZP

Leicestershire

2006, 609 972 km, 6,408 €

7500 Tonnes, 6x4

Coalville

since 6 days

2006
609 972 km
6,408 €

used DAF flatbed truck LF55 18 TONNE BRICK GRAB - 2007 - RF07 YXK

Leicestershire

2007, 193 265 km, 17,470 €

19000 Tonnes, 6x4

Coalville

since 6 days

2007
193 265 km
17,470 €

used MAN standard flatbed truck TGA 18.310 26 TONNE FLATBED - 2005 - SV55 CZZ

Leicestershire

2005, 546 116 km, 10,725 €

26000 Tonnes, 8x2, Euro 3

Coalville

since 6 days

2005
546 116 km
10,725 €

used Mercedes box truck 1829 AXOR , 18 TONNE BOX - 2009 - DK09 BLZ

Leicestershire

785 417 km, 18,819 €

18000 Tonnes, 6x4

Coalville

since 6 days

-
785 417 km
18,819 €

used Mercedes tautliner truck ATEGO 1823 CURTAINSIDER - 2004 - HY04 HZA

Leicestershire

668 850 km, 9,376 €

18000 Tonnes, 6x4

Coalville

since 6 days

-
668 850 km
9,376 €

used DAF box truck CF65 , 18 TONNE BOX - 2007 - MX07 PFY

Leicestershire

2007, 485 648 km, 13,153 €

19000 Tonnes, 6x4, Euro 4

Coalville

since 6 days

2007
485 648 km
13,153 €

used DAF box truck LF55 180, 15 TONNE BOX - 2008 - GN08 CWT

Leicestershire

2008, 500 071 km, 12,074 €

15000 Tonnes, 6x4, Euro 4

Coalville

since 6 days

2008
500 071 km
12,074 €

used DAF tipper truck CF85 STEEL TIPPER - 2003 - FJ03 NHB

Leicestershire

2003, 951 831 km, 18,549 €

32000 Tonnes, 8x6

Coalville

since 6 days

2003
951 831 km
18,549 €

used Renault box truck PREMIUM 18 TONNE BOX - 2004 - RX53 ZZA

Leicestershire

2004, 755 939 km, 5,329 €

18000 Tonnes, 6x4, Euro 3

Coalville

since 6 days

2004
755 939 km
5,329 €

Leicestershire

2007, 734 980 km, 14,502 €

19000 Tonnes, 6x4, Euro 4

Coalville

since 6 days

2007
734 980 km
14,502 €

Leicestershire

2008, 679 057 km, 12,074 €

15000 Tonnes, 6x4, Euro 4

Coalville

since 6 days

2008
679 057 km
12,074 €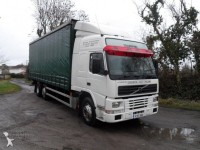 Truck picture
A truck, also know as a lorry, is a motor vehicle made to transport freight.
In the US, a commercial driver's license is required to drive any type of commercial vehicle weighing 26.000lb (11.794kg).
In the UK and in Europe, the rules are complex. To drive a vehicle weighing more than 7.500kg (16.535lb), it is required to have a specialist license, depending on the use of the vehicle and the number of seats.
For licenses obtained after 1997, the weight was reduced to 3.500kg (7716lb).
The constitution of a truck is a chassis, a cab on which you adapt different bodyworks (tipper, tanker, flatbed, box, tautliner…).
Historically, the first motor truck was built in 1896 by automotive pioneer Gottlieb Daimler.
Trucks then improved as technology evolved : twin wheels, drivetrain, braking, suspensions… to become the trucks we know nowadays.
Today's main truck makes in Europe : Renault Trucks, DAF, Iveco, Volvo, Scania, MAN AG or Mercedes-Benz.
Planet Trucks is a classified website of used, new or damaged trucks
A marketplace between buyers and sellers (buy and sell / leasing) from the truck and haulage business.
Planet Trucks is a portal dedicated to truck classified ads and used truck (from spare parts to tractor-trailers) : trucks, tractor units, coaches, busses, semi-trailers, trailers used, truck spare parts. Find all the makes of used truck and all the bodywork of used truck.
Other Websites of the Group:
Planet Trucks

Buying and selling used truck

Europe Construction Equipment

Europe Forklift
Attention ! You can not add anymore ads to your watchlist.