Used trucks
10,997 ads of used lorries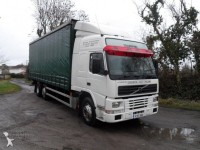 Truck picture
A truck, also known as rigid, is a motor vehicle from the heavy goods vehicle family.
Designed for freight transport, the truck weighs at least 3.5 tonnes. The road freight transport carries nearly all the consumable products, whether it is perishable goods, materials or movables. Trucks can drive long distance but the majority of the traffic is at a regional or local level. Some hauliers have specialized in moving or in express freight. Rigid trucks can also serve for specific use such as car, livestock or log transport. Equipped with a reinforced tipper, construction trucks supply construction sites with raw materials.
In order to drive a truck, one needs to have a truck's driving license and is subject to strict regulations. Trucks cannot drive on certain roads depending on the driving bans of each country.
Rigid trucks are made of a cab, a chassis on which different bodyworks can be attached (tipper, tank, flatbed, box…), an engine and axles to support important loads.
Historically, the first truck, called « le Fardier de Cugnot », from 1769 : it was a self-propelled vehicle that moved at a speed of 2.25 miles. After the invention of the combustion engine in 1883, the first modern rigid truck was made by Gottlieb Daimler in 1898. The trucks are equipped with double wheels from 1908, and diesel engines starting in 1928. Over time, different technical evolutions improved the braking (ABS, ASR, ESP, hydraulic or electromagnetic retarder), the steering (ESC) and the transmission (Powershift automated gearbox). Manufacturers have done their best to increase the useful load while reducing the fuel consumption and particle emissions : with the EGR and SCR devices, the trucks on our roads meet the requirements of the European emission standards.
In Europe, the main rigid makes are Renault Trucks, DAF Trucks, Iveco, Volvo Trucks, Scania, MAN AG and Mercedes-Benz.
---
Planet-Trucks.com is a classified website of used, new or damaged trucks
A marketplace between buyers and sellers (buy and sell / leasing) from the truck and haulage business.
Planet-Trucks.com is a portal dedicated to truck classified ads and used truck (from spare parts to tractor-trailers) : trucks, tractor units, coaches, busses, semi-trailers, trailers used, truck spare parts. Find all the makes of used truck and all the bodywork of used truck.
Other Websites of the Group: