Used trailers
1,121 ads of used trailers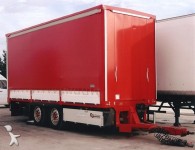 Trailer picture
A trailer is a non-motorized vehicle that is coupled to a
truck. The entity formed by a truck and a trailer is called trailer truck.
Designed for freight transport, a trailer can have one or several axles to support the load. Road trailers, such as rigids, can have different bodyworks : flatbed, tipper, box… There are container trailers for combined transport and trailers made for a use other than freight transport: store, aerial platform, concrete mixer or caravan.
A trailer must be registered when its GVWR exceeds 500kg. When the GVWR of a trailer exceeds 3.5 tonnes, the regulations require a yearly MOT test.
The trailer we now know comes from the horse-drawn carriages. With the invention of tyres in 1887, and the first trucks with combustion engines, modern trailers kicked off during the first half of the 20th century.
Look at the used trailer ads from the main manufacturers : Fruehauf, Samro, Krone, Lecitrailer.
---
Planet-Trucks.com is a classified website of used, new or damaged trucks
A marketplace between buyers and sellers (buy and sell / leasing) from the truck and haulage business.
Planet-Trucks.com is a portal dedicated to truck classified ads and used trailer (from spare parts to tractor-trailers) : trucks, tractor units, coaches, busses, semi-trailers, trailers used, truck spare parts. Find all the makes of used trailer and all the bodywork of used trailer.
Other Websites of the Group: