Used trailers

1358 ads of used trailers
▲

Year

▼

▲

km/hr

▼

▲

Price

▼

Company

Country

used n/a oil/fuel tanker trailer

14,839 €

Market weighton

since 7 days

-
-
14,839 €

used n/a oil/fuel tanker trailer

33,211 €

Market weighton

since 7 days

-
-
33,211 €

used n/a oil/fuel tanker trailer

33,211 €

Market weighton

since 7 days

-
-
33,211 €

used n/a flatbed trailer NUGENT T2517S

Hertfordshire

2015, 5,815 €

Colney heath

since 11 days

2015
-
5,815 €

Bristol, City of

1999, 3,200 €

Bristol

since 27 days

1999
-
3,200 €

Bristol, City of

1990, 14,000 €

Bristol

since 20 days

1990
-
14,000 €

used n/a oil/fuel tanker trailer

33,918 €

Market weighton

-
-
33,918 €

Oxfordshire

2015, 7,720 €

Abingdon

2015
-
7,720 €

used Tabarrini flatbed trailer OSD-41/43

Oxfordshire

1994, 9,123 €

Abingdon

1994
-
9,123 €

Cheshire

2001

Church minshull

2001
-
-

used n/a flatbed trailer BATESON PLANT TRAILER

Hertfordshire

2011, 2,102 €

Colney heath

2011
-
2,102 €

4,593 €

Market weighton

-
-
4,593 €

used Clayton chemical tanker trailer

27,558 €

Market weighton

-
-
27,558 €

used n/a flatbed trailer 13.6 M Tri Axle Flats

Cheshire

Church minshull

-
-
-

used n/a flatbed trailer 13.6 M Flat Trailer

Cheshire

Church minshull

-
-
-

used King flatbed trailer TS35/3

Oxfordshire

2015, 17,544 €

Abingdon

2015
-
17,544 €

Oxfordshire

2015, 4,562 €

Abingdon

2015
-
4,562 €

used n/a other trailers LYNTON PLANT TRAILER

Hertfordshire

1,305 €

Colney heath

-
-
1,305 €

used n/a other trailers INDESPENSION AD2000

Hertfordshire

2008, 1,305 €

Colney heath

2008
-
1,305 €

used n/a other trailers INDESPENSION

Hertfordshire

2005, 1,305 €

2600 Tonnes

Colney heath

2005
-
1,305 €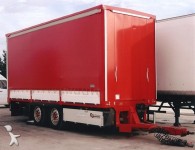 Trailer picture
The trailer is a non-motorized vehicle, which is attached to a truck.
Made to transport merchandise, a trailer can have one or several axles to bear the load.
Trailers can have different bodyworks : tautliner, tanker, tipper, lowered… depending on the type of merchandise it carries.
A trailer has to be registered when its GVM (Gross vehicle mass) is heavier than 500kg (1102 lb).
There are trailers for combined transport and trailers for specialized transport.
When the GVM of a trailer is over 3.5 tons, it must undergo a MOT test every year.
Planet Trucks is a classified website of used, new or damaged trucks
A marketplace between buyers and sellers (buy and sell / leasing) from the truck and haulage business.
Planet Trucks is a portal dedicated to truck classified ads and used trailer (from spare parts to tractor-trailers) : trucks, tractor units, coaches, busses, semi-trailers, trailers used, truck spare parts. Find all the makes of used trailer and all the bodywork of used trailer.
Other Websites of the Group:
Via mobilis

Planet Trucks

Buying and selling used truck

Europe Construction Equipment

Europe Forklift
Attention ! You can not add anymore ads to your watchlist.