Used tractor units

7359 ads of used tractor units
▲

Year

▼

▲

km/hr

▼

▲

Price

▼

Company

Country

from last 24 hours

used MAN tractor unit TGX 26.540 XLX TRACTOR UNIT - 2010 - SA60 HAO

Leicestershire

2010, 482 840 km, 28,275 €

50000 Tonnes, 8x2, Euro 5

Coalville

since 15 hrs.

2010
482 840 km
28,275 €

from last 24 hours

used DAF tractor unit XF105 FTP SPACE CAB TRACTOR UNIT - 2008 - PX58 OGB

Leicestershire

2008, 792 772 km, 15,391 €

50000 Tonnes, 8x2

Coalville

since 15 hrs.

2008
792 772 km
15,391 €

from last 24 hours

used DAF tractor unit CF85 SPACE CAB , TRACTOR UNIT - 2009 - PY09 EKX

Leicestershire

2009, 584 294 km, 19,256 €

50000 Tonnes, 8x2, Euro 5

Coalville

since 15 hrs.

2009
584 294 km
19,256 €

from last 24 hours

used MAN tractor unit TGX 26.440 XXL TRACTOR UNIT - 2009 - DK09 AOV

Leicestershire

2009, 962 008 km, 19,686 €

50000 Tonnes, 8x2

Coalville

since 15 hrs.

2009
962 008 km
19,686 €

from last 24 hours

used MAN tractor unit TGX 26.440 XXL TRACTOR UNIT - 2010 - NX60 UWW

Leicestershire

2010, 613 666 km, 25,698 €

50000 Tonnes, 8x2, Euro 5

Coalville

since 15 hrs.

2010
613 666 km
25,698 €

from last 24 hours

used DAF tractor unit CF85 SPACE CAB , TRACTOR UNIT - 2009 - PX09 XRH

Leicestershire

2009, 575 926 km, 19,256 €

50000 Tonnes, 8x2, Euro 5

Coalville

since 15 hrs.

2009
575 926 km
19,256 €

from last 24 hours

used MAN tractor unit TGS 26.440 LX TRACTOR UNIT - 2009 - MX09 CFE

Leicestershire

2009, 661 374 km, 18,540 €

50000 Tonnes, 8x2, Euro 4

Coalville

since 15 hrs.

2009
661 374 km
18,540 €

from last 24 hours

used DAF tractor unit XF95 SUPERSPACE TAG AXLE TRACTOR UNIT - 2005 - PX54 EYF

Leicestershire

2005, 846 933 km, 13,959 €

50000 Tonnes, 8x2, Euro 3

Coalville

since 15 hrs.

2005
846 933 km
13,959 €

from last 24 hours

used ERF tractor unit ECT TRACTOR UNIT - 2004 - GK04 EYV

Leicestershire

2004, 1 105 579 km, 8,519 €

8x2

Coalville

since 15 hrs.

2004
1 105 579 km
8,519 €

from last 24 hours

used Volvo tractor unit FH GLOBETROTTER XL , TRACTOR UNIT - 2008 - PX58 DNJ

Leicestershire

2008, 815 959 km, 20,974 €

60000 Tonnes, 8x2, Euro 5

Coalville

since 15 hrs.

2008
815 959 km
20,974 €

used MAN tractor unit TGX 26.440 XLX TRACTOR UNIT - 2010 - NY10 EOO

Leicestershire

2010, 510 168 km, 23,980 €

50000 Tonnes, 8x2, Euro 5

Coalville

since 7 days

2010
510 168 km
23,980 €

used Scania tractor unit 114L 380 TRACTOR UNIT - 2000 - W672 BOM

Leicestershire

2000, 1 060 046 km, 16,822 €

44000 Tonnes, 8x2, Euro 2

Coalville

since 7 days

2000
1 060 046 km
16,822 €

used DAF tractor unit XF95 SPACE CAB TRACTOR UNIT - 2004 - KX54 KKM

Leicestershire

2004, 828 561 km, 8,948 €

50000 Tonnes, 6x4

Coalville

since 7 days

2004
828 561 km
8,948 €

used Scania tractor unit 114L 380 TRACTOR UNIT - 2000 - W669 BOM

Leicestershire

2000, 1 329 571 km, 16,822 €

46000 Tonnes, 8x2

Coalville

since 7 days

2000
1 329 571 km
16,822 €

used MAN tractor unit TGA 26.480 LX TAG AXLE TRACTOR UNIT - 2005 - SF55 NPO

Leicestershire

2005, 728 915 km, 10,953 €

50000 Tonnes, 8x2, Euro 3

Coalville

since 7 days

2005
728 915 km
10,953 €

used Scania tractor unit 114L 380 TRACTOR UNIT - 2002 - BV51 EDJ

Leicestershire

2002, 914 343 km, 17,538 €

44000 Tonnes, 8x2, Euro 3

Coalville

since 7 days

2002
914 343 km
17,538 €

used Scania tractor unit 114L 380 TRACTOR UNIT - 2003 - BU03 ZTW

Leicestershire

2003, 456 859 km, 18,254 €

46000 Tonnes, 8x2, Euro 3

Coalville

since 7 days

2003
456 859 km
18,254 €

used Scania tractor unit 114L 380 TRACTOR UNIT - 2001 - Y308 UOM

Leicestershire

2001, 710 291 km, 16,822 €

46000 Tonnes, 8x2, Euro 2

Coalville

since 7 days

2001
710 291 km
16,822 €

used Scania tractor unit 114L 380 TRACTOR UNIT - 2000 - W668 BOM

Leicestershire

2000, 1 235 085 km, 16,822 €

46000 Tonnes, 8x2

Coalville

since 7 days

2000
1 235 085 km
16,822 €

used MAN tractor unit TGX 26.440 XLX TRACTOR UNIT - 2010 - SV60 DDE

Leicestershire

2010, 647 428 km, 25,698 €

50000 Tonnes, 8x2, Euro 5

Coalville

since 7 days

2010
647 428 km
25,698 €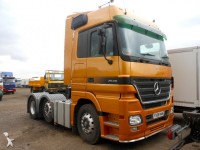 Tractor unit picture
A tractor unit or road tractor, not to be confused with an agricultural tractor, is a vehicle equipped with a fifth wheel coupling to tow a semi-trailer. It's part of the large goods vehicle family.
The vehicle made of a tractor and a semi-trailer is called "tractor-trailer".
A tractor has a cab that can either be tipping or fixed.
Tractor units are equipped with axles that help it lift the weight of the semi-trailer. For a 4×2 or 4×4 tractor unit, the gross vehicle weight (GVW) is 19 tons. For a 6×2, 6×4 or 6×6 tractor unit, the GVW is 32 tons. Finally, the GVW of a 8×4 tractor unit (less common) is 32 tons.
Planet Trucks is a classified website of used, new or damaged trucks
A marketplace between buyers and sellers (buy and sell / leasing) from the truck and haulage business.
Planet Trucks is a portal dedicated to truck classified ads and used tractor unit (from spare parts to tractor-trailers) : trucks, tractor units, coaches, busses, semi-trailers, trailers used, truck spare parts. Find all the makes of used tractor unit and all the bodywork of used tractor unit.
Other Websites of the Group:
Via mobilis

Planet Trucks

Buying and selling used truck

Europe Construction Equipment

Europe Forklift
Attention ! You can not add anymore ads to your watchlist.