Used road network trucks
831 ads of used road network trucks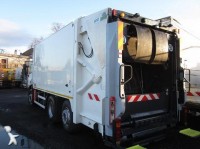 Waste collection truck
Road network vehicles is the term used to designate the trucks that maintain cities and roads. Most utility vehicles are municipal machines used for public service.
The waste collection trucks collect wastes, road sweepers and washer trucks are used to clean roads. In the winter season, gritting trucks, snow ploughs and snow plough-salt spreaders clean roads when snow falls to improve the traffic situation. The sewer cleaner truck, as a rigid or semi, cleans the sewage system. The vacuum truck is used to vacuum undesirable materials (soil, water, mud, rubble) on construction sites.
For 15 years, Planet-trucks.com offers a wide range of used road network trucks. Find all the used waste collection trucks, winter and sanitation machines.
---
Planet-Trucks.com is a classified website of used, new or damaged trucks
A marketplace between buyers and sellers (buy and sell / leasing) from the truck and haulage business.
Planet-Trucks.com is a portal dedicated to truck classified ads and used road network trucks (from spare parts to tractor-trailers) : trucks, tractor units, coaches, busses, semi-trailers, trailers used, truck spare parts. Find all the makes of used road network trucks and all the bodywork of used road network trucks.
Other Websites of the Group: