Truck reviews
The new integrated system for services and infotainment by Volvo Trucks
03/28/2017 02:38:12 pm
03/28/2017 02:38:12 pm
Volvo Trucks
The integrated systems for services and infotainment are essential for truck drivers. A true embarked assistant to call, listen to music and use as GPS, it makes the driver's job much easier. But what does this new system developed by Volvo Trucks offer to drivers and what advantages does the company get from it ?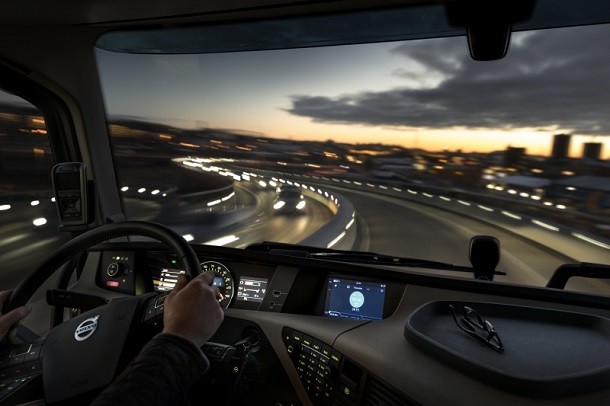 The advantages of the infotainment system by Volvo Trucks
The advantage of the new integrated system for services and infotainment by Volvo Trucks is the improvment of the driver's working conditions. First of all, TomTom Traffic gives drivers traffic information in real time. This system in the cab is very easy to use with the 7'' tactile screen.  The voice command are placed on the steering wheel and gives easy access to the driver's phones.
Moreover, the drivers can listen to his favorite radio station no matter where they are with this system.
Driving becomes much more enjoyable and safer. The navigation system accepts a range of inputs for getting directions : destination, address, coordinates or simply touching the onscreen map. The driver can also access all the Dynafleet Onboard services. The driver also knows his driving performances and fuel consumption. This system gives access to services such as Spotify, Deezer and TuneIn and is equipped with a USB port as well as Dan and DAB+ (Digital Audio Broadcasting) depending on the destination.
The advantages for hauliers
Companies also benefit from having their trucks equipped with this system. Indeed, this integrated system is better for fleet management. Drivers can receive messages with GPS coordinates so that they don't lose time to know their next destination. The driving is also safer, which limits accidents. Companies can supervise the driver's work from a distance. It gives a better fuel management by the driver, thus saving money. Companies see their fuel consumption decrease. It improves the driver's performances, which means saving time and money.
This new system, including a audio unit, an entertainment unit, a navigation and information system regarding fuel consumption gives companies lots of advantages. It is available for on all Volvo FH, Volvo FM or Volvo FMX.