Environment
Volvo Trucks improves its Concept Truck
03/06/2017 03:13:06 pm
03/06/2017 03:13:06 pm
Volvo Trucks
The manufacturer will be at the SITL exhibit, from March 14 to 16 2017 in Paris. But until then, the make launches its new concept hybrid truck. The Volvo Concept Truck has been specially designed for long distance operations and cut fuel use and CO2 emissions by 30%.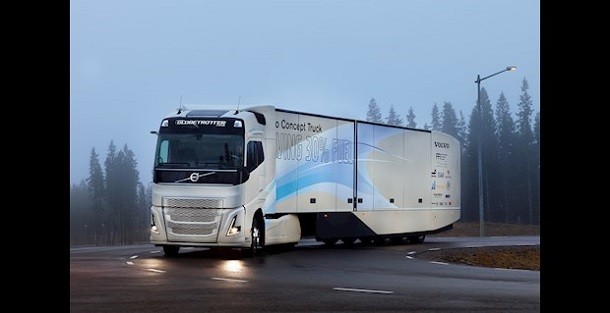 A new Volvo Concept Truck
In May 2016, the manufacturer first showcased the Volvo Concept Truck. Since then, improvements have been made regarding aerodynamics and weight. The latest version includes a brand new hybrid kinetic chain.
Claes Nilsson, CEO at Volvo Trucks says : " We continously work on developping more energy-efficient vehicles.This is a high-priority area both out of environmental concern and in order to reduce our customers' costs."

The Swedish company decided to focus on developping the electromobility and hybrid technologies. That's why the Concept Truck's kinetic chain has been designed in order to get knowledge and expertise for future vehicles.
How does this hybrid kinetic chain work ? 
The hybrid kinetic chain is able to salvage energy when going downhill and when braking. Thus, the collected energy is saved in the vehicle's batteries. Then, this energy is used to supply the truck with electricity on flat roads.
The tractor unit is also equipped with the latest version of the I-See system developped by Volvo Trucks, which analyses the GPS data, topography as well as speed. These informations help the system foresee the possible road changes (slope, turn, descent). The feature helps anticipate and choose the most economical choice for the truck by changing between fuel engine and electricity.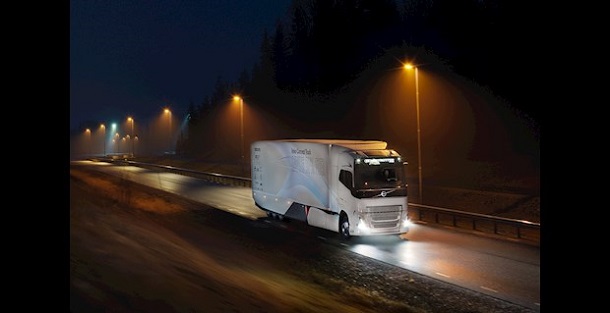 The realisation of the Concept Truck
At the moment, this hybrid solution is only a prototype. Volvo wants to developp this branch in the coming years and equip their trucks with hybrid kinetic chains. Lars Mårtensson, Director Environment and Innovation for Volvo Trucks explains that the hybrid technology represents an important reduction of fuel use. This argument should be a huge advantage for fleet managers and transporters. With this Concept Truck, the manufacturer is one step ahead regarding potential CO2 emission restrictions in the future.