Motorsport
A Russian victory on the chaotic Dakar truck
01/24/2017 09:27:59 am
01/24/2017 09:27:59 am
Iveco
The 2017 edition of the Dakar truck ended with a Russian victory by Eduard Nikolaev with this Kamaz truck.He ends the competition in front of Dmitry Sotnikov with 18 minutes and 58 seconds. Nikolaev isn't a beginner since he already won in 2013 as pilot, as well as in 2010 as co-pilot with Vladimir Chagin.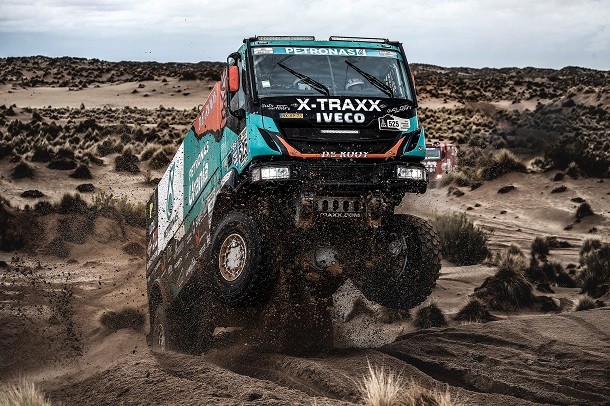 Used to victories, the Kamaz-Master russian team, won the rally for the 14th time.  At the start, 50 trucks started the rally in Asunción,Paraguay but only 45 vehicles crossed the finish line.
Take a look at a difficult race

During this 15-day race, the difficult weather made it even more complicated. Indeed, the 7th stage (between La Paz and Uyuni) was stopped because of wrong storms.
This year, the Iveco Petronas team ranked their pilots in 3rd and 4th place. Gerard De Rooy surprised everyone in 2016 when he won with 1h10 and 27 seconds in advance but was not able to do it this year.
Who is Eduard Nikolaev, winner of the 2017 Dakar rally ?
Eduard Nikolaev is a specialised truck rally pilot from Russia. He took part of the 2006 Dakar rally. The Russian pilot is part of the Kamaz team since he began his career. In 2007, 2009 and 2010, he was a mechanic for Ilgizar Mardeev and then for Vladimir Chagin. In 2011 he took part of the race as a pilot and finished in third place. The following year, he was disqualified during the 5th stage of the race because of a crash with a car.  In 2013, he won the competition with Ayrat Mardeev and Andrey Karginov and won again this year.
Final rankings of the 2017 Dakar truck rally

| | | | | |
| --- | --- | --- | --- | --- |
| 1 | NIKOLAEV EDUARD (RUS)/YAKOVLEV EVGENY (RUS)/RYBAKOV VLADIMIR (RUS) | KAMAZ 4326 | 27h58m24s |   |
| 2 | SOTNIKOV DMITRY (RUS)/LEONOV IGOR (RUS)/AKHMADEEV RUSLAN (RUS) | KAMAZ 4326 | 28h17m22s | +18m58s |
| 3 | DE ROOY GERARD (NLD)/TORRALLARDONA MOISES (ESP)/RODEWALD DAREK (POL) | IVECO POWERSTAR 4X4 | 28h39m43s | +41m19s |
| 4 | VILLAGRA FEDERICO (ARG)/YACOPINI ADRIAN ARTURO (ARG)/TORLASCHI RICARDO ADRIAN (ARG) | IVECO POWERSTAR 4X4 | 28h58m28s | +01h00m04s |
| 5 | MARDEEV AIRAT (RUS)/BELYAEV AYDAR (RUS)/SVISTUNOV DMITRIY (RUS) | KAMAZ 4326 | 30h25m14s | +02h26m50s |
| 6 | VASILEVSKI ALEKSANDR (BLR)/VIKHRENKA DZMITRY (BLR)/ZAPAROSHCHANKA ANTON (BLR) | MAZ 5309RR | 30h33m21s | +02h34m57s |
| 7 | LOPRAIS ALES (CZE)/TOMÁNEK JAN (CZE)/STROSS JIRI (CZE) | TATRA PHOENIX | 31h05m20s | +03h06m56s |
| 8 | SUGAWARA TERUHITO (JPN)/SUGIURA HIROYUKI (JPN) | HINO 500 SERIES | 31h17m00s | +03h18m36s |
| 9 | STACEY HANS (NLD)/VAN DER VAET JAN (BEL)/KUPPER HUGO (NLD) | MAN TGA | 31h43m20s | +03h44m56s |
| 10 | MACIK MARTIN (CZE)/MRKVA MICHAL (CZE)/TOMASEK FRANTISEK (CZE) | LIAZ 111.154 | 20m00s 31h53m04s | +03h54m40s |