Truck reviews
Bridgestone introduces their new Nordic-Drive 001 tyres for winter
01/13/2017 01:47:18 pm
01/13/2017 01:47:18 pm
Tyre manufacturer Bridgestone innovates with new winter tyres, especially designed for trucks : the Nordic-Drive 001. Designed for difficult winter conditions, this tyre should convince lots of clients.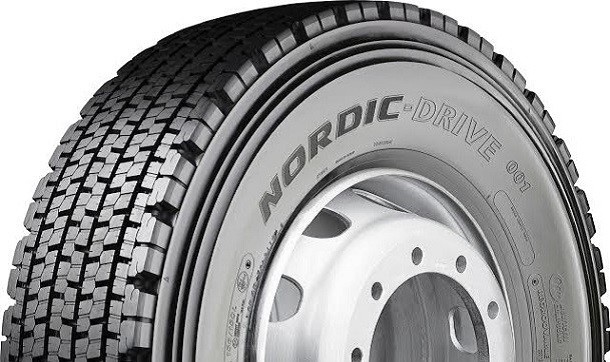 An innovative technology

The main improvement by Bridgestone for its tyres is the anti-slip blocks. For better grip, a Multicell tread compound has been added. This tread is porous, allowing water to run down the tyre. This technology improves the grip between tyre and road. The make adds that the Nordic-Drive 001 has three times more biting edges than the previous Drive W970 tyre.
Safest grip

Harald Van Ooteghem, Senior Manager Business Planning and Marketing at Bridgestone Corporation says : « With the improvement of NORDIC-DRIVE 001, Bridgestone has stepped up in terms of safety regarding grip and braking for trucks working in rough winter conditions».
Indeed, the make ensures that the type has an exceptional grip on snow and ice. With these tyres, trucks keep their braking capacities in rough conditions.
Economical tyres
Ecological and economical at the same time, theNordic-Drive 001 tyre has a rolling resistance 15% lower than the W970. The retreading of the new Bridgestone tyre is possible with a better retention to stones.
The W970 Drive tyre will be changed by the Nordic-Drive 001. Currently, it is available in three different sizes: 315/70R22.5, 295/80R22.5 and 275/70R22.5. Bridgestone chose to offer its new product on markets where winter are rough. The product's name   Nordic even refers to these winter environments where truck's safety can be altered.
Regarding the price, it depends on the size and the options. Let's just remember that the make announced a global increase of their prices.