Truck manufacturers
The new Volvo Trucks video : The Flying Passenger
12/08/2016 09:56:54 am
12/08/2016 09:56:54 am
Volvo Trucks
As usual, Volvo Trucks chose a spectacular way to promote their gearbox. This time aroud, the video « The Flying Passenger » showcases a paraglider Guillaume Galvani attached to Volvo FH. The New Zealander, Louise Marriott, has to maintain the paraglider in the air while bringing it to the top of a mountain through winding roads. In order to be successful, the Volvo trucks has to maintain a steady speed.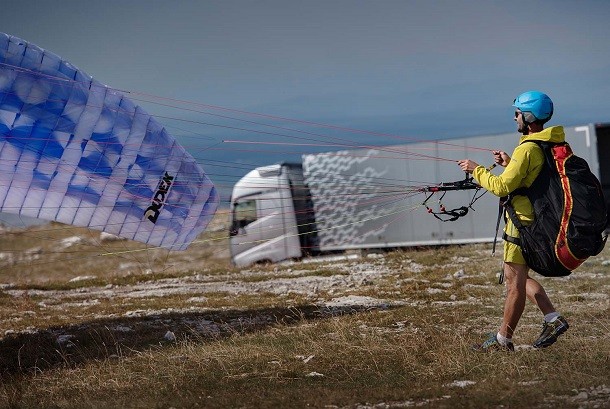 A video with an impressive realisation
Volvo Trucks always demonstrates the way their vehicle's efficiency and performance can develop. Their last videos « The Epic Splite », « The Hamster Stunt » or « Look Who's driving » are the most viewed videos of the Volvo live tests.
In the latest video, the Swedish manufacturer offers an new stunt. This test was performed using a Volvo FH 540 equipped with a D13 engine updated with the double clutch I-shift gearbox.
The filming of this stunt happened over several days in Croatia in the Dinarides. Obviously, road have been closed for this operation to happen in ideal conditions. The professional driver and paraglider worked together for this project.
In this video, the Volvo FH truck pulls the paraglider by driving on a winding mountain road. This operation in confined space needs a precise driving and constant speed.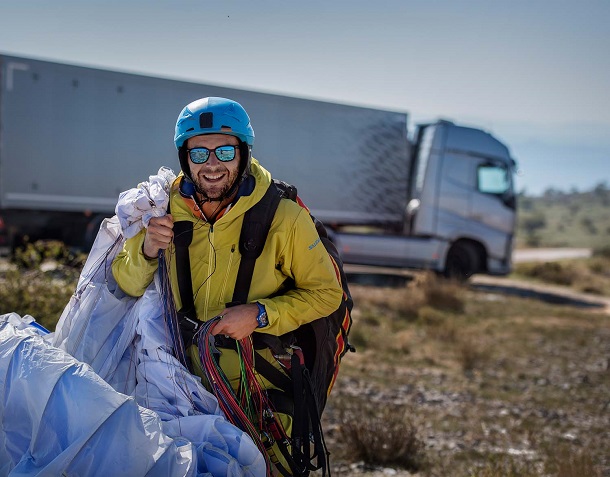 The advantages Volvo showcases for the challenge

In this live test, the make wants to demonstrate the kinetic chain of the Volvo FH with the double clutch I-Shift.
The live test also showcases the improvments on the D13 Euro 6 engine. The automated I-Shift Dual Clutch gearbox changes the gears under torque. Thus, this keeps the vehicle's inertia when changing gears in difficult conditions. The I-Shift dual clutch helps the driver have a flexible drive in high gears in low revs.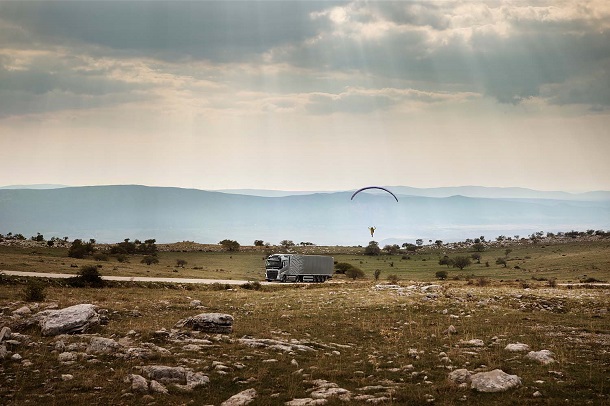 Claes Nilsson, CEO of Volvo Trucks explique that : « Meeting deadlines and keeping fuel consumption low, even when driving uphill and on winding roads, are key elements to success for many of our customers. This test is the perfect way to challenge our recently updated powertrain. 'The Flying Passenger' is a test that demonstrates the outstanding performance and efficiency of our enhanced powertrain».