Environment
Iveco takes a stand for the environment in Germany with the new Stralis NP
11/18/2016 03:01:53 pm
11/18/2016 03:01:53 pm
Iveco
As part of an operation by the association «Initiative Zukunft Erdgas» in Germany, Iveco proved its position against global warming.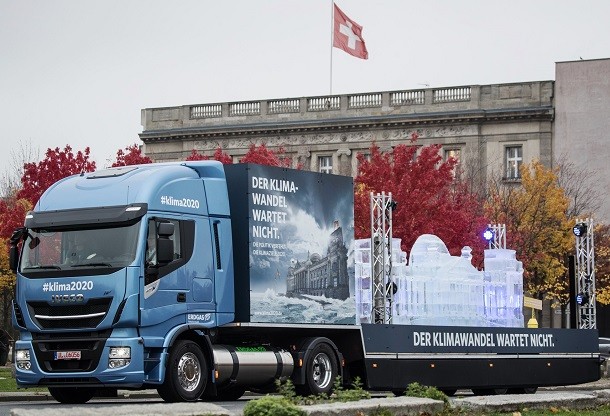 This association was created by the German gas industry and ensures the promotion of natural gas as a clean fuel.
A bold awareness campaign
At the beginning of November 2016, « Initiative Zukunft Erdgas » launched an awareness campaign in Berlin against global warming. The aim is to achieve the goals of the « 2020 Climate Change ». Iveco rallied for this cause with their new Stralis NP that uses LNG (Liquefied natural gas). To showcase their commitment, the vehicle transported an ice sculpture on a semi-trailer.
The truck then parked in front of the German Parliament. The sculpture that was placed there the day before was melting as the guests were coming in. This piece of art melting away was there to symbolise the danger of global warming in the world.
The Stralis NP : an ideal truck for the climate and long distance haulage

Liquefied gas is the least polluting product in terms of CO2. The Stralis NP offers as much power as a vehicle using diesel. Moreover, this truck has a kinetic chain with the best technologies and enough autonomy to go on long distance. The Hi-Way cab is spacious, practical and comfortable and gives the driver a pleasant work space. Its silent engine delivers 400hp and has an autonomy of 1 500 km. This vehicle fights against global warming while still having output and profitability as a traditional truck.