Truck manufacturers
Iveco Bus partners with the All Blacks by the end of 2016
11/03/2016 03:13:36 pm
11/03/2016 03:13:36 pm
Iveco
Iveco has become partner with the New Zealand rugby team : the All Blacks. From November 6th to 27th, the Italian make offers the rugbymen several vehicles. The sportsmen will have two Magelys coaches and 4 Daily Hi-Matic mini coaches.
Iveco Bus provides the All Blacks with the Magelys Lounge
This year, the Magelys Lounge will be used for the All Blacks accross Europe for different matches. 12.8 meters long, the vehicle offers 46 seats with 8 seats around two tables in the back on the coach. The coach is equipped with a Cursor 9 engine of 8.7 liter with 400hp output. In terms of aesthetics, the Magelys Lounge has been designed for the team. To guarantee an ideal comfort for the players, the vehicle has also been equipped with a coffee maker and leather reclining seats. Besides, for entertainment, the New Zealand team has two LCD screens and USB sockets for each double seats.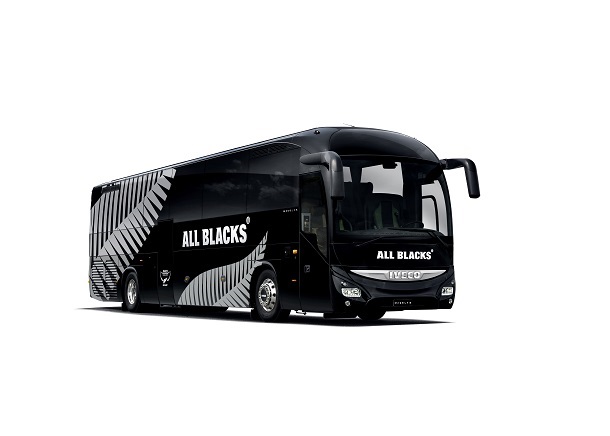 The Daily Hi-Matic mini coaches

The All Blacks and their staff will also travel in the Daily mini coaches. They are equipped with the Hi-Matic automatic gearbox with fast gear changes (less than 200 millisecondes). The vehicle is equipped with a 3-liter F1C  engine with a 170 hp output. Inside, the Iveco mini coach includes 19 reclining seats as well as a luggage compartment with a maximum capacity of 2.5 cubic meters.
A gesture of solidarity from Iveco
The manufacturer auctions one of their new Stralis XP Emotional Trucks as well as the Magelys Lounge on Charity-Stars. The auction will open on Monday 21st November 2016. The proceeds will be given to Unicef (Children's rights & emergency relief organization).