Truck reviews
The Iveco Z Truck : a step closer to the future of the truck industry
10/11/2016 11:13:34 am
10/11/2016 11:13:34 am
Iveco
During the Hannover exhibition in September, Iveco surprised visitors by showcasing their new truck concept : the Iveco Z Truck. The brand sees this truck as a truck with zero impact on the environment. Indeed, all the aspects of the product have been thought in order to get a "clean" merchandise transport.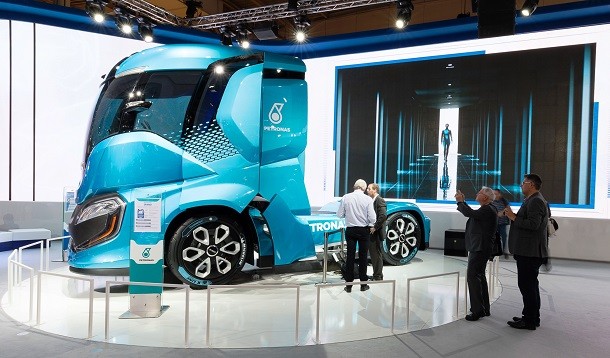 In 2014, Iveco already showcased new concepts with the Iveco Vision, then, some innovations have been put on the Iveco Daily. With the Iveco Z Truck, the Italian make introduces new technologies that can solve future problems : pollution, safety and ergonomy. Moreover, the innovations linked to the concept center around the driver and his work day. The conception of the Iveco Z Truck is protected by 29 patents.
The GNL technology (liquefied natural gas) ensures a clean transport
The Iveco concept truck is based on a heavy vehicle model using bio-LNG with comformable tanks. With LNG and bio-methane, Iveco guarantees a vehicle with zero CO² emissions. Equipped with a new generation of LNG engine using bio-methane, the Iveco Z truck is presented as a truck with virtually zero CO² emissions.The engine, adapted for fuel, allows the vehicle to deliver 460 hp. Moreover, the gearbox is robotised and has 16 gears with Powershift in the upper gears.
A truck centered around the driver's needs
Iveco brand president, Pierre Lahutte talks about the Iveco Z Truck as a vehicle designed for the driver. He also adds " We are facing a revolution triggered by the concern for the environment, the economy, and safety on and around vehicles".
The driver's safety is ensured with technologies used for automated driving. Indeed, the driver can change the cab depending on its use. The configurations change if the vehicle is in a city, on motorway or else.
In the cab, when the vehicle is stopped, a wall slides automatically adding 500 mm of living space. Moreover, it has all the features a driver needs (berth, shower, kitchen, fridge, sink and entertainment wall. The information on the truck's functions is projected on the smart windshield as it becomes necessary and changes according to what the driver needs at the time. Finally, the connectivity in the truck provides real time information about the tyre's pressure, temperature and usage.