Truck reviews
The Carrier Transicold innovations at the IAA in Hannover
09/26/2016 02:44:39 pm
09/26/2016 02:44:39 pm
Until September 29th, the Carrier Transicold brand showcases their innovations in terms of refrigerant solutions. On the company's booth, visitors can see the latest technologies developped. Visitors will also find out about the different refrigerated solutions Carrier Transicold environmentally friendly.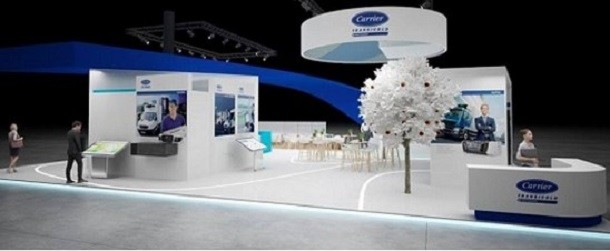 A prototype natural refrigerant trailer unit
Carrier Transicold takes advantage of the event to showcase, for the first time in Europe, a prototype natural refrigerant trailer unit. This system will be mounted on a Rohr trailer. This prototype has already been awarded a  « Trailer Innovation Awards 2017 » in the environment category.
This brand new refrigerant system Carrier Transicold for semi-trailer doesn't use carbon dioxide (CO2)  in a closed-loop circuit. CO₂ is a safe and non-ozone depleting gas with a global warming potential of one. It will enter service on a three-year technology field trial with German retailer Netto Marken-Discount.
During this week, the make will also showcase their brand new range of Supra® system featuring the Low Emissions Pack as well as Vector semi-trailers. They can be installed and taken down quickly and easily, which makes it easy for maintenance.
The Eco-Drive ecological system
Carrier Transicold will also showcase their latest power module, which utilises the power generated by a truck's own Euro VI diesel engine to drive a host refrigeration unit, the Eco-Drive.
On the outside of the Carrier Transicold booth, visitors can watch a demonstration in real condition and see how the power created by the Euro 6 engine of a truck can reduce the polluting emissions.
Once installed on the truck, the Eco-Drive is powered by an hydraulic pump connected  to the truck. Moreover, the Eco-Drive doesn't need much maintenance and adapts on most tractor units and trucks.
Victor Calvo, Vice President of Carrier Transicold Truck & Trailer for Europe assures that : « The IAA Show represents the perfect opportunity to introduce both existing and prospective customers to the many benefits afforded by the new TRS technology, which now carries the Carrier Transicold brand and is supported by our service network. These units add a new dimension to our range of products and directly support our goal of helping fleet operators meet their efficiency and sustainability goals, and achieve a sustainable cold chain. »