Truck reviews
New on-board axle load indicator from Axtec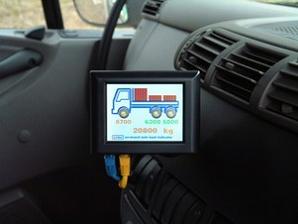 Truck reviews
ECI - on 05/09/2008 12:00:00 am
---
Axle and gross overloads are a potential headache for operators of almost all vehicles, especially those on work involving progressive loading, such as refuse collection. Fines are up to £5,000, and even worse is the threat to your O-licence. Axle weighing specialists Axtec believe they have the answer with their new On-Board Axle Load Indicator
Constantly displaying the individual axle and gross weights to the driver in his seat, the latest version is available for use with vehicles on air suspension as well as steel, and any combination of the two. It can now be fitted to multi-axle rigids with lift axles, where the colour touch-screen display shows the lift axle raised.
In another new development to meet customer demand, the Axtec On-Board Axle Load Indicator can send out an overload alarm signal to the truck's tracking device, which relays it back to base. The unit can also store in its memory any instances of overloads for subsequent download.
The new Axtec On-Board retains the features that made it such a hit at last year's CIWM Show, when it was launched to the waste industry market, especially the clear image of the truck with axle and gross weights shown in colour, using a simple traffic-light system. This is backed up by a graphical image showing the increasing load as growing pallets of bricks on the bed of the truck!
Planet-Trucks.com Newsletter
Error
Please enter a valid email address.